Microsoft Dynamics 365 features can be a challenge for many with the frequency of Dynamics 365 feature updates.
What are the new features available in Microsoft Dynamics 365?
Microsoft Dynamics 365 has revolutionized the CRM and ERP by applying intelligence to every data form and enabling organizations to progress from reactive decisions to proactive insights. By bringing a superior performance with security, functionality, and pricing, it has helped many organizations. Keeping track of all the updates to Microsoft Dynamics 365 features can be a challenge for many with the frequency of Dynamics 365 feature updates. Here we have come up with the latest and key features of Microsoft Dynamics 365, which will help you be up-to-date.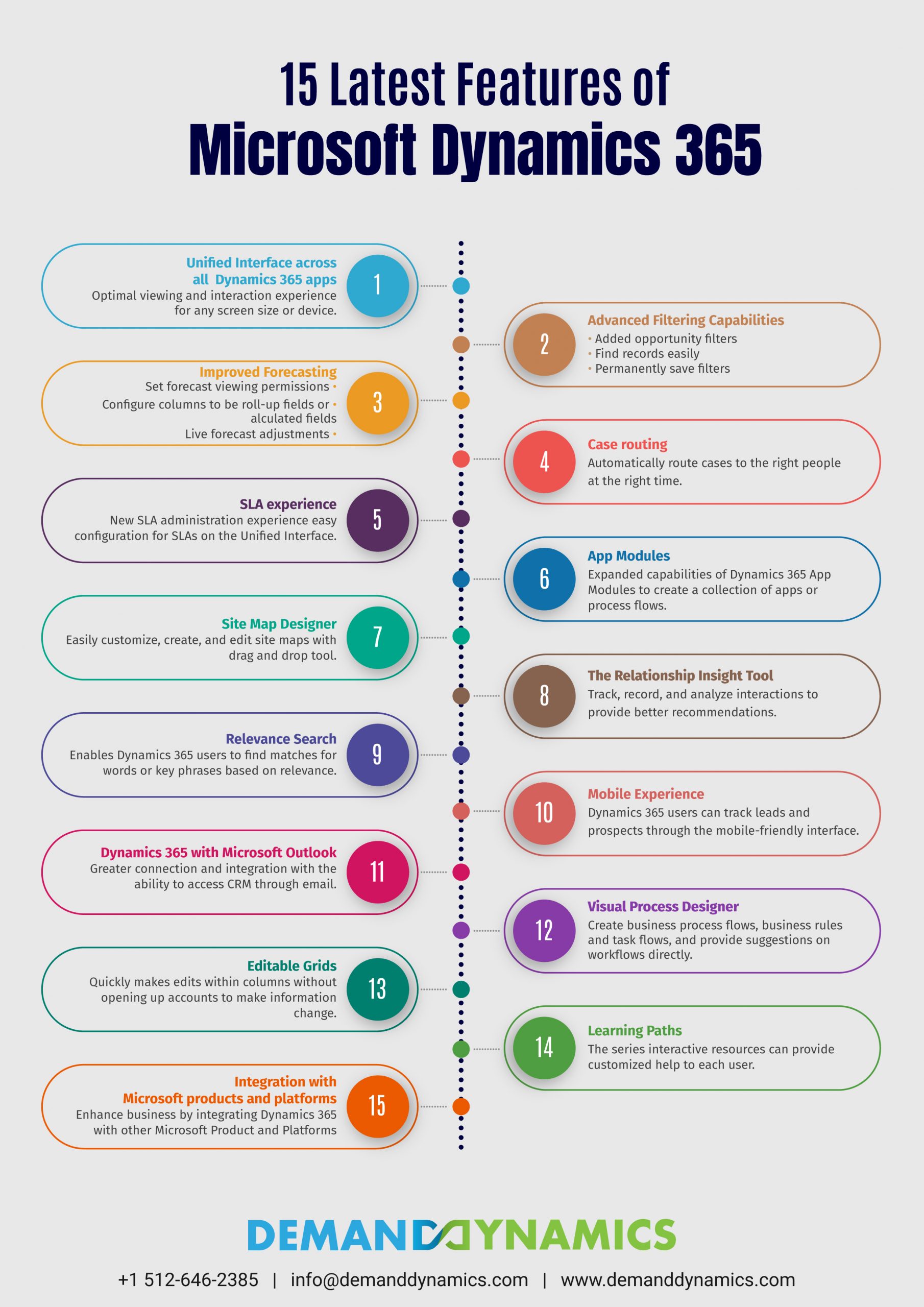 15 Latest Features of Microsoft Dynamics 365
Unified Interface: The responsive web design principles of Unified Interface provides optimal viewing and interaction experience for any screen size or device. Microsoft has announced an automatic transition to Unified Interface across all Dynamics 365 apps.
Advanced filtering: Filtering is a common yet crucial feature that impacts the users and business. With the feature update, Microsoft has added opportunity filters. This has many enhancements to filtering that includes eliminating the necessity to recreate frequently used filters, ability to permanently save filters, quick analysis of data, find records easily and .
Improved Forecasting: One of the Microsoft Dynamics 365 Features that had had nice improvements in the forecasting capabilities. The ability to set forecast viewing permissions, to configure columns to be roll-up fields or calculated fields, and live forecast adjustments are unarguably some of the best improvements to forecasting.
Case routing: This Microsoft Dynamics 365 feature allows you to automatically route cases to the right people at the right time. Users will be able to use the routing rules to route cases that are escalated to specific queues without manual intervention.
SLA experience: With this new Dynamics 365 feature, Microsoft is bringing a new SLA administration experience on the Unified Interface that can leverage actions that enable us to easily configure actions (success, failure, and warning actions) for SLAs.
App Modules: Microsoft has expanded the capabilities of the Dynamics 365 App modules. This feature allows users to create highly targeted apps through a simple drag and drop program. It also allows us to create a collection of apps or process flows to be used without limit throughout the platform further.
Site Map Designer: With an easy to use drag and drop tool, the site map designer allows users to customize, create, and edit site maps without the need for third-party developers or designers. This is one of the Microsoft Dynamics 365 features that are related to App modules.
Relationship Insights: The relationship insight tool tracks and records interactions with customers and then analyses it to provide recommendations. It is more than just analytics and data tracking.
Relevance Search: This improved feature enables the Dynamics 365 users to find matches for words or key phrases based on relevance. This can power their database searches and lessen the time spent on searches and further modification to any search queries.
Mobile Experience: The mobile experience has also been created in Dynamics 365 to provide a mobile workspace with friendly user experience. With the added workspaces, layouts, colors, editable grids, tracking, and work task flows, the Dynamics 365 users can track leads and prospects through the mobile-friendly interface.
Outlook access: With this Microsoft Dynamics 365 feature update, the users have been provided with the ability to access CRM through email. This feature enables greater connection and integration of Dynamics 365 with Microsoft Outlook to allow users to work more efficiently.
Visual Process Designer: This allows Dynamics 365 users to create business process flows, business rules and task flows, and provide suggestions on workflows directly. The visual process designer has an easy drag and drop design system.
Editable Grids: With this Microsoft Dynamics 365 feature, users can now make in-line edits in both desktop and mobile versions easily. Users can quickly make edits within columns without opening up accounts to make information change. It is less complicated and easy to streamline customer management, and users can drag and group columns based on their preference.
Learning Paths: It is highly important to learn and understand how to use Dynamics 365 for users to work at their own pace. Learning paths, with the series interactive resources, can provide customized help to each user as per their needs.
Integration with Microsoft products and platforms: One of the most heard Microsoft Dynamics 365 Features is the possibility to integrate Dynamics 365 with all the Microsoft products. Users will be able to enhance their business process, improve productivity by integrating Dynamics 365 with other Microsoft Product and Platforms.
Bring the best out of your CRM and ERP investment
In this blog, we have just seen very few of the Microsoft Dynamics 365 Features and capabilities. Rather than being a product line of the technology giant, Microsoft, Dynamics 365, can be the best option out of all the CRM or ERP available in the market with its numerous rich features, enhanced security, reliability, and functionality of Microsoft's cloud services.
You can get a whole new CRM experience with many benefits that include friendly user experience, AI personal assistants, integration with other Microsoft Platforms with the implementation of Dynamics 365.
If you would like to explore more on Dynamics 365 or Dynamics 365 Implementation, Talk To Our Expert Team!