Digitization in manufacturing enables manufacturers to gain insights into important information such as production line efficiencies, inventory data, productivity details, and more.
The manufacturing industry is undergoing seismic changes. The impact of the pandemic has propelled many manufacturing firms to embrace digitalization. From eliminating supply chain inefficiencies to perfecting the production line the benefits of digitalization are staggering.
Yet, many manufacturers are lagging behind. Is digitalization another buzzword? Going by the upward spike in productivity and profits post digitalization, it is anything but that.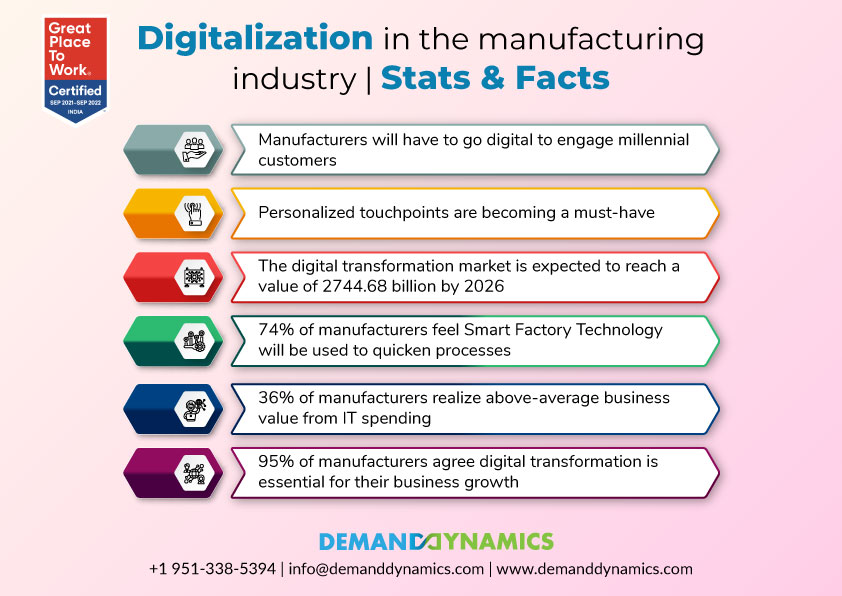 Here are five major benefits that digitalization provides. Let's look at the specific challenges they resolve in the manufacturing space.
1. Better data visibility and usage
Digitization in manufacturing enables manufacturers to gain insights into important information such as production line efficiencies, inventory data, productivity details, and more. Most often vital data is fragmented across various systems.
An advanced solution such as Dynamics 365 moves the needle on data visibility and offers a unified view of critical data. Its detailed, real-time BI reports help manufacturing firms to make quicker, data-backed decisions.
2. Master the production floor
Innovation is a loaded word. It can throw processes out of kilter and lead to decreased productivity. Monitoring the production floor poses an insurmountable problem for manufacturers. Innovation and digitization in this area can lead to huge gains.
But where to start? A solution that offers industry-specific features such as Dynamics 365 provides manufacturers the capabilities and tools needed to master the production floor. It eliminates downtime and the inability to procure materials at the right time.
3. Bid goodbye to manual document work
Nothing kills productivity faster than having to input data into spreadsheets manually. Digitalizing manual documentation tasks frees up staff and reduces lags/discrepancies in the information. Most forward-thinking manufacturing companies have eliminated manual documentation processes and moved to a software that automates documentation work.
Dynamics 365 is a software that combines the components of CRM and ERP to provide a full-fledged solution that can make automating workflows and adopting digitalization less complex.
4. Monitor shop floor data
Shop floor data is usually fractured and complicated as it involves several stages such as kitting, in-process, and queue data. Digitalizing the shop floor has numerous benefits. It reduces costs, bubbles up cycle time deviations, resolves quality problems, and enables better maintenance management.
Digitalization can offer visibility into globally distributed shop floors.
With its user-friendly interface Dynamics 365 quickens the process of shop floor digitalization. The Dynamics 365 finance and operations module includes full-featured shop floor management capabilities.
5. Build operational resilience
These are uncertain times. There's no better way to build and strengthen operational resilience than by embracing digitalization. A central IT infrastructure facilitates a seamless experience from the shop floor to the back office.
The features of Dynamics 365 create a strong digital trail of key supply chain and logistics data. This offers richer insights and data-driven intelligence.
Do you want to move to a better way of working?
Microsoft Dynamics 365 is the top choice of manufacturers as it addresses and resolves industry-specific challenges. Do you want to see it in action? DemandDynamics is a Microsoft Gold partner with unmatched expertise across all major Microsoft products. If you are planning to implement Dynamics 365 for your organization we can help take the first step. Schedule a call with us today.