Dynamics 365 for Sales designed by Microsoft aims to empower sales teams to better understand customer needs and work effectively.
Six Challenges you can solve by using Microsoft Dynamics 365 for Sales
The growing needs of customers has kept the sales team at the brink of the cliffs for quite some time now and challenges that are faced by the current sales team is the byproduct of the growing customer needs and dependency on tech. Starting from finding the right people to the closure of a deal, sales team in any organization face the challenge of uncertainty when it comes to their conversion numbers. Sales is not something that can be easily done. Sales professionals have to make sure that their strategies are powerful to derive maximum benefits. In this era, many organizations have taken up the latest sales tools, techniques, and technologies seriously, and many more are keen to adopt. Dynamics 365 for Sales designed by Microsoft aims to empower sales teams to better understand customer needs and work effectively.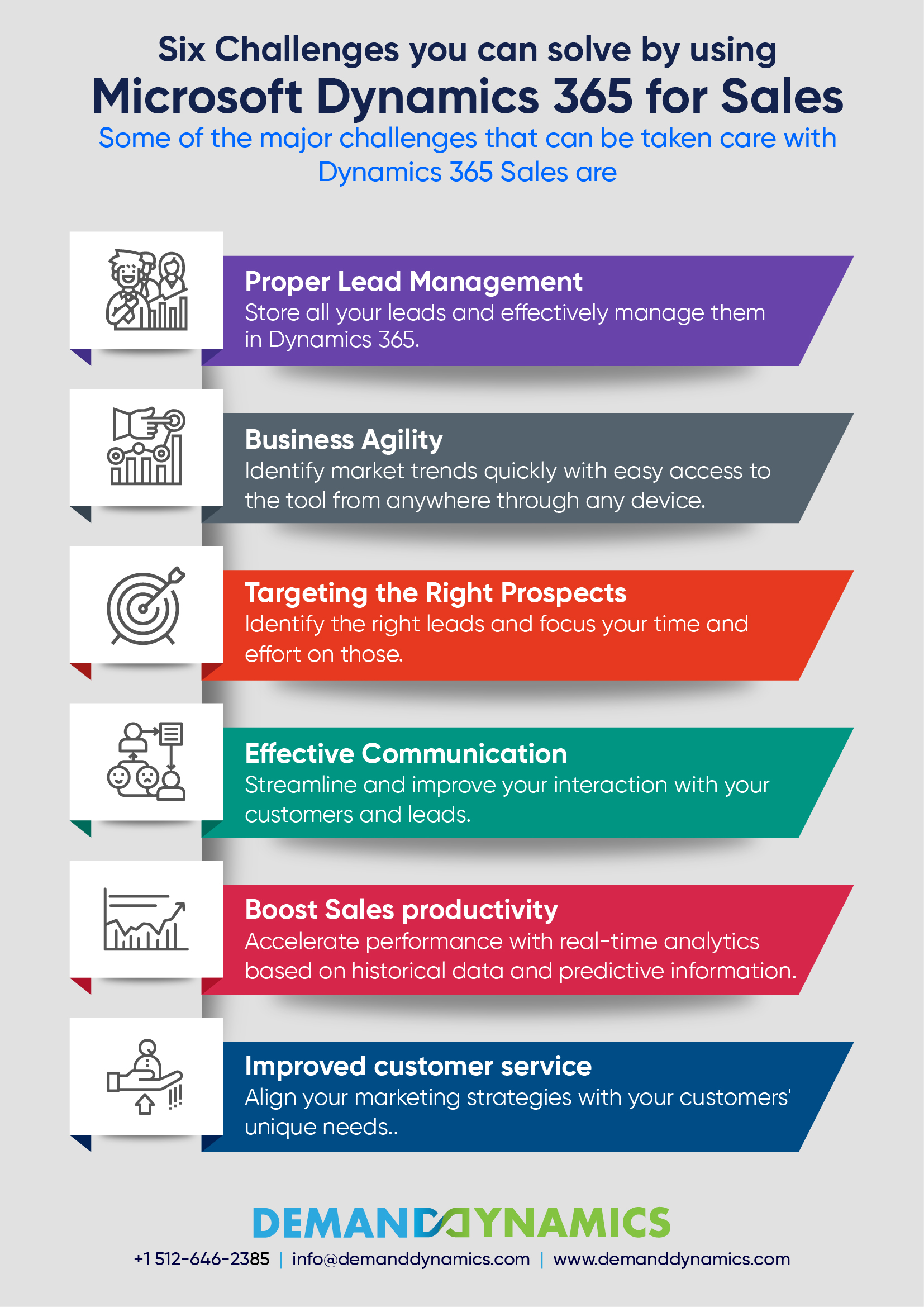 Major sales challenges solved with Dynamics 365 Sales
There are many challenges for Salespeople as well as Sales managers. Microsoft Dynamics 365 can help everyone in the Sales team. We have come up with a list of challenges that can be solved using Dynamics 365 for Sales.
Leads Management
The process of lead generation is intense with the increasing competition and the demand in the market. With the huge number of leads comes the challenge of efficiently managing all the leads to ensure successful closure. The sales team needs to put in a lot of effort and time to manage these leads to ensure that the sales process runs well.
With Dynamics 365 Sales in place, your organization can store and manage your leads effectively. It helps you manage your leads and enables you to identify the high priority leads/ prospects and proceed further with the sales process easily.
Business Agility
Keeping up with the trend is always essential to survive in the market for a longer run. Many companies miss out on opportunities because of this; they lose the opportunities to drive growth and adapt to change.
Dynamics 365 Sales being in the cloud can be accessed from anywhere you can serve customers at any time. Dynamics 365 Sales enables you to identify market trends quickly.
Targeting the right prospects
You cannot waste your time and effort on wrong leads. It is not only a loss for a Salesperson but also to the entire organization. With a huge number of leads, salespeople end up running behind wrong leads at times, which is a major put off for the team.
Dynamics 365 Sales can help identify the right leads who could be your potential customers. It can provide you real-time insights on your existing customers and ­potential customers and help you target your valuable time and effort in the right leads and increase sales efficiency.
Effective communication
Effective communication is vital for sales success. Any solution involved in Sales teams' work should be able to support their communication with the leads and customers.
With Microsoft Dynamics 365 Sales, communicating with the leads and customers is no more complicated. You can easily get useful insights that can help you to improve your interaction with your customers.
Boosting sales productivity
The many challenges faced by the salespeople can pull their interest down and demotivate them during the whole process of sales. The salespeople should be engaged with their job and enhance their performance to handle the sales effectively.
Since Dynamics 365 Sales is in the cloud, it offers workforce mobility and scalability. Your sales team can access their tools from anywhere through any device and work from their preferred environment. It can ensure a greater lift in the overall productivity of your sales team.
Dynamics 365 Sales can help sales managers accelerate their team's performance using real-time analytics based on historical data and predictive information.
Improved customer service
Sales do not end with the closure of a deal; it goes far beyond selling. There has to be a continuous look into the existing customer success.
With integrated data analytics and user dashboards in Dynamics 365 Sales, you can align your marketing strategies with your customers' unique needs. Dynamics 365 Sales can help you build relationships and increase revenue.
What makes Microsoft Dynamics 365 Sales a better tool than any other Sales tool available?
Dynamics 365 is one of the leading Enterprise Resource Planning and Customer Relationship Management provider. Being a Microsoft product, unlike any other sales tools available in the market, you get a full range of back-office business applications. Because of which it does not require you to implement and integrate separate ERP and CRM. Dynamics 365 Sales offers great benefits, whether you're using a desktop, phone, or tablet.
There are many benefits that Dynamics 365 for Sales can offer you. It can help you keep track of your accounts and contacts, nurture your sales from the beginning to end, build strong relationships with your customers, take better actions based on real-time insights, and close deals faster.
In our previous blog, we talked about how you can Power Up Your Sales Team using Microsoft Dynamics 365 integration. If you would like to know more about Microsoft Dynamics 365 sales or explore how it can enhance your sales team, Talk to our Dynamics Experts!!