Microsoft Dynamics 365 F&O's Supply Chain Management is a new, but integral part of fulfilling smooth functioning of inventory, order management and logistics operations.
Emerging technologies have proven to be extremely beneficial to businesses across the globe and ERP systems are upgrading themselves to brace for change. Being a pioneer in the ERP space, Microsoft has had a long journey, from GP, it soon transformed into NAV, AX, and then the present popular Dynamics 365 Finance and Operations (F&O). Dynamics 365 Finance and Dynamics 365 Supply Chain Management are two new applications from F&O.
What is Supply Chain Management?
Microsoft Dynamics 365 F&O's Supply Chain Management is a new, but integral part of fulfilling smooth functioning of inventory, order management and logistics operations. It empowers organizations to build an agile, connected and resilient supply chain. Interferences of AI and IoT-enabled features are what help in streamlining planning, production, warehouse and transport. It also helps in enhancing product quality and profitability.
In layman's terms, it streamlines supply chain operations that not just cope with the Covid effects, but also helps in coping with new challenges.
What Can Organizations Achieve from Supply Chain Management Adoption?
Improving performance, efficiency and safety with the added advantage of intelligent guidance.
Detect and resolve issues which in turn increase product quality.
End-to-end visibility into warehouse operations which optimize the efficiency once again.
Manage the capacity and consumption of raw materials, helping in maintaining equipment effectiveness.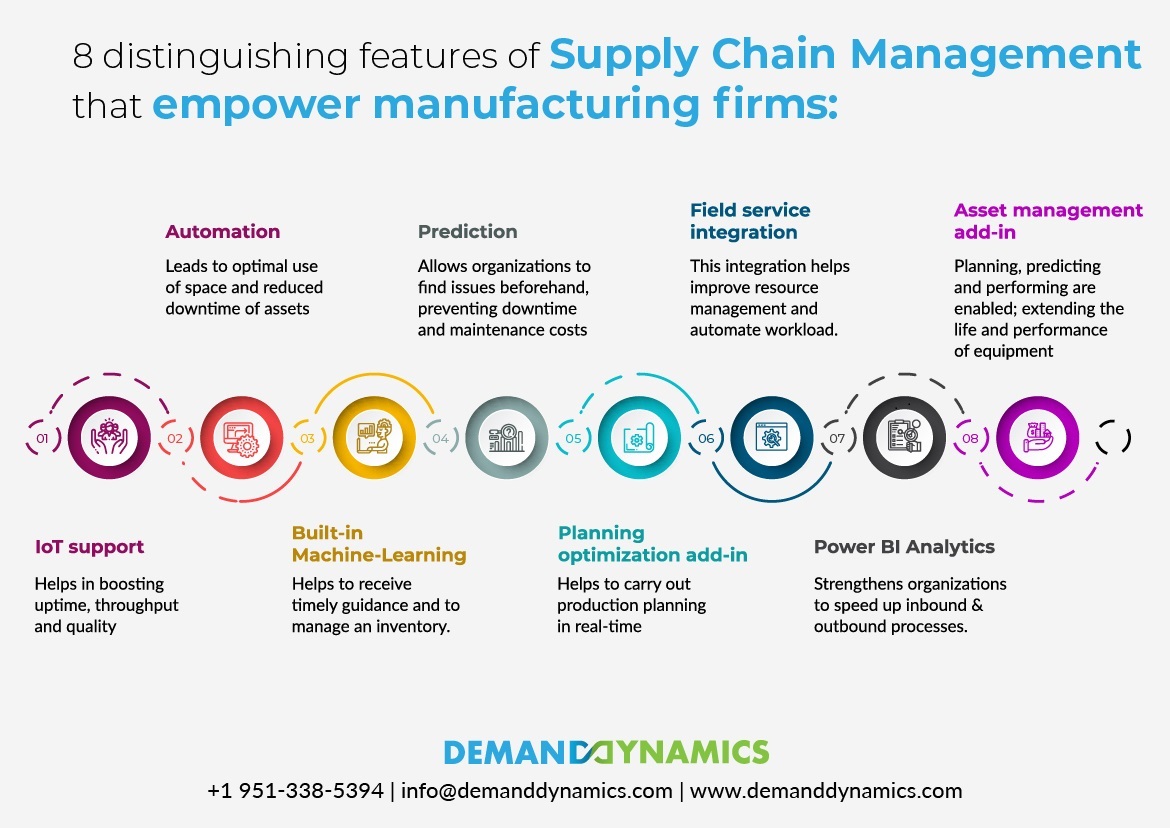 Unique Driving Features of Supply Chain Management (SCM):
Just like anything new, Supply Chain Management offers new features that help organizations in enhancing their manufacturing operations.
Here are 8 features that act as the driving force of this application:
IoT support: IoT, AI, mixed reality and machine learning are only a few amongst all the new technology used to bring Supply Chain Management to life. IoT support majorly helps in managing shop floor and equipment operations while boosting uptime, throughput and quality.
Automation: In today's tech world, automation is everything and Supply Chain Management enables organizations to drive automation through all their processes to optimize the use of space and reduce downtime of assets.
Machine-Learning (ML): Built-in ML capabilities help receive timely guidance and recommendations on how to manage an inventory. Effective management of materials and finished goods is also taken care of using configurable ML based guidance.
Prediction: Predictive insights allow organizations in identifying issues before they occur and prevent downtime and over the top maintenance costs. As a result, there is improved quality and customer satisfaction for the unforeseeable future.
Planning optimization add-in: The add-in helps manufacturing organizations carry out production planning in real-time keeping key checkpoints like customer demand and material availability in account.
Field service integration: An integration between Dynamics 365 Supply Chain Management and Dynamics 365 Field Service opens the gate for organizations to improve resource management and automate across their workload.
Power BI Analytics: Embedding Power BI Analytics strengthens the organization to speed up inbound and outbound processes. Real-time intelligence and end-to-end visibility are top perks that an organization receives.
Asset management add-in: Planning, predicting and performing are enabled by the asset management add-in which includes predictive, corrective, condition and preventive, and extend the life and performance of their equipment.
Why DemandDynamics, though?
DemandDynamics is working on empowering business leaders to transform their organizations by increasing the speed of doing business and driving today's success into the future. Microsoft Dynamics 365 Supply Chain Management is powerful, agile, and everything that a manufacturer demands: a perfect formula for levelling up production and efficiency.
With DemandDynamics you can:
Increase the speed of doing business
Grow at a comfortable pace
Transform your business faster
Make decisions smarter and quicker
Manufacturers struggle to get past operational challenges that weigh them down, but, Dynamics 365 SCM and its improved features can help power efficiency and productivity which automatically improves cash flow.
On a final note, Dynamics 365 SCM is something that is capable of entirely transforming the productivity of your company with actionable insights and a single truth of data, if you're a manufacturer, this could be the boost you've been looking for!