In the digital era, any manufacturer's critical concerns are about improving visibility, efficiency, and lower costs.
Significant things that every Manufacturing Chief Operative Officer (COO) must know – Dynamics 365 to change the future of Manufacturing
Digital disruption has transformed how many businesses do their business, and manufacturers are no exception to this. Manufacturers worldwide are driving change across the organizations to completely transform business, improve product quality, reduce time-to-market and customer service.
In the digital era, any manufacturer's critical concerns are about improving visibility, increase efficiency, and lower costs. To thrive in this current environment, manufacturers are left with relying on technology to breakthrough innovations and drive more intelligent operations.
What is the future of Manufacturing?
The convergence of physical trends and digital trends is disrupting everything from the past. Manufacturers now want to connect equipment and factories and leverage the data to improve every aspect of operations, from the floor to customer service. Digitization in the manufacturing industry is enabling a customer-centric approach while optimizing entire processes. They sell value-add services to complement product sales, open new revenue streams, and strengthen customer relationships while revolutionizing the delivery of these differentiated services.
In recent times, using technology like augmented reality; the manufacturers combine a field expert's insights back at headquarters in no time. Sophisticated technologies become more readily available, and everything is replaced by intelligent manufacturing facilities where tech-savvy workers, aided by intelligent robots, are creating future products. With these many growing technological advancements and the impact of artificial intelligence, today's quality of investments will define the future of Manufacturing.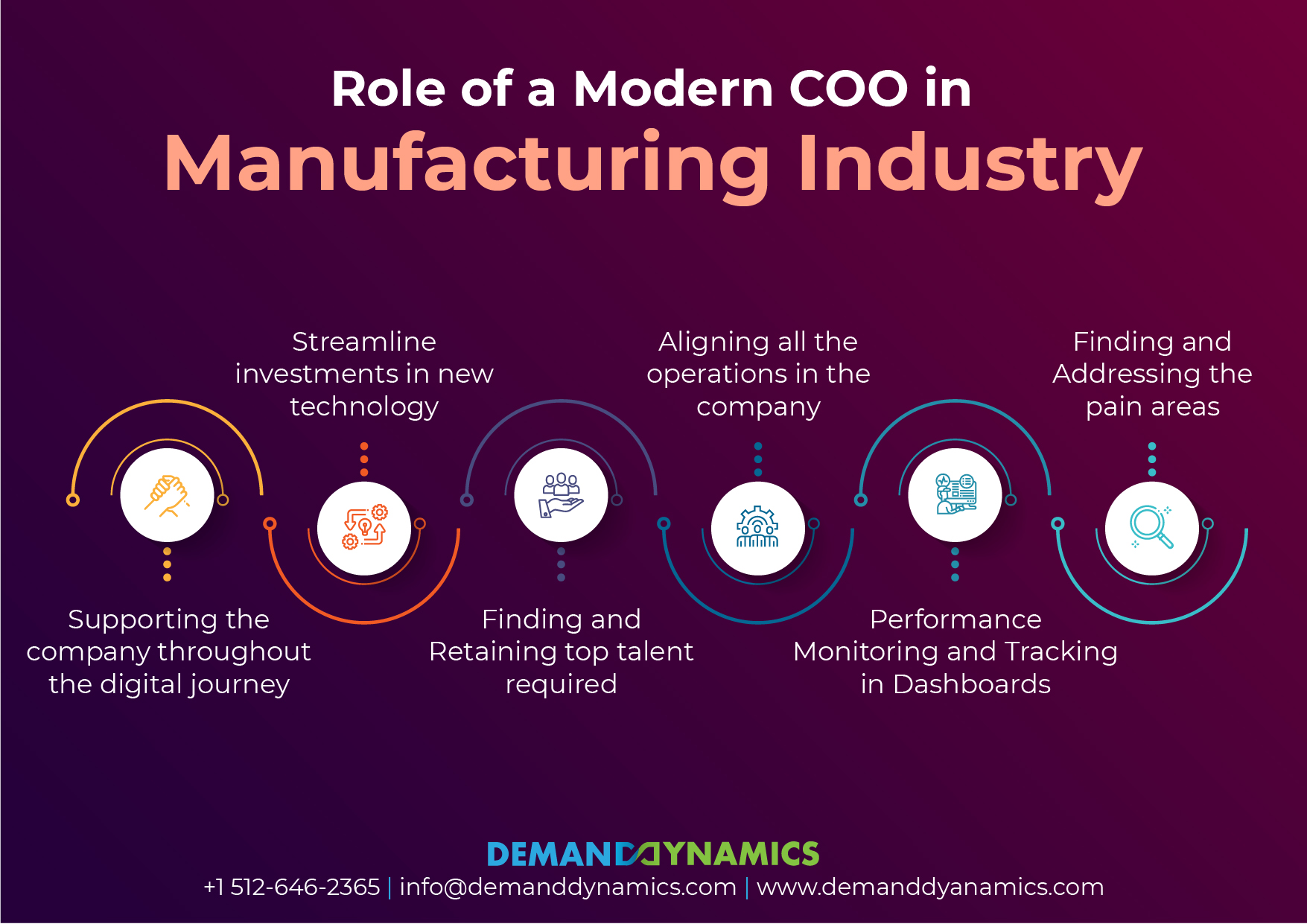 The Role of a COO in Manufacturing Industry in This Digital Era
When it is about digitally transforming the organization, a COO should take the lead on the digital transformation journey. Though the COO role has some primary responsibilities, there are a few aspects that a COO takes complete control of in the digital disruption to ensure business success.
Supporting the company throughout the digital journey
The COO should offer advice about how they can take advantage of new technologies to map out efficiency gains and cost savings. They also vouch for the operations, the expertise, and the quality to lend support throughout the digital journey.
Streamline investments in new technology
One of the critical objectives of a COO in the digital era should be reducing operational costs and streamlining investment in new technology. These are the core responsibilities for the COO, who adds their insight on the specific business operations and productivity challenges.
Finding and Retaining top talent
The responsibility to find the right people with the right skills at the right time ensures that everyone can perform well. Though there is an ever-growing need for new people who can think strategically in the business, understanding the requirement's needs is very important. This also needs to be seriously considered and handled by the COO in a company.
Aligning operations in the company
It is a continuous effort of the COO to align operations with organizational goals, which entails alignment of resource planning, reconfigured service levels, process integrity, budgets, people KRAs, and many more parameters to ensure business continuity for the organization under most circumstances. Achieving alignment becomes a moving target and involves multiple balancing acts through various pulls and pressures.
The core operations are monitored through indicators in operations dashboards, which cascade in the organization's responsibility. The dashboards focus on priority performance measures for the operations leadership.
Addressing the pain areas
Transformation opportunities are highest in operations pain areas. Compared to other departments, operations pain areas are given higher priority. As a transformation leader, COO seeks to find visible pain areas in operations management. The credibility of the transformation process will go up significantly if we solve operations pain areas.
Why Microsoft Dynamics 365 is best for Manufacturers?
Microsoft Dynamics 365 ends the divide between CRM and ERP systems. Dynamics 365 supplements necessary capabilities with rich analytics, embedded intelligence, and the convenience people expect from apps on a mobile device. With Microsoft Dynamics 365, COOs can optimize all the processes while laying the foundation for connecting advanced technology for the future. It also offers deep insight into the supply chain and manufacturing lifecycles, warehousing specifics, and delivery schedules to meet all the modern manufacturing challenges. It helps manufacturers transform their business by bringing business processes together into one comprehensive service. Purpose-built apps enable seamless access across functions such as finance, sales, customer service, and supply chain operations.
An ERP like Microsoft Dynamics 365 can make all the difference to your operations. The Microsoft Dynamics suite has been a favorite of manufacturing businesses, with solutions offering various tools and processes for manufacturers; Microsoft is determined to aid manufacturers in streamlining and enhancing their processes for two decades.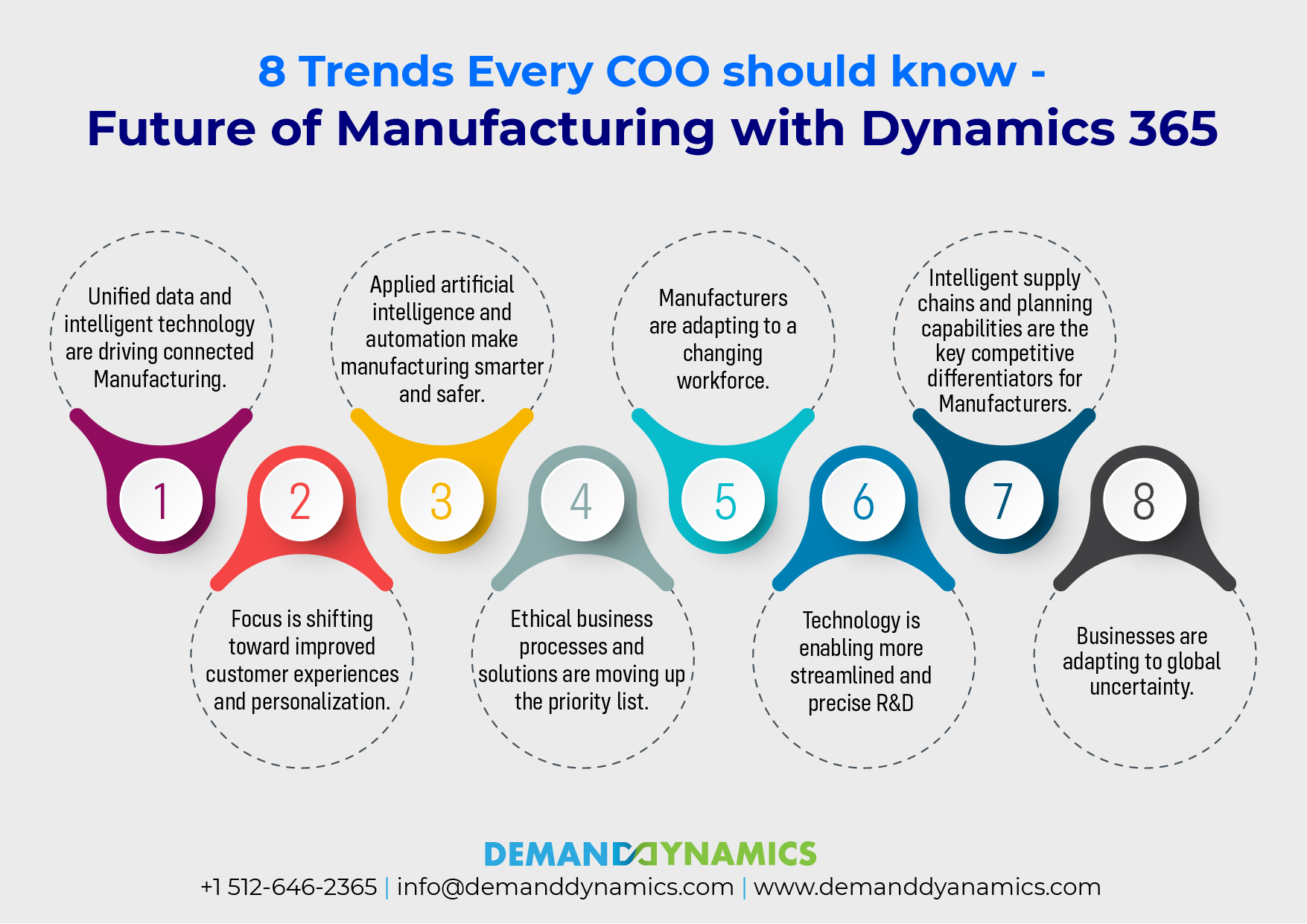 Trends Every COO should be updated about – the Future of Manufacturing with Dynamics 365
Unified data and intelligent technology are driving connected Manufacturing.
Unified data removes silos and enables intelligent tools to be leveraged across all your business units, elevating every part of the business through applied intelligence. A fully connected company will provide AI tools with more complete data, which helps the system provide more accurate outputs and deliver intelligence to every corner of the business. COOs can gain visibility into performance and gain the ability to leverage unified data from across the organization. Unified data provides business leaders with better visibility into both performance and operations. With a complete picture, they can make faster, smarter decisions.
Focus is shifting toward improved customer experiences and personalization.
As customer expectations rise, manufacturing leaders turn to technology to deliver better and more consistent experiences. Most researches prove that more than 63% of customers switch to a competitor because they offered better service. As the customers' expectation rises, Manufacturers are turning to Dynamics 365 to deliver a better customer experience.
Applied artificial intelligence and automation make manufacturing smarter and safer.
It was estimated that the spending for autonomous devices is predicted to approach 200 billion USD by 2022, and almost 60% of all manufacturing tasks could be completed with automation technology. As IoT connects data from across manufacturing organizations, intelligent systems leverage that data to make smarter and more efficient processes. AI-enhanced systems can detect and report physical processes in the real world and make automated decisions, predictions, and real-time optimizations across the end-to-end value chain.
Ethical business processes and solutions are moving up the priority list.
With mounting pressure from consumers, regulators, and shareholders, manufacturers invest in more ethical and sustainable practices. With intuitive, familiar tools that are easy to learn and cloud-based applications enable individuals to access information from anywhere. Microsoft Dynamics 365 makes technology more accessible to more people than ever before, opening up untapped markets for talent and innovation.
Manufacturers adapt to a changing workforce.
As the workforce becomes more diverse and inclusive, manufacturing COOs seek the knowledge and resources to help manage this transformation. They are also embracing this change to help drive innovation, onboard new technical digital skillsets, and develop new processes to capture institutional knowledge, ensuring that the next generation of workers is capable of taking the reins.
Technology is enabling more streamlined and precise R&D
New technologies and techniques, such as advanced prototyping and digital twins, enable advanced R&D and foster innovation. Many R&D departments have been tasked with developing products that utilize next-generation technologies such as cloud computing, IoT, AI, robotics, and big data. To meet time-to-market goals, R&D departments adopt some of the same technology they are tasked with incorporating into their products. Big data analytics, cloud computing, and intelligent sensors are some of the many technologies available to manufacturers today to truly listen to their customers and create innovative products.
Intelligent supply chains and planning capabilities are the key competitive differentiators.
 As customer expectations have shifted drastically, manufacturers are developing more agile warehouses and leveraging intelligent order routing to help them stay ahead of the competition. Most customers shift to a competitor based on their experience around fulfillment, delivery, and service. By analyzing data for patterns, AI can predict customer purchases that allow businesses to stock items appropriately. The IoT will enable retailers to tap into reliable, real-time data, increasing the speed and accuracy of decisions and minimizing waste.
Businesses are adapting to global uncertainty.
Deloitte's recent study showed that data management and data integrity topped executives' lists of concerns and challenges in managing cybersecurity. With new cyber risks, geopolitical shifts, and new regulations, manufacturing COOs are looking for ways to navigate the uncertainty. Microsoft Dynamics 365 empowers these operations leaders with greater visibility into their business operations and performance to help them identify emerging hazards and the flexibility to adapt quickly and scale with ease.
Explore more about Microsoft Dynamics 365
Digital transformation is not accomplished overnight. With Microsoft Dynamics 365 in place, you can optimize entire operations while laying the foundation for connecting advanced technology to prepare for the future. Dynamics 365 is a vast solution; whatever we see here would be just a grain of sand.
If you would like to explore more about Dynamics 365 solutions and how it can help your Manufacturing Industry, Talk to us.
We are a Dynamics expert team with extensive knowledge and vast experience in helping our clients across industries to digitally transform with Microsoft Dynamics 365 solutions. You can learn more about how to leverage the capabilities of Dynamics 365 to accelerate your manufacturing company by reaching out to us.