ERP solutions switched from traditional on-premises to cloud ERP deployments as companies across the globe consider cloud as their top IT priority.
A Complete Guide for Accelerating Your Cloud ERP Deployment
As of 2020, nearly 60% of major companies using ERP solutions switched from traditional on-premises to cloud ERP deployments as companies across the globe consider cloud as their top IT priority. What does this mean for your business?
Traditionally, Enterprise Resource Planning (ERP) systems were deployed on-premises, but not anymore. Since the inception of the cloud, cloud ERP solutions have grown in popularity. Whether you are considering a cloud ERP system or are actively searching for one, it is important to understand the research behind a cloud solution so you know how it will boost your business.
This blog will be your complete guide for accelerating your cloud ERP deployment.
Types of ERP Deployments:
Ensuring a successful deployment of a cloud ERP involves understanding the ERP deployment options and strategies. There are three significant types of deployment options –
Cloud ERP (in the cloud through a vendor such as Microsoft Dynamics 365)
On-premises ERP (locally installed on your server)
Hybrid ERP (combination of cloud and legacy on-premises system)
What is Cloud ERP and Why Do You Need to Choose a Cloud ERP Deployment?
As opposed to an on-premises ERP system, cloud ERP is an Enterprise Resource Planning software that runs on a provider's cloud computing platform. Users can access ERP through the Internet, while software and data are stored on a remote, third-party server. The hardware is managed by a data server, which provides data security and backup for the ERP software and cloud data. Under a cloud ERP system, companies typically pay a monthly charge to obtain the software via the Internet, and most of the maintenance and updates are the responsibility of vendors.
The cloud is the best option to deploy an ERP solution, as it provides next-generation capabilities without the upfront costs of infrastructure and training. While comparing cloud and on-premises ERP, apart from implementation, you need to evaluate four key factors: usability, upgrades, security, and costs. Below are some of the benefits of a cloud ERP that demonstrate why it is a better solution than an on-premises ERP deployment.
Benefits of Cloud ERP Deployments:
Eliminates the need for data servers and software
Quick deployment
Highly flexible and easily scalable software
Requires very minimal or no internal IT resources
Cuts down huge upfront investment
Web-based interface and mobile access
Integrates easily with your existing systems/applications
Offers extensive customization capabilities
Automatic upgrades
Greater data security, backup, and storage
Faster time to market
Stay current with capital outlay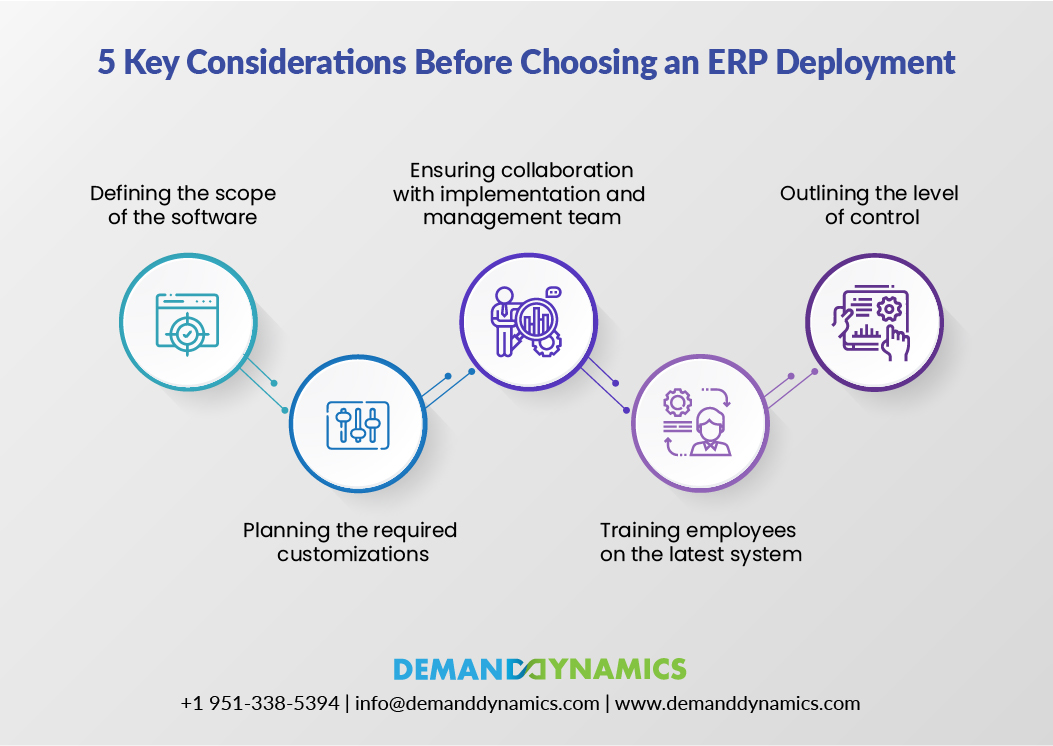 Key Points to Consider Before Choosing an ERP Deployment
Scope: State what problems you aim to solve with your ERP and establish KPI to help measure your progress. Having a well-defined scope of the process beforehand can save you from disastrous ERP failures. It is best to define what your ERP solution must do for you and set clear expectations upfront to establish your overall goals.
Customizations: Customizations are necessary. Hence, it would help to analyze your standard processes with the ERP functionalities and point out changes required.
Collaboration: Ensure that your internal management and implementation teams are involved throughout the process. Your ERP management and implementation teams must understand the company's overall needs and work together to form a rock-solid base for a successful cloud ERP deployment.
Change management: New ERP deployments alter your work habits, which is why it is critical to allocate enough time to train employees on the latest systems and processes. End-user training should preferably begin before the implementation to assist the implementation and utilization of the solution.
Control: Outline the level of control you need with your ERP solution. On-premises ERP is installed on your server, while cloud-based ERP does not live on your server but can be automatically updated without intervention from a dedicated IT team.
How to Implement Dynamics 365 Cloud ERP?
Dynamics 365 is one of the primary leaders in the ERP market. Over 80% of Dynamics 365 users have opted to deploy their software via the cloud. However, there are several ways to implement a new ERP system like Microsoft Dynamics 365. The deployment option that you choose will significantly impact your business. With Dynamics 365 ERP, you have all three deployment options such as Dynamics 365 in the cloud (hosted on Azure, Microsoft's web services platform), Dynamics 365 on-premises (hosted on your servers), and Dynamics 365 hybrid deployment.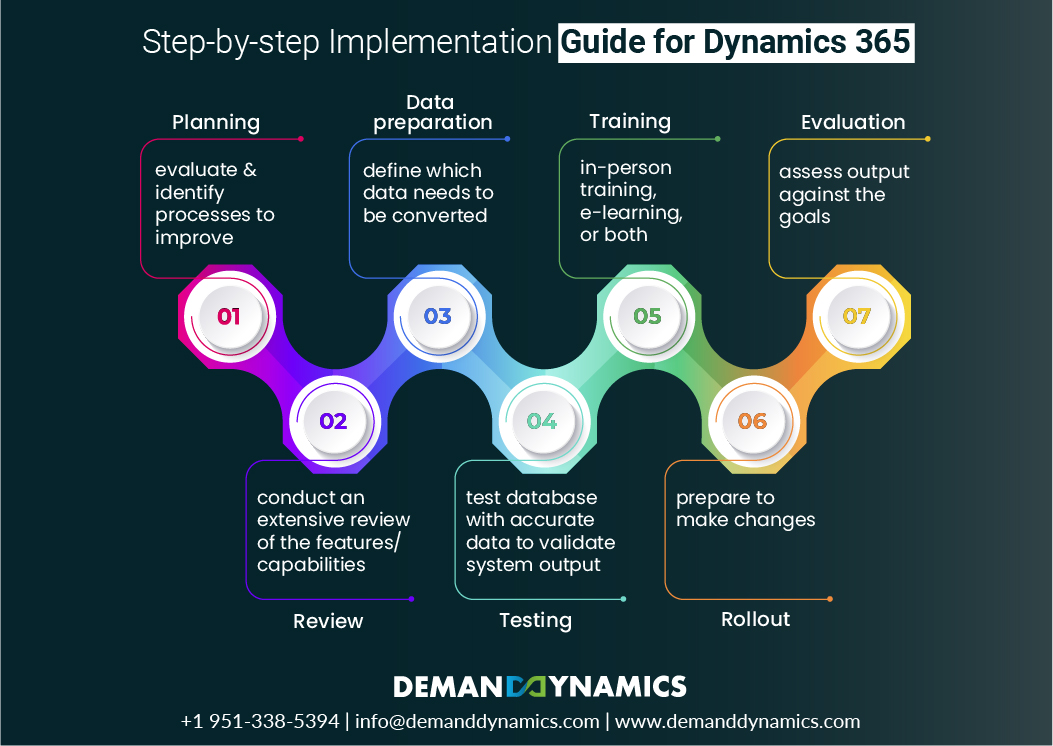 Here is a simple step-by-step implementation guide for Dynamics 365:
Planning: The first step is to evaluate your current business practices and identify which processes need to be improved or automated by the new ERP system.
Review: Have your project team conduct an extensive review of the features and capabilities of your new ERP software to identify proficiencies and skill gaps before rollout and verify which manual processes to be automated.
Data Preparation: Define which data needs to be converted to the new system and analyze it to remove any unwanted or outdated information.
Testing: Have your project team practice with a test database that is populated with a whole week of accurate transaction data to validate system output, test accuracy, and ensure that integrations and interfaces work correctly.
Training: In addition to testing the new system, encourage hands-on experience with the latest software to support company-wide training, whether in-person training, e-learning, or both.
Rollout: On the day of rollout, plan on receiving a lot of questions. Ensure your team is prepared to make changes and adjustments as needed.
Evaluation: After rollout, evaluate your ERP solution's output against the goals and objectives your project team set during the planning stage.
Hiring a Partner will Save You Time, Cost, and Frustration
Opting for a solution provider for your ERP implementation will dramatically increase your chance of ERP success. It will also help in avoiding common mistakes since all Microsoft Dynamics partners specialize in Dynamics 365 products and have the necessary skills and expertise to deploy the solutions. However, you need to choose a partner who knows your industry. Your partner does not just help with the implementation but also helps you get the most benefit from your ERP investment. You must ensure that your technology partner knows your industry, has values that correspond with your company, understands your end goals, has a proven track record, and has expertise with your chosen ERP software.
At DemandDynamics, we have extensive expertise in a variety of industries and have successfully implemented Microsoft Dynamics 365 solutions for many different organizations.  With our expertise, we can help you identify the right ERP solution and the right strategy for your business. If you are looking to make your cloud ERP implementation effortless, talk to our team!