Microsoft Dynamics 365 Commerce is one of the best platforms for e-commerce businesses.
Dynamics 365 Commerce – The e-commerce weapon
Ecommerce businesses are scattered across the internet, like many constellations. Yet, only a few make it while the others struggle to gain a competitive edge over their rivals. While convenience and on-the-go management make life easier, e-commerce businesses need to have the right platform. Microsoft Dynamics 365 Commerce is one of the best platforms for e-commerce businesses.
Here's an unraveling you don't want to miss.
What is Microsoft Dynamics 365 Commerce? 
D365 Commerce is an app that bores various foundation blocks of the Retail app and offers an all-in-one platform that integrates e-commerce, back-office, and brick-and-mortar business activities. It allows businesses to improve staff productivity in ample folds and establish their loyal brand. The innovation in supply chain functions makes business activities run smoothly and higher profits and revenues.
Commerce provides the users with various tools tailored for specific businesses and industries for precision and to increase business productivity.
Benefits that Dynamics 365 Commerce is best known for:
Cross-channel customer engagement allows customers to have ownership of the purchased products as they can choose when, where, and how the products or services are provided.
Develops customer loyalty– Commerce sets a centralized platform that bares customer information and helps understand business needs that need to be catered to. This helps in developing a long-term bond with customers. (Integrated AI features help in strengthening the brand identity)
A collection of apps– Choose from a wide range of apps available that suit e-commerce as they provide end-to-end features that scale up to meet the needs.
Friction-free online features– A reliable customer experience due to back-office functionalities that are completely optimized and integrated with ML and AI.
Flexible– It is flexible to meet many operational requirements and comply with security standards and compliance regulations.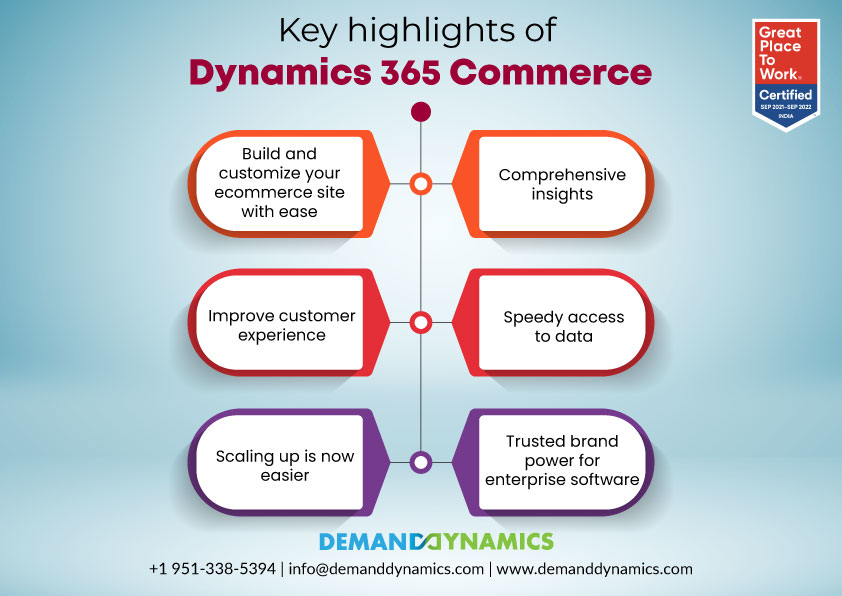 6 Reasons to Consider Dynamics 365 Commerce for Your Business
Key highlights of D365 Commerce:
Build and customize your e-commerce site with ease
You can customize your site with the in-built web-authoring and development tools included in the Store Starter Kit. The size of your business does not matter when it comes to using Commerce; you can customize to your requirements and scale up when you see fit. The preview comes with a dummy expression that you can eat to figure out how to work with the modules.
The modules are:
Container
Product details page
Marketing
Purchase
Search
Account management
Recommendations
Header and footer
Buy online pick up in-store
Comprehensive insights
There are several apps, services, and AI-based capabilities that you can access when you enter the Microsoft ecosystem.
Improve customer experience
Commerce's link with D365 CRM allows you to be on top of customer behavior, relationship management, new customer acquisition, retention of existing customers, and loyalty programs. This helps you extend the right kind of support to your customers, drive engagement and adjust your marketing plans accordingly.
Speedy access to data
Commerce is cloud-based and centralized, which means that you can access any data or insight you'd need whenever you log in.
Scaling up is now easier.
Commerce on the cloud establishes that there isn't a worry about physical space occupation or hardware requirements whenever you need to add software or scale-up. Data security is also taken care of, along with regular upgrades.
Trusted brand power for enterprise software
Before you jump in…
Everything is easier said than done. Similarly, when it comes to D365 Commerce, you must get some groundwork. Since there are so many features that you don't know about yet and a range of facts that need to be looked upon, the groundwork is something you cannot skip.
Here's what you need to know about Commerce before getting to work:
LCS is the Lifecycle Services portal designed by Microsoft. Having access to it along with Microsoft Azure will ensure seamless operations. You must have access to the Azure subscription, e-commerce system, group ID, moderator group ID, AAD tenant ID, ad rating group ID.
If you opt for on-site deployment instead of the cloud, you might not access various features as on-site deployment has a minimal list. For example, you won't upload the data to cloud infrastructure, even on Azure.
Compatible add-ons and plugins are things that the Dynamics 365 suite app comes with. They can collaborate with other Microsoft apps to create promising e-commerce platforms. But third-party apps will have compatibility problems, so they aren't recommended as much.
Pricing might seem a bit overbearing for small to medium-sized businesses. His is because it costs around £135.70 monthly for a user, and thousands of dollars need to be paid if you want to use the customer insights feature. In addition, the fraud protection charges will be extra.
Final words:
D365 Commerce is the all-in-one solution you need for all your finance and Commerce related tasks. Its features have made it a preferred choice amongst businesses, not just that; it has everything a business needs to set a mark and flourish in the industry. For more information, talk to our experts!