Microsoft has designed its various products to best suit every industry with their unique industry needs.
Benefits of integrating Dynamics 365 with Office 365 tools
Do you know that almost 1 in every 5 companies use Microsoft Office for their business need? The numbers suggest that over 600,000 companies in the US alone use office suite software. And, Dynamics 365 is touted to be widely used when it comes to CRM/ERP in businesses with a 7.18% growth rate in enterprise application market share. Well, as you can see the numbers are staggering. Microsoft has designed its various products to best suit every industry with their unique industry needs. Being the most used software across the globe, Microsoft Dynamics 365 becomes much more powerful when connected to Microsoft Office tools.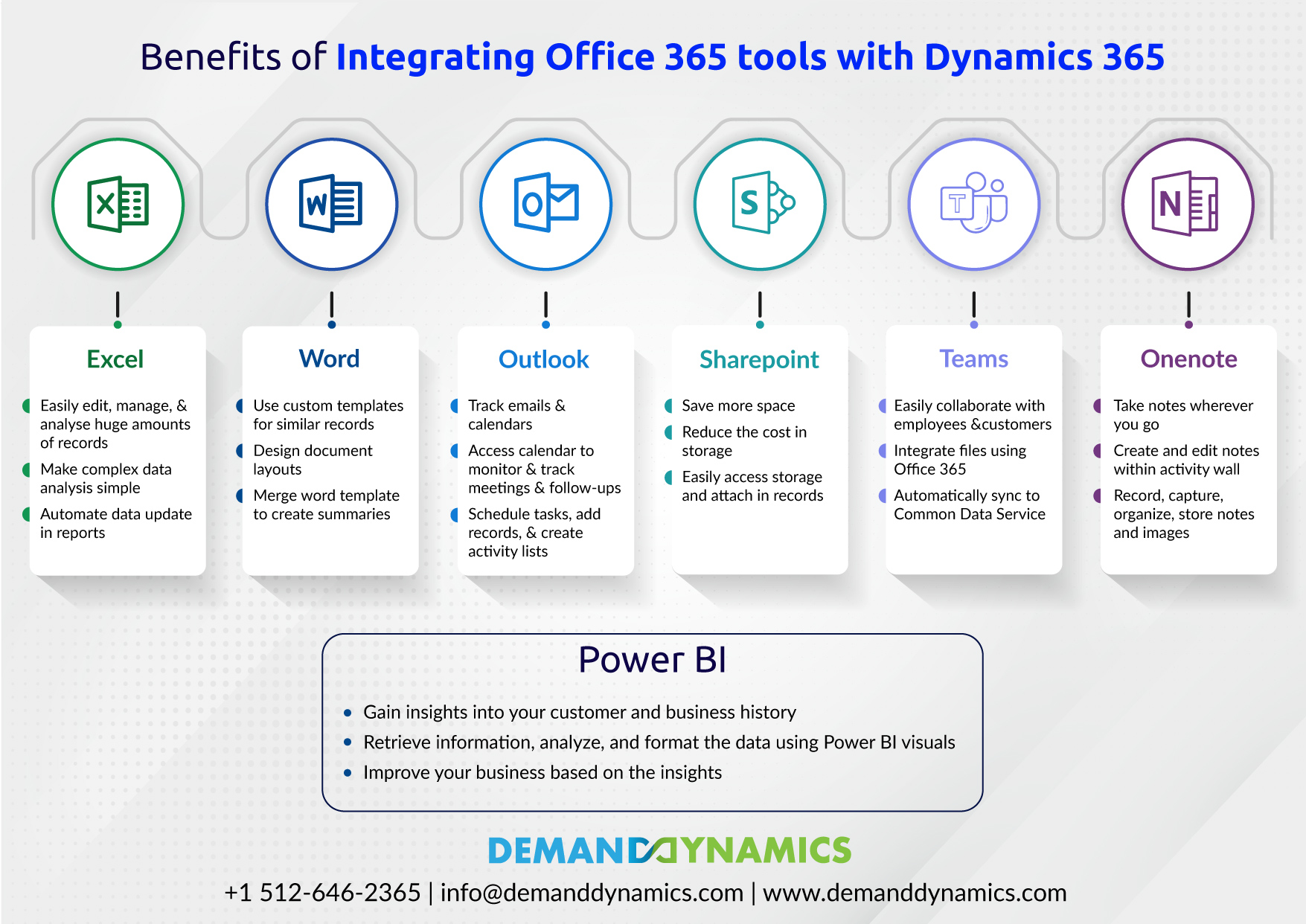 Let's have a look at some of the popular Office 365 tools that can be integrated with Dynamics 365.
Some ways to Integrate Office 365 tools with Dynamics 365
Microsoft Excel and Dynamics 365 
Microsoft Excel has been in use for a longtime now. However, in an organization, the usage of Excel has its limitations. The limitations mostly arise, especially when there is a need to update a huge number of records. By integrating Excel with Dynamics 365, without editing the records you can easily update the records in Excel online, within Dynamics 365. This integration can help you take advantage of the Microsoft Dynamics 365 capabilities. When your Excel is connected to Dynamics 365, you can make complex data analysis simple for your organization, utilize the reporting feature to analyze data, and get an automated update of data in reports.
Microsoft Word and Dynamics 365
Microsoft Word is the commonly used Word processing program that has been in use across the globe. One of the best reasons to integrate Word with Dynamics 365 is the necessity of professional-looking documents for your business needs. With Dynamics 365 and Word, you need not waste time creating a new document for similar records; instead, use custom templates in Dynamics 365. Other benefits of Word and Dynamics 365 integration is it allows you to design a document's layout similar to working within the Office, eliminates the time spent on generating a new document, and helps you in merging data within the Word template to create summaries.
Microsoft Outlook and Dynamics 365
Outlook is the best emailing platform that is used globally. By integrating your outlook with Dynamics 365, you will be able to track your emails, monitor sales activities within Outlook Calendar, track meetings, and follow-ups. The Dynamics 365 and Outlook integration enables you to create new records in Dynamics from Outlook, automatically schedule tasks and add records, and create activity lists in response.
Microsoft SharePoint and Dynamics 365 
Sharepoint is an incredible cloud-based data management tool by Microsoft. When we integrate Sharepoint and Dynamics 365, you can save more space and reduce the storage cost. Integration with Dynamics 365 also allows you to automatically attach documents to the record for easy access in managing files.
Microsoft Teams and Dynamics 365
Teams is a business communication platform for managing your business conversations, files, and tools in one collaborative workspace. Integrating Dynamics 365 with Microsoft Teams can let you access a shared workspace for Office apps through a collaboration hub, collaborate with employees across functions, integrate files using Office 365, and automatically sync to Common Data Service.
Microsoft OneNote with Dynamics 365
OneNote, the application that is a digital notebook, which can be used to take notes wherever you go. Integrating it with Dynamics 365 can allow you to create and edit notes within activity wall record, easily capture, organize, and store notes and images on any device.
Microsoft Power BI with Dynamics 365
Power BI is a cloud-based business intelligence (BI) and analytics solution for visualizing your data and share insights across your organization. Recently, Microsoft made Power BI available as part of the Office subscription. It is a cloud-based application, which can act as a self-service analytics solution when integrated with Dynamics 365. Power BI and Dynamics 365 integration help you to gain insights into your customers' business history, quickly retrieve information, analyze, and format the data using Power BI visuals and improve your processes.
Microsoft Dynamics 365 is a powerful platform on its own; however, there are ways to leverage the functionality available in Office 365 applications with Dynamics 365. Then why not combine the two? Integrating the right tool with the right strategy can help you attain your investment's maximum benefit. If you would like to explore more about Microsoft products' integration with Dynamics 365, talk to us today about how these Microsoft products integrations can help your business.