In today's competitive world, the role of marketing teams is important and critical for an organization's success.
When it comes to SMB's, their importance is realized upon their wise marketing efforts, financial operations, and other functions.
Though marketing is getting better and more prominent, marketers worldwide face many unique and common challenges. Some of the significant challenges include accessing data across platforms, identifying customers across channels, maintaining a consistent customer experience, tracking metrics, lead nurturing, providing and measuring the ROI, etc.
But when you have the right solution in place, you can eliminate all the challenges your marketing team faces and enhance the marketing efficiency. Microsoft Dynamics 365 solutions are among the most prominent CRM vendors with the highest growth and acceptance rates among consumers. It is cloud-based and comes with a host of ERP and CRM solutions.
What is Microsoft Dynamics 365?
Microsoft Dynamics 365 is not just a simple CRM and ERP solution; it combines robust sales, marketing, and servicing tools to give a clear view of customers from the initial contact to support. The Dynamics 365 solutions have revolutionized CRM by applying intelligence to all forms of data. Microsoft Dynamics 365 is powered to provide all the tools SMBs need to execute successful marketing campaigns across several channels. It can help the marketing teams to evolve from reactive business decisions to proactive insights and ideally empower and accelerate performance. You can achieve targets, generate leads, increase account value, and many more.
Let us explore how, with this simple guide on how you can leverage the capabilities of Dynamics 365 to enhance your marketing teams.
How Dynamics 365 can transform your marketing process?
Many companies across the business industry have already employed marketing automation extensively and gained more than 27% increase in their lead volume, 30% increase in the lead conversion, and more than 25% increase in the marketing ROI. Microsoft Dynamics 365 unifies your customer information, provides marketing automation features – lead scoring, customizable email templates – and allows you to create personalized customer journeys.
Here are some of the business challenges Microsoft Dynamics 365 solves and the benefits it provides.
10 Benefits Dynamics 365 can bring to your marketing team.
Centralized information access: Information is a crucial asset for anyone in this digital world. As the marketing team becomes less dependent on each other for exchanging and updating information, marketing teams work more effectively, withholding all the details of marketing activities at hand.
Personalized communication: Dynamics 365 solution delivers customer segmentation to personalize customer communication to their needs and interests. You can gain trust and loyalty by communicating with customers at a distinct quality level.
On-brand email templates: Dynamics 365 allows to optimize launching marketing campaigns and customizing the templates from the start. You can diversify email campaigns and tailor communication to different customer situations.
Automated lead scoring: The process of generating and nurturing leads can get more effective with the Dynamics 365 solution in place. With a chance to set lead-scoring models, you can generate leads from marketing activities and scoring them automatically depending on their activities and interactions over time.
Customer journey mapping: This capability of the Dynamics 365 solution can help you achieve automation of daily processes that can be triggered without your marketing team's direct participation. You can easily decide how the journey unfolds depending on a customer's reaction to a marketing action.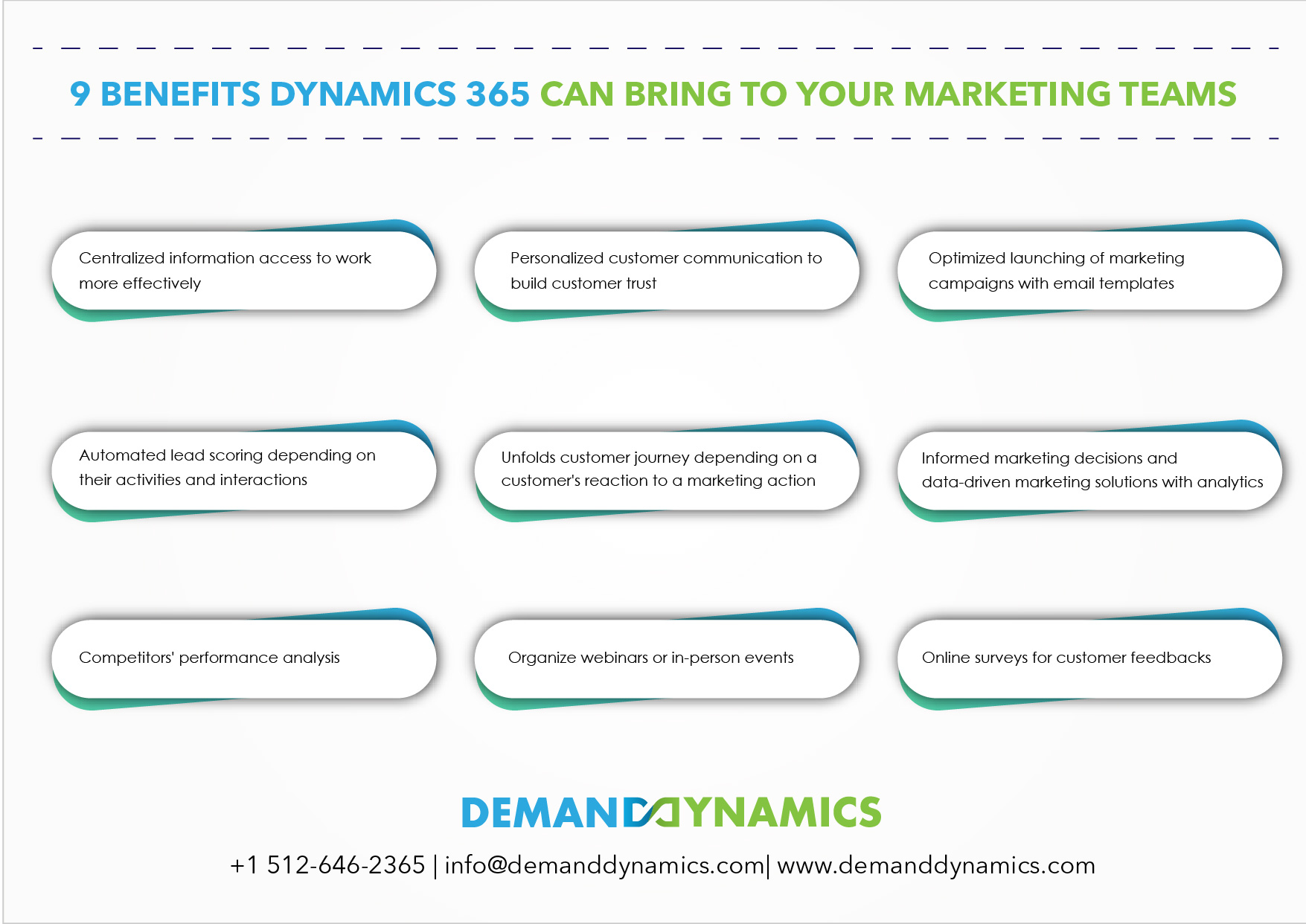 Informed marketing decisions: Analytics is the key and critical for every company to understand how their marketing activities are resonating with their audience, what works best for you and them, and what can be excluded from the existing strategy. Dynamics 365 solutions can help you track KPIs, including email management and customer journeys, to provide you with insights into customer behavior and direct you to data-driven marketing solutions.
Analyze Competitors' Performance: A significant part of being successful lies in tracking your conversion rate and understanding your competitors' strengths and weaknesses. Dynamics 365 comes with an in-built feature that allows businesses to accurately create their competitors' profiles, including the accounts and the sales opportunities they are trying to attain.
Event Management: Dynamics 365 allows you to promote and organize webinars or in-person events and includes online portals for attendees to review the speakers, schedule, or register for events. This feature is currently unique to Dynamics 365 for Marketing.
Core Marketing: Dynamics 365 solutions provide behavior tracking, customer journeys, email marketing, marketing pages, lead scoring, and much more.
Online Surveys: The feature, Voice of the Customer, is part of the marketing solution and add-on with other Dynamic 365 products to develop online surveys to determine consumer trends.
Leverage the Dynamics 365 capabilities for your marketing team
Overall, Dynamics 365 solutions allow enterprises to establish strong relationships with customers, make informed decisions, arrive at data-driven marketing solutions, keep track of contacts/ accounts, nurture leads, automate lead scoring, and a lot more benefits to mention.
Microsoft Dynamics 365 and its exceptional range of solutions owed to its intuitive use and customizability makes it a best fit for business of any type.
If you are someone on the look-out to gain the fullest benefit from your Dynamics 365 investment or someone willing to enhance your marketing processes, Talk to our expert team!
We can help you understand the capabilities of Dynamics 365 solutions and how you can leverage the exceptional solution to improve your marketing teams. Get advice from Dynamics 365 Marketing Experts!