Banner
Dynamics 365 for Marketing
Explore Dynamics 365 Marketing for targeted, strategic, and insightful campaigns
Watch an overview
Dynamics 365 for Marketing is your all-in-one toolkit
Dynamics 365 for Marketing is your
all-in-one toolkit
Attract new customers, create personalized experiences, and extend your outreach—all at once—using Dynamics 365 Marketing. You can automate your marketing workflow, gain a 360-degree view of your customers, and effortlessly manage every marketing task.
Make a difference with Dynamics 365 Marketing
Make a difference with
Dynamics 365 Marketing
Unified marketing powerhouse
Dynamics 365 for Marketing brings all your company's marketing data into one centralized hub, promoting seamless teamwork and enhanced productivity.
Insightful KPIs
Track key performance indicators (KPIs) to measure the success of your marketing campaigns. This information can be used to make informed decisions about your marketing strategy and improve your ROI.
Customer loyalty
Leverage tools to track customer behavior across several channels, such as your website, email, and social media. Use fresh this data to improve your marketing and provide a more personalized experience, which makes customers happy and loyal.
Captivating customer experiences
Create captivating experiences for your customers and guide them through every step with email messaging. Develop relationships with potential customers and keep them engaged with interactions tailored just for them.
Valuable customer feedback
Collect valuable customer feedback through surveys, polls, and other tools. Captured feedback can be used to improve your products and services and to grow your business.
Elevate your marketing game with Dynamics 365 Marketing Implementation
Elevate your marketing game with
Dynamics 365 Marketing Implementation
Dynamics 365 CRM Marketing is a game changer for business. It can increase your bottom line by centralizing data, optimizing customer engagement, and driving growth through insights and personalization.
Lead scoring
Easily identify your most promising leads using an automated scoring model. Dynamics 365 for Marketing calculates lead scores based on various interactions, such as email opens, website visits, and event participation.
Create impactful journeys
Explore pre-configured sample customer journeys and tailor them to automate messaging, task execution, and waiting intervals. This helps you gain insights into the performance of each journey.
AI-powered recommendations
Dynamics 365 Marketing generates tailored AI-powered recommendations for your customers by analyzing their past purchase history, website activity, and social media interactions. This can help you to increase sales and cross-sell products.
Customized emails
Design dynamic email templates that personalize content for every recipient. Create targeted email campaigns and preview how they will appear on different devices before sending.
Event coordination
Simplify event planning, from budgeting and promotion to registration and post-event analysis. Streamline logistics for both virtual and in-person events, including venue and guest coordination.
Multi-source insights
Dynamics 365 Marketing collects data from your website, CRM system, and social media to help you create more personalized and relevant marketing campaigns based on customer interests and behavior.
Microsoft Dynamics 365 Marketing Dashboards
Microsoft Dynamics 365
Marketing Dashboards
Dynamics 365 for Marketing can give you a tailor-made overview of your database. In fact, it has four distinct dashboards to help you independently view specific datasets.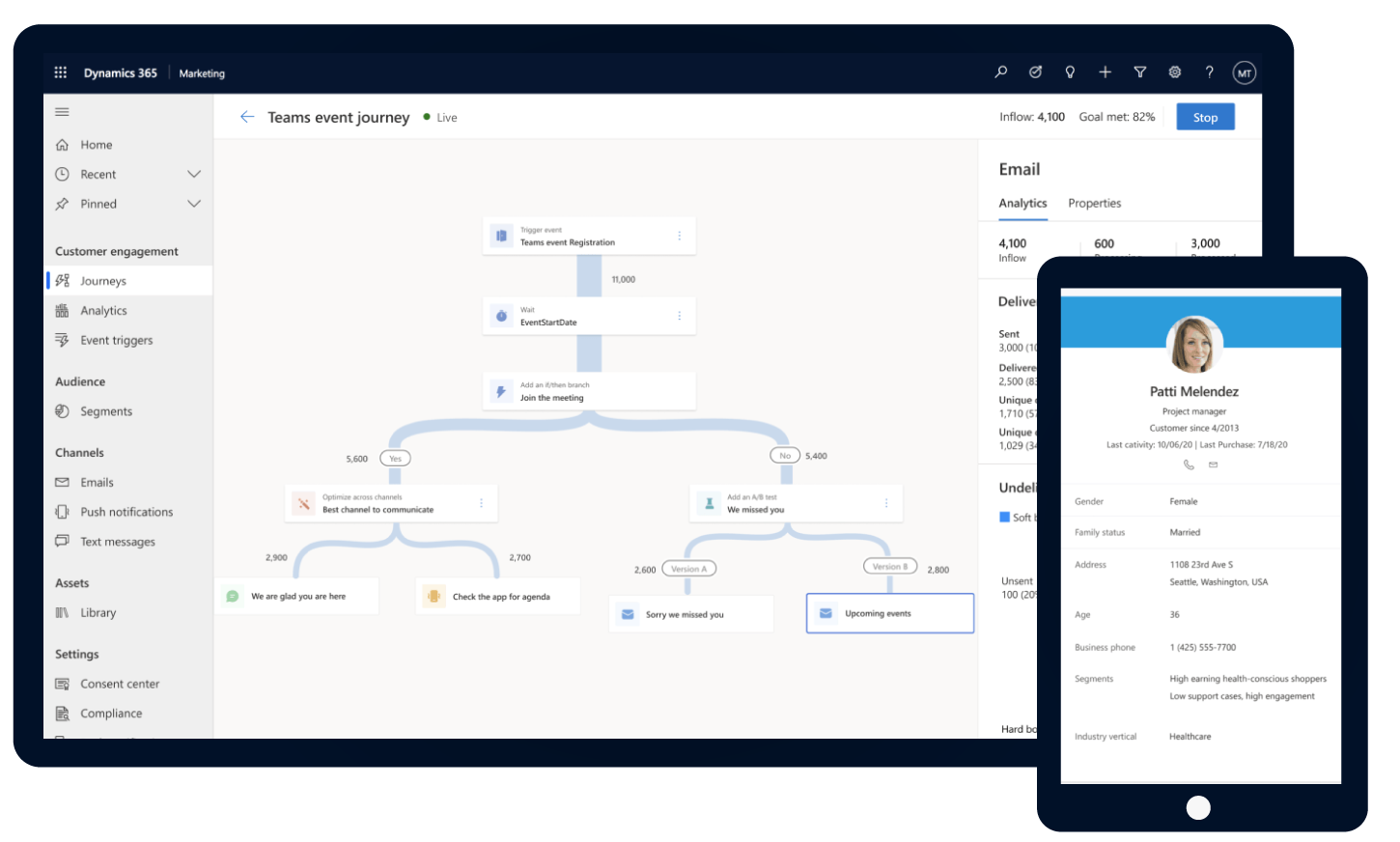 Lead Generation Dashboard
An interactive dashboard puts all your lead generation data into one pane to view your campaign performance, ad responses, email clicks, and query initiations.
Customer Journey Dashboard
Visualize your customer journey data on an interactive dashboard and analyze the strategies and their performance in different campaigns.
Email Marketing Dashboard
Get access to all your email marketing KPIs, associated performance metrics, and a breakdown of marketing details on this dashboard.
Event Management Dashboard
This dashboard lets your marketing team keep track of all your organization's active and pipeline events while also displaying the target audience's response.
Pricing for Dynamics 365 Marketing
Pricing for
Dynamics 365 Marketing
Dynamics 365 Marketing, for companies without any D365 apps
$1500

per tenant, per month
10,000 contacts, 100,000 interactions and 1,000 SMS
Dynamics 365 Marketing Attach, for companies with eligible D365 apps
$750

per tenant, per month
10,000 contacts, 100,000 interactions, and 1,000 SMS
Our Dynamics 365 Marketing Services
Our Dynamics 365
Marketing Services
DemandDynamics works closely with your team to improve process efficiency and optimize operations , driving significant business improvements.. Here are some of our key offerings.
Dynamics 365 Marketing Implementation
Our implementation services for Dynamics 365 Marketing are customized to your unique needs and requirements. You can rely on our expertise, even in challenging situations.
Dynamics 365 Marketing Integration
Seamlessly integrate Dynamics 365 Marketing with other applications and systems. Our team makes sure that the solution is in sync with your current.
Dynamics 365 Marketing Support
Ensure smooth operations of Dynamics 365 Marketing with our reliable 24/7 support services. Our dedicated team is ready to swiftly resolve any issues that may arise.
On Demand Services
Our team works on-demand—you only pay for the hours and services used—without being tied to a subscription model.
Benefits of On Demand Services
Benefits of
On Demand Services
When you engage our On Demand Services for Microsoft Dynamics, you are engaging an entire pool of scalable, certified resources that seamlessly fill your skill gap and demand gap.
Customer Logo
Our Customers


















FAQ
Frequently Asked Questions
1

What is Microsoft Dynamics 365 Marketing?
Dynamics 365 Marketing is a marketing automation solution to evaluate and implement your marketing campaigns across your business functions. It is undeniably the best sales solution for increased ROI.
2

How can marketing module help my business scale?
With the help of Dynamics 365 Marketing, you can nurture sales-ready leads by building campaigns intended to send personalized information to prospective customers for better conversions. Talk to our experts about your marketing requirements.
3

What marketing activities can be performed using Dynamics 365 Marketing?
Among the handful of marketing activities that you can perform using Dynamics 365 Marketing, here are some functions we excel at,
Personalized Communications
Build Nurture Campaigns
Multi-Channel Campaigns
Build Landing Pages and Forms
Lead Scoring
Email Marketing
Power BI