Dynamics 365 for
Marketing
Dynamics 365 for Marketing is a full-stack solution for all your marketing needs. Obtain a 360-degree view of your customers, automate your marketing workflows, personalize customer journeys for stronger engagement, and perform all your marketing operations with full visibility using Dynamics 365 Marketing.
At DemandDynamics, we have been home to successful Dynamics 365 Marketing implementation for years. With our extensive experience in the Microsoft Dynamics 365 platform, we can design a customized solution for you.
Why Implement
Dynamics 365 Marketing?
Modern marketing is complex, with myriad challenges and constantly changing trends. Marketing professionals would need digital tools to combat these challenges and streamline marketing methods. With Dynamics 365 for Marketing, you can visualize your marketing ecosystem, integrate all your marketing operations on a single platform, and improve team collaboration from a unified source.
Personalize Your Customer Communications
With Microsoft Dynamics 365 Marketing, you can create end-to-end customer journeys based on events and online customer behaviors. Create better touchpoints for your customers, sustain communications over mail, SMS, social media, and other channels, and boost customer loyalty with audience engagement tools.
Boost Productivity with Centralized Data and Operations
Provide a unified marketing database for all your teams. D365 Marketing enables your employees to track and manage critical business data from a single source and save time when collaborating or sharing information.
Some of the key features of Dynamics 365 for Marketing:
Built-in compliance checks to prevent data misuse
APIs, add-ons, and plugin support for productivity enhancement
Real-time view of customer information
Become Customer-Centric
Give your customers the power to steer interactions in real-time to bond and engage with your brand. Collate information from customer interactions on various platforms to understand marketing contexts, personalize based on their needs and searches, enable point-and-click dynamics across all touchpoints, and use prescriptive AI for next-step recommendations across a channel-agnostic ecosystem.
Engage with your customers in real-time
Customers respond well to an interaction that gives them a sense of control and personalization—in real-time—thereby improving your brand association. You do this by collating information from customer interactions based on their needs and searches across various platforms, for example, smartphone or laptop. When you apply prescriptive AI to this data, you can supply next-step recommendations across a channel-agnostic ecosystem.
Transform and enhance your business processes with
Microsoft Dynamics 365 Marketing Implementation
Create Better Campaigns
Dynamics 365 for Marketing provides AI-powered marketing analytics to help you better understand your audience.
Discover your ideal target audience and nurture promising leads with ready communication templates, customize each message, and deliver relevant information with each campaign consistently across all touchpoints with the campaigning feature of D365 Marketing.
Interact and Engage
Streamline and optimize your content with high-relevance and rich information that responds well to customer demands. Leverage emails and personalization for improved outreach and funnel traffic ready to engage with your brand.
Market Effectively
A unified database helps bring all your marketing teams and professionals together with the same set of updated, real-time information on Dynamics 365 CRM for Marketing. The platform lets you enhance the impact of your marketing campaigns, helping customers remember you better.
Microsoft Dynamics 365
Marketing Dashboards
Dynamics 365 for Marketing can give you a tailor-made overview of your database. In fact, it has four distinct dashboards to help you independently view specific datasets.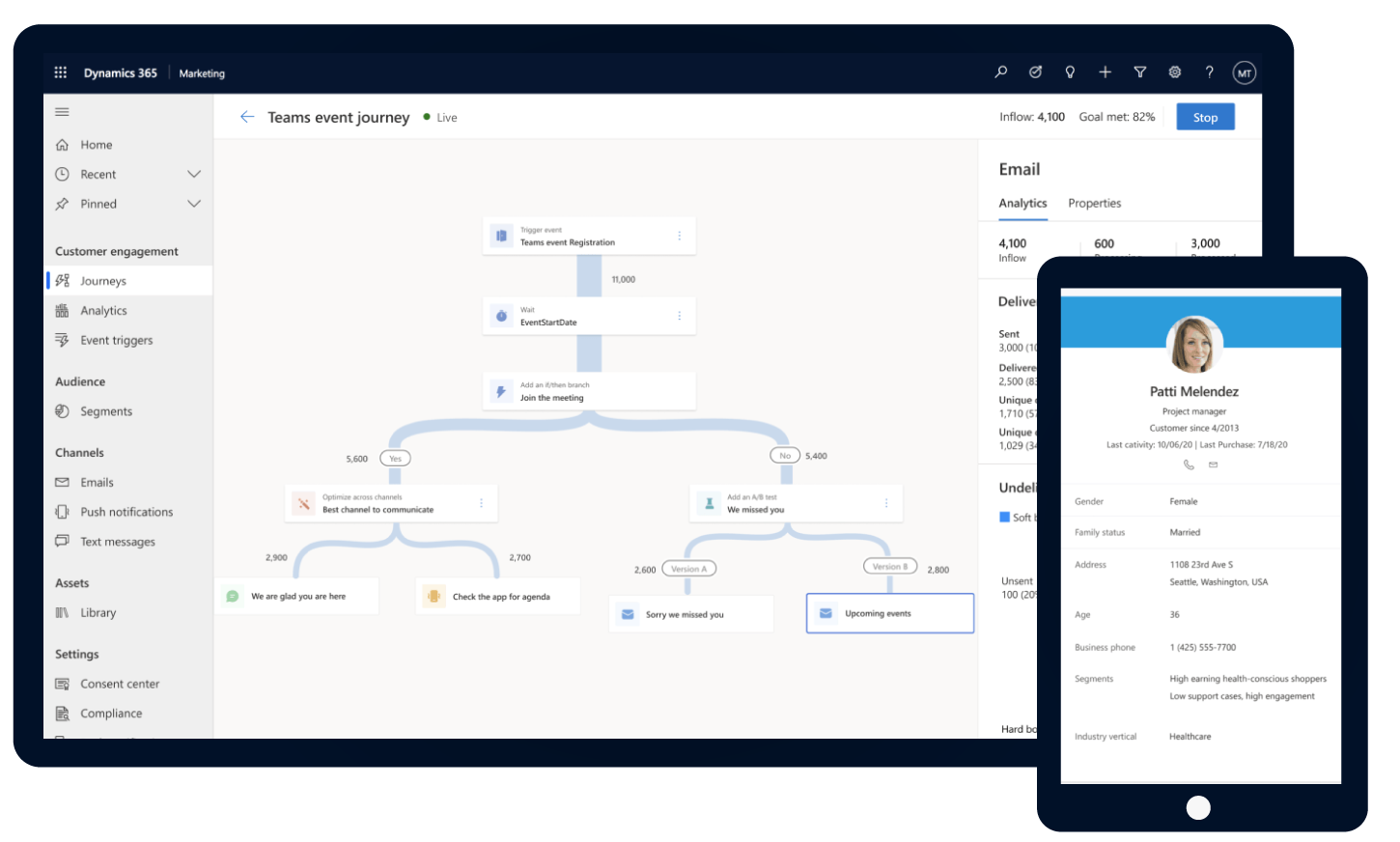 Lead Generation Dashboard
An interactive dashboard puts all your lead generation data into one pane to view your campaign performance, ad responses, email clicks, and query initiations.
Customer Journey Dashboard
Visualize your customer journey data on an interactive dashboard and analyze the strategies and their performance in different campaigns.
Email Marketing Dashboard
Get access to all your email marketing KPIs, associated performance metrics, and a breakdown of marketing details on this dashboard.
Event Management Dashboard
This dashboard lets your marketing team keep track of all your organization's active and pipeline events while also displaying the target audience's response.
Pricing
Microsoft Dynamics 365 Marketing offers the base product with limited contacts. However, you can get the following add-ons for an additional charge:
Contact packs
Interaction packs
Application instances
Related products
Dynamics 365 Marketing, for companies without any D365 apps
$1500

per tenant, per month
10,000 contacts, 100,000 interactions and 1,000 SMS
Dynamics 365 Marketing Attach, for companies with eligible D365 apps
$750

per tenant, per month
10,000 contacts, 100,000 interactions, and 1,000 SMS
Dynamics 365 Marketing Implementation with DemandDynamics
DemandDynamics is a trusted Microsoft Gold partner with experts in the Microsoft arena to ensure clients with the best services. Our team works on an on demand basis, meaning the costs do not revolve around a subscription model, instead, pay only for hours used and the services utilized.
Frequently Asked Questions
1

What is Microsoft Dynamics 365 Marketing?
Microsoft Dynamics 365 Marketing is a platform that lets your organization orchestrate most of its marketing operations digitally with AI-powered engines and automation capabilities. It also helps boost productivity.
2

How can the marketing module help my business scale?
Implementing Dynamics 365 Marketing will help your business optimize its marketing resources and make better decisions using data-fed insights.
3

What are the marketing activities that can be performed using Dynamics 365 Marketing?
You can track and access lead discovery, scoring and nurturing, marketing automation, customer journey mapping and optimizations, personalization, and analytics using D365 Marketing.
4

Can we do marketing automation with Dynamics 365 marketing? Does Dynamics 365 marketing employ automation?
Yes, this platform automates multiple marketing activities, such as emails and internal workflows.
5

How does Dynamics 365 for Marketing help better understand leads?
Dynamics 365 for Marketing delivers AI-powered insights about the market, helping you discover a target audience for your products and services. You can consolidate this information and pitch it to your intended leads with relevant marketing content.
6

Unleash the True Power of Dynamics 365 Marketing Implementation
DemandDynamics is a specialist in Microsoft Dynamics products—we help you extract maximum value from the product by implementing the best practices. We are a trusted Microsoft Gold partner with extensive experience in Dynamics implementation and business-specific customizations to the platform.
Seamlessly migrate your legacy marketing onto Dynamics 365 for Marketing with DemandDynamics as your implementation partner.
Learn how you can extract the ultimate value from your Dynamics 365 Marketing. Schedule a session today.