(IA)—a combined force of AI and ML coupled with other prisms of new technology—create unique opportunities for businesses to thrive in the competitive modern environment.
How can finance leaders leverage intelligent automation to unleash innovation?
The power of digital technology and automation has been welcomed by multiple industries and scientific sectors. The finance sector in particular is thoroughly enjoying its perks. While the global Covid scenario added impetus for all sectors to amplify their digital footprint, the finance sector has been heavily invested in digital transformation well in advance. Intelligent Automation (IA)—a combined force of AI and ML coupled with other prisms of new technology—create unique opportunities for businesses to thrive in the competitive modern environment. As a result, they can accomplish more with less. The measure of success or the degree to which IA proves useful depends on prioritizing the right kind of tasks. Often tasks that require manual intervention are excellent candidates for automation, as an example.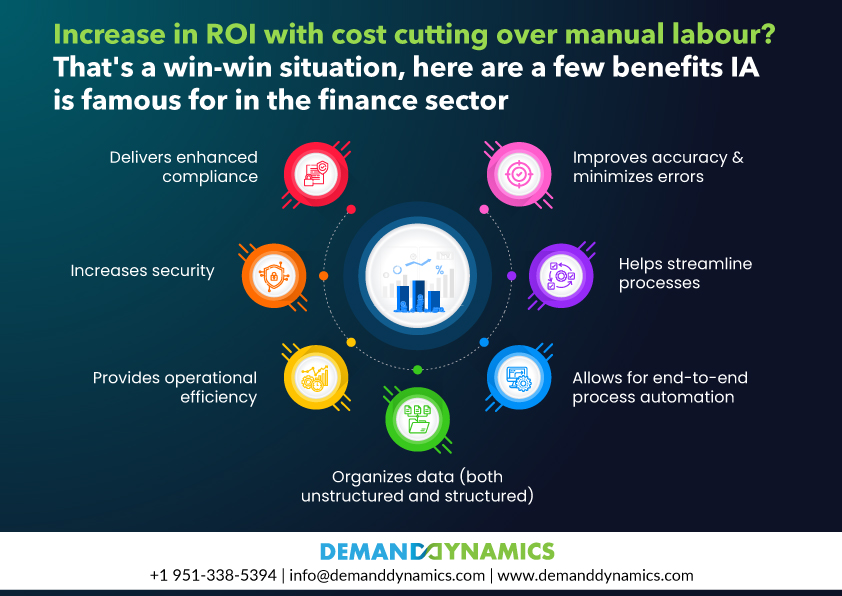 How does intelligent automation help? Here are a few benefits of IA:
Improves accuracy and minimizes errors
Helps streamline processes
End-to-end process automation
Organizes data (both unstructured and structured)
Operational efficiency
Increased security
Enhanced compliance
Financial leaders and IA:
Finance leaders are eager to increase ROI and achieve cost savings over manual labor and implementation of IA can give them both. For example, modernizing operations and implementing newer technology like ML can help achieve end-to-end process automation. Companies are able to cut costs and improve the customer experience, something that finance leaders firmly aspire to.
Finance leaders and meeting expectations:
When business complexities emerge, organizations look for expert strategic direction from senior finance leaders that can improve their business transformation. Finance leaders often need to raise the technology bar to meet expectations, a common, yet remarkable example would be that of AI-driven insights that help enhance and fine-tune financial decision making with respect to organizations and their sizes.
Emerging technologies and their advantages:
Meeting modern demands means adopting modern technology and like it was earlier stated, finance teams have been turning to emerging technologies that provide a superior customer experience that focuses on accuracy, consistency, quality and timeliness. In addition, these advantages include reduced operational costs, increased data driven decision making, improved customer satisfaction, workload reduction and better accuracy.
Finance operations are either fully or partially automated and there is no way around it. As of late 2020, 151 financial institutes from 33 countries have predicted there will be mass adoption of AI which will essentially mean that they become business drivers across the finance sector.
Right now, in the present it is a known fact that AI is changing how financial institutions generate and use insights from data.
AI business models (like IA) help them in focusing on the customer experience. Personalizing investments tailored on the basis of personal goals, creating good opportunities for revenue streams and so much more.
Fascinating trends of Intelligent Automation (IA):
Robotic process automation (RPA) – Tasks that seem to take up too much time and effort and affect customer experience can be streamlined with RPA. Finance companies can hone their business workflows with technologies like document intelligence and process orchestration.
Prioritizing automation – Finance leaders keep track of the labyrinth of workflows that happen within, but prioritizing and focusing on workflows, especially those with high value, can be a lot more beneficial (Example: New customer or employee onboarding, expense reimbursement, sales). This is where automation comes into play.
Bots as co-workers – In today's financial landscape, it is visibly getting difficult for traditional institutes to compete fairly with all the ones using automation. This digital transformation makes bots get the job done which increases the production capacity and takes care of repetitive work (like it was already mentioned).
Looking for Financial automation use cases? Well, here are the top 4:
Mortgage lending – Automation in mortgage lending helps migrate inconsistencies and delays of manually collecting financial data along with customer information. The APIs helps a great deal in making digital onboarding happen.
Core banking operations – Here, manual efforts are reduced and instead offer efficiency, better compliance, mitigate risks and provide a great customer experience. This use case is widely used as it mostly focuses on automating repetitive banking work at reduced costs.
Risk reporting – Reporting requires tremendous manual effort with the spreadsheets and workbooks that one needs to traverse through at regular intervals which was obviously time consuming and had slight errors. The current user-friendly reporting style offers automation solutions that have helped in navigating risk assessment in the right direction.
Financial planning and Analysis – Accurate forecasting is key to reliable data-driven decisions and automation is making that happen as we speak. No more spreadsheet trouble and integrated or extended planning and analysis.
Dynamics 365 Finance:
A financial management suite that supports organizations in monitoring their global financial operations in real-time and makes predictions of future outcomes. Data-driven decisions are now an integral part of achieving growth and if your organization is looking for ways to enhance the finance branch with automation and AI, then Dynamics 365 is worth a shot.