Microsoft Dynamics 365 (SCM) is one of the best tools in the supply chain management technology market.
Getting started with Dynamics 365 Supply Chain Management – Everything you need to know.
To help organizations enhance manufacturing operations, maximize the asset life-time, improve warehouse management, Dynamics 365 Supply Chain Management is sending a strong message to its counterparts with its new features and updates. Inclusion of these new technology and tools are helping companies gain greater visibility into their supply chains, facilitating proactive business decisions with data and forecasting.
With 59.6% of companies using Big Data analytics, 47.7% use the Internet of Things (IoT), 31.2% use artificial intelligence (AI), and 27.5% use geospatial and location intelligence, the implementation rate of supply chain technology and analytics are astonishing.
Microsoft Dynamics 365 Supply Chain Management (SCM) is one of the best tools in the supply chain management technology market. But before that, let's understand what is supply chain management and how Dynamics 365 is helping companies drive into higher efficiency and profitability.
What is Dynamics 365 Supply Chain Management?
Dynamics 365 Supply Chain Management (SCM), formerly known as Dynamics 365 for Finance and Operations, is Microsoft's enterprise-scale supply chain solution for operations leaders to transform their manufacturing and supply chain processes.
Dynamics 365 Supply chain management is not just about planning and logistics. It provides a single source of business intelligence that uses predictive insights, Artificial Intelligence, and the Internet of Things (IoT) across planning, production, warehouse, and transportation management to maximize operational efficiency, product quality, and profitability.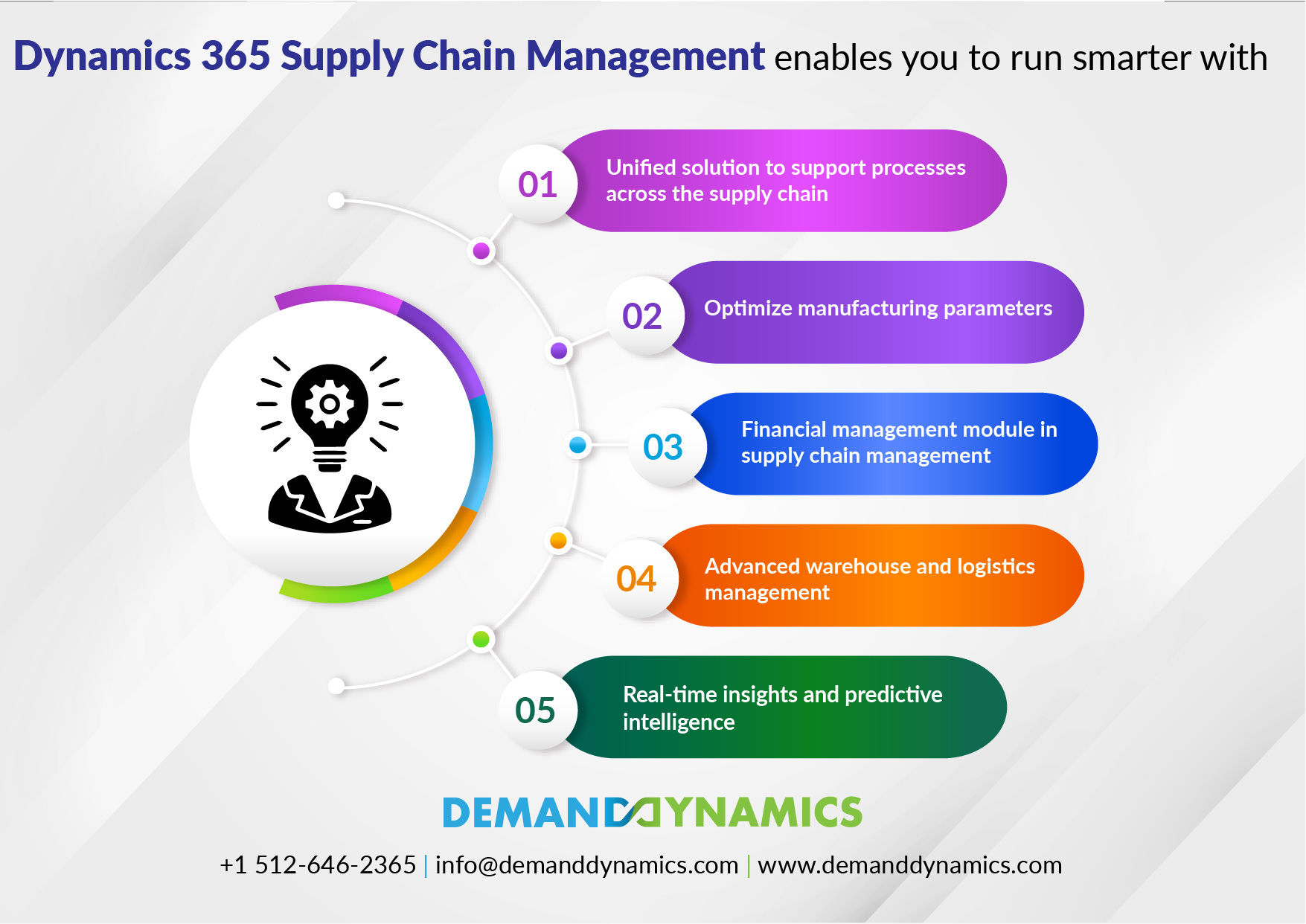 Dynamics 365 Supply Chain Management enables you to run smarter with – 
Unified solution to support processes across the supply chain
Optimize manufacturing parameters
Financial management module in supply chain management
Advanced warehouse and logistics management
Real-time insights and predictive intelligence
Features of Dynamics 365 Supply Chain Management
The Dynamics 365 Supply Chain Management features that help you manage your organization are –
Warehouse management system – Get critical insights driven by Artificial Intelligence to help you manage stocks efficiently and optimize inbound and outbound delivery processes using Microsoft Power BI.
Supply Chain Optimization – With Dynamics 365 SCM, you can gain full visibility of your whole supply chain, including stock details of partner organizations, and also streamline deliveries to reduce cost and improve accuracy by using analytics.
Automation – Reduce downtime and improve margins with automation along with real-time insights by leveraging the Internet of Things (IoT). This also helps you improve operational performance.
Ensure Product quality –  Anticipate issues with equipment/ machines with predictive insights and maintain product quality consistency by using IoT data.
Asset maintenance –Systematically plan asset maintenance routines to increase machine/ equipment life with the Asset Management add-in and identify repairs promptly to plan for replacements by using telemetry data.
Centralized dashboard – Dynamics 365 Supply Chain Management allows you to manage all information such as product images and attachments related to products and product families in a central dashboard with easy access.
Strategic planning – The planning and Inventory management modules available in Dynamics 365 SCM helps companies improve strategic planning by providing a unified view of inventory, warehouse, manufacturing, service, and logistics. Along with predictive analytics, it converts data into insights to support companies take better strategic decisions.
Benefits of Dynamics 365 Supply Chain Management
Intelligent manufacturing operations– Create an ideal manufacturing mix from discrete, lean, and process in a single, unified solution to support processes across the supply chain. Reduce downtime using IoT intelligence and perform production planning in real-time with Planning Optimization Preview.
Modernize warehouse management– Utilize machine learning enhanced guidance to resolve out-of-stock or overstock situations for more effective stock management.
Optimize production performance– Identify potential machine issues, prevent downtime, increase product quality and yield before issues occur. Effortlessly optimize manufacturing parameters for each product family, including make to stock, make to order, pull to order, configure to order, and engineer to order.
Maximize the life of your assets– Using the IoT and mixed reality to plan, predict and perform asset maintenance with Asset Management Preview, and extend the life and performance of your equipment.
Automate your supply chain– Improve your supply chain's fulfillment, material sourcing, and logistics with predictive analytics and improve product delivery.
Get real-time information –Simplify and accelerate business process changes, seamlessly integrate with legacy systems, and scale elastically using almost any device.
Explore more about Dynamics 365 Supply Chain Management 
Here is a complete recap of all the features, benefits, and capabilities of Microsoft Dynamics 365 Supply Chain Management. Dynamics 365 SCM has proven that it is the best supply chain management tool by –
Ensuring consistency in your product quality
Quickly identifying and resolving problems
Speeding-up innovation
Responding to client needs faster
Predicting demand using AI
Planning production and supply in real-time
Optimizing supply chain logistics, warehousing, and material sourcing
Automation, predictive analytics, IoT, AI, and mixed reality
Reducing cost and achieving operational excellence
Know more about your organization's benefit from Dynamics 365 Supply Chain Management, from our expert team. With our expertise in offering service to many organizations across the industry, we can help you identify the right solution that fits your current and future business needs and help you transform your organization.