Digital technology helps CFOs better manage, analyze, and present data that yields most significant value.
How can a CFO leverage Microsoft Dynamics 365 Business Central capabilities?
The role of Chief Financial Officer (CFO) is not just financial management; everything in an organization impacts the CFO's commitment to an organization. There is no doubt that the primary job responsibility is to optimize a company's financial performance and financial sustainability. While these continue to be the CFO's mission-critical responsibility, the CFO needs to manage risks, build innovative strategies, and incorporate the right technology and automation to transform the business, aside from their financial responsibilities. CFOs face many evolving challenges that include increased regulatory scrutiny, adapting to constant technology transformation, meeting ever-evolving customer expectations, and identifying business issues.
Why CFOs need a Digital Technology Tool?
With more responsibilities and challenges, the need for investing in the right digital technology becomes vital in managing the complexity involved. Digital technology helps CFOs better manage, analyze, and present data that yields the most significant business value. The right technology presents the finance leaders with an opportunity to accelerate decision-making. Many companies have implemented ERP to put their struggles away. Here is a list of benefits that prove why having an ERP makes the CFO work easy.
Top 5 ERP Benefits that Makes CFO's Life easy
Unified View of Enterprise Data: An ERP system helps you get a single, unified view of the financial data, a real-time view of the enterprise's core business processes. It helps to collect, process, and analyze data. With this, the CFO can read multiple data variables to make quicker, data-driven decisions.
Visibility and Tracking: Having an ERP system enables you to get complete visibility throughout your organization. It helps a CFO view whether the organization is performing based on the KPIs, looking at the results, identifying the issues, and immediately taking corrective measures.
Predictive Analytics: The right ERP powered with a robust analytics tool can enable the CFO to leverage data and predictive analytics to better read the organizational trends and plan.
Compliance Ready: ERP systems come with a high-level toolset that helps companies manage compliance and finance-related reporting. The CFO can use the reporting interface available within an ERP to investigate and remediate regulatory compliance deficiencies across the business processes promptly.
Cost optimization: One of the major concerns for a CFO is cost optimization. A cloud-based ERP system enables the CFO to cut down excessive investments of the legacy IT infrastructure and any additional investment required for hardware and software installation in the future.
Dynamics 365 Business central – the best ERP solution
Business Central is an intuitive and scalable ERP solution by Microsoft that connects operations across your small or medium-sized business. It is a part of the Microsoft Dynamics 365 suite, and it shares the same codebase as NAV. With Business Central, an organization will make more informed decisions as it connects data across accounting, sales, purchasing, inventory, and operations while streamlining your processes and improving your customer interactions. Business Central is packed with rich capabilities that make it the best ERP solution that is available in the market. Some of the significant advantages that Business Central brings are –
Cloud: Adopt new business models faster with flexible deployment, reliability, and security.
Integration: Connect people, processes, and insights to make better decisions faster with embedded guidance and dashboards.
Visibility: Accelerate financial close, improve forecasting, and get real-time performance metrics.
Connected service: Manage the entire sales process from within Microsoft Outlook to deliver better outcomes with connected service operations.
Planning: Ensure successful project execution with planning, resourcing, tracking, costing, billing, accounting, and real-time intelligence.
Inventory: Adapt to changing business models with visibility across purchasing, manufacturing, inventory, and warehouses.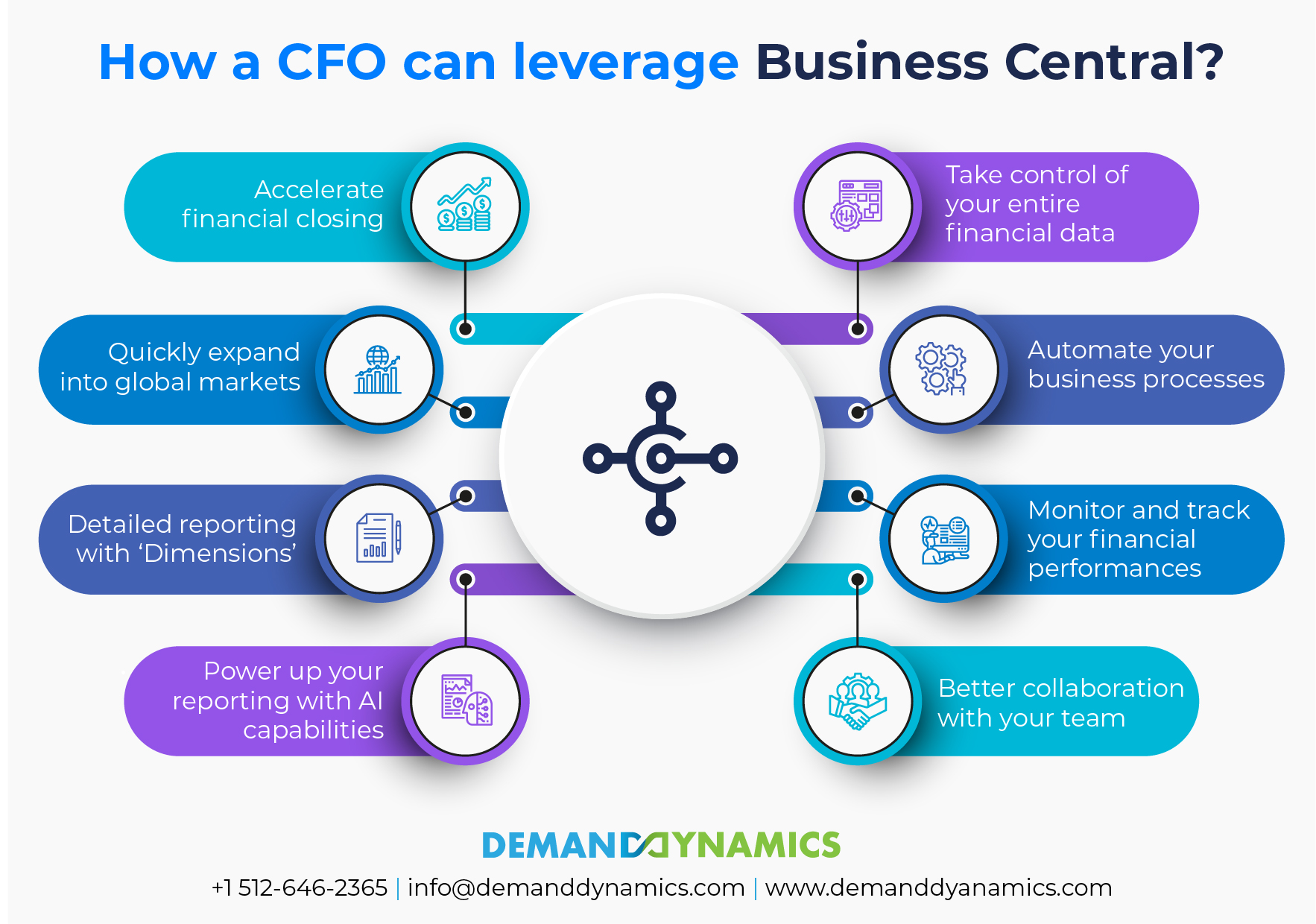 How Can CFOs Leverage Microsoft Dynamics 365 Business Central Capabilities?
Business Central can enable a CFO to be equipped with connected data from reports, charts, and Microsoft Power BI dashboards across finance and accounting, sales, purchasing, and inventory to be proactive about the organization's financial health. To put it clearly, we have come up with a list of ways Business Central can help CFOs.
Control Your Financial Data: By having Business Central in your organization, as a CFO, you can manage your cash flow, bank reconciliations, fixed assets, budgeting, and project costing while shortening cycle times with the late payment–prediction extension.
Automate Your Business Processes: All theDynamics 365 solutions are connected with the Power Platform. With that, you will be able to create workflows that hook together systems in a way that creates a seamless experience.
Monitor Entire Financial Performance: Business Central uses built-in reports, Excel, or Microsoft Power BI and unlimited data dimensions to give you real-time cash flow, help you identify financial patterns, analyze trends, and improve business planning. You can connect reports, charts, and Power BI data across teams to get accurate insights and make financial decisions.
Collaborate With Your Team: A finance team has to be more collaborative than any other team in an organization as they deal with numerous documents and reports across the organization. Microsoft Dynamics 365 Business Central, with Microsoft 365 and Teams integrations, a CFO can seamlessly collaborate within their team/ other team/ vendors in no time.
Power up Your Reporting with AI: Power BIiss one of Microsoft's reporting tools that can be used across all different systems. With Power BI in your Business Central system, you will be able to quickly get access to live reporting, real-time insights and act upon those promptly. Several powerful AI pieces built into Business Central can help you increase productivity by speeding up repetitive tasks and improving cash flow by helping with inventory.
Business Central Dimensions: 'Dimensions' is a powerful Business Central tool that enables CFO to get their hands on detailed reporting with great depth and speed. Unlike other methods, instead of having hundreds of G/L codes, you can use "Cost Centre" and "Department"/ any other as Dimensions in Business Central.
Quickly Expand into Global Markets: You will have the ability to support multiple currencies easily, exchange rates, consolidations, intercompany transactions, and localized tax regulations with Business central capabilities.
Accelerate Financial Closing: Financial close and reporting is quite a nightmare with the volume of data in an organization. Business Central helps you reduce month- and year-end closing times with connected general ledger, accounts receivable, payables, and fixed assets data. You can also streamline approval workflows using Power Automate in Business Central.
Find the Right Way to Leverage Business Central Capabilities for Your Organization
What we have seen in this blog is just a glimpse of what Business Central can benefit a CFO in an organization. But, there are a lot more features and capabilities of Business Central that can help transform your business.
To explore how you can find the right way to leverage Business Central capabilities and accelerate your business value, reach out to us!