Significant ways Microsoft Dynamics 365 can help you drastically improve your customer retention.
How to Improve Customer Retention Using Microsoft Dynamics 365?
Customer retention is essential for a company's growth, and it is what makes a business stand out from the rest in this competitive business landscape. Many companies don't realize how important customer retention is and continue to keep focusing on new customer acquisition. But, neglecting existing customers in search of new customers is a common mistake that many companies do. A proper customer retention strategy can help a company much better than acquisition. Forrester Research found that 88% of customers abandon their purchases because of a bad experience and a study by Bain and Company found that just a mere 5% increase in retention rates can increase your profits by up to 95%.
Customer retention helps to increase your business's profitability in many ways that you might not even realize. Therefore, companies should build trust and loyalty towards their brand to see their profits increase over time.
Here is a quick run-down on some of the capabilities of customer retention.
Key Reasons Why Customer Retention Is Important
Customer retention is easier and more cost-effective than acquiring new ones.
Retaining customers bring more ROI – increases the revenue by 25-95%.
Acquiring new customers is 5-25X more expensive than retaining an existing customer.
Retained customers buy often since they've learned the value of a product/ service.
More than 60% of loyal customers talk about their favorite brands with people in their social circle.
How does Microsoft Dynamics 365 improve customer retention?
Here are some of the significant ways Microsoft Dynamics 365 can help you drastically improve your customer retention.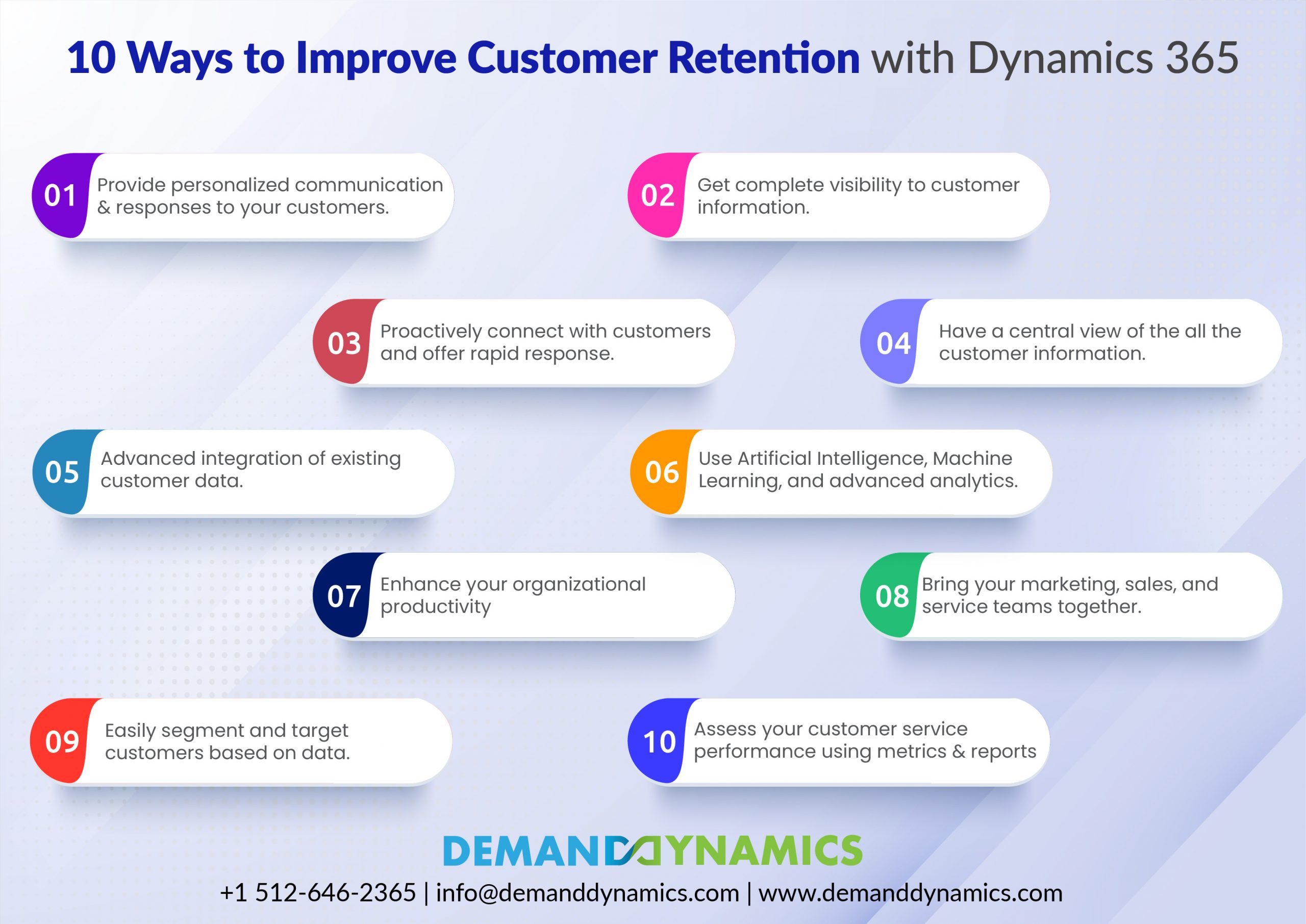 10 Ways to Improve Customer Retention with Dynamics 365
Provide Personalized Communication And Responses To Your Customers
Personalizing communication with your customers can help you build better customer satisfaction and increase their loyalty. Microsoft Dynamics 365 solutions provide you the access to complete information in each customer's record. With Dynamics 365, you will be able to pull information about past interactions, buying habits, preferences, marketing approaches, and other data that can help you personalize your messages and responses accordingly. Dynamics 365 comes with dynamic content through which users can use the advanced personalization of messages that reflect a customer's order history, preferences, and other detail to increase engagement. Dynamics 365 also allows you to send personalized messages that communicate news, offers, events, and other relevant content.
Complete Visibility To Customer Information Across The Organization
When any of your customers place a query through phones, emails, websites, or social media, you should be able to answer that query promptly. Hence, your team should be equipped with the customer's history. Dynamics 365 solution provides you a clear picture of your customer query and improve your relationship with them. It offers immediate access to information throughout the organization to all pertinent customer information. With this capability, your customers won't have to repeat the same information to each new person who interacts with them and feel satisfied with the prompt service.
Proactively Connect With Customers and Offer Rapid Response
When your customers encounter any issue/ a problem, they want to contact you and get the issue resolved quickly. Dynamics 365 users can enable you to view and manage the request and respond to it promptly. It also allows the customer to submit a support ticket post. Posts which, you will be able set up the workflows and generate an acknowledgment via email to assure the particular customer that the request has been received and addressed. With Dynamics 365, you can also schedule reminder activities that prompt you to follow up with your customers proactively.
Enhanced Data Functionality with A Central View Of The Customer
An effective customer retention system should provide customer information to all employees to help the decision-making process. Dynamics 365 gives you a central view of your existing customers. Microsoft Dynamics 365 CRM creates a central view of your customers through role-based views that bring together different customer views specific to various roles across the business (sales, services, marketing), allowing for easy analysis and efficiency.
Advanced Integration of Customer Data
Microsoft Dynamics 365 has a suite of technical capabilities to consume and transfer data easily. Dynamics 365 comes with the ability to present information to users without duplicating it into the system, embedded data analytics, and KPIs from Power BI. It also allows the users to navigate directly to or from customer screens and information in other systems when needed. You can look into the end-to-end customer journey and examine everything from engagement to onboarding and purchasing, support, and retention.
AI Technology, Machine Learning, and Advanced Analytics
Microsoft Dynamics 365 combines advanced analytics and Artificial Intelligence to detect patterns and suggest actions or automate workflows to help your team use the data. It enables you to make recommendations on how to deliver campaigns targeted at customer retention. You can connect Power Platform's virtual agent tools or any other frameworks so that you can leverage the full power of machine learning and take deployment to any market.
Enhance Your Organizational Productivity
Dynamics 365 makes recommendations and identifies opportunities to cross-sell or upsell additional products or services to suitable customers based on the purchase history and other data. The solution acts as the best customer retention system by monitoring customer behavior and identifying selling opportunities to make recommendations related to ongoing customer needs. Through this, you will be able to deliver quality customer care and improve your customer retention.
Bring Your Marketing, Sales, and Service Teams Together for an End-To-End Customer Experience.
The key to a successful customer experience is offering impeccable customer service. However, when multiple teams are involved, the same could be misaligned, leading to communication breakdown resulting in unsatisfied customers. Microsoft Dynamics 365 lets your marketing, sales, and service teams become aligned through a complete integration to avoid this mishap. Dynamics 365 empowers servicing teams with the tools needed to deliver a tailored customer experience while keeping your sales and marketing teams in the loop with complete visibility. This helps your teams track any customer requests or complaints and work with the other teams coherently to promote and improve customer retention.
Easily Segment and Target Customers Based On Information.
With the current customer information available within Microsoft Dynamics 365, you can manage your marketing communications that all your customers receive. With the help of Dynamics 365, you can initiate sales follow-ups and workflows after marketing messaging and reduce or tailor further communication based on sales and customer service patterns or issues. You can apply customer insights and segmentation to boost effectiveness and enrich the experience with the data and processes in Dynamics 365 and Power Platform.
Assess Your Customer Service Performance using metrics
With many efforts to retain your customers, you need to know if your efforts are reaping any benefits to your process and the business. That is why it is essential to capture feedback, use metrics, and act upon the same. Dynamics 365 allows you to capture timely customer feedback scores by enabling you to send survey forms after an issue is resolved by your team in an automated email. You can use these feedback reports to assess performance and take corrective action if any issues are identified. With Power BI, you can also review service delivery performance, use metrics to identify recurring support or service problems, assess what issues are being resolved in a single call, and identify the areas for improvement.
Why Microsoft Dynamics 365 is an effective customer retention system?
Dynamics 365 is an effective solution that offers you everything from a central view, data visibility, AI capabilities, real-time insights, integration abilities to provide an extensive customer experience and increase customer loyalty to improve overall customer retention percentage.
Dynamics 365 is a great set of cloud solutions by Microsoft that can provide your business with various tools to improve customer retention and enhance business growth. Dynamics 365 can help you enrich your team's productivity, promptly offer service to customers, and improve customer retention.
To know more about how your business can use Dynamics 365 to improve your customer retention rate, reach out to our Dynamics 365 experts!