Microsoft Dynamics 365 unites every aspect of a manufacturing company with a unified, flexible, end-to-end system.
How to transform your Manufacturing Business with Microsoft Dynamics 365?
Enterprise leaders across industries are looking to implement customer-centered strategies focused on revamping their ideas to remain significant in the market. It is believed that digitally empowered manufacturers can predict and understand future trends that may impact production. But manufacturers today care about improved visibility, increased efficiency and flexibility relatively at lower costs.  Marking as the beginning, digitization is fundamentally changing the way manufacturers approach business. But, with the unified and flexible solutions from Microsoft, the opportunity to digitize manufacturing business has become easier.
Here's how Microsoft Dynamics 365 can help manufacturers in reshaping their businesses.
Microsoft Dynamics 365 is reshaping the Manufacturing Industry – How and Why?
Microsoft Dynamics 365 unites every aspect of a manufacturing company with a unified, flexible, end-to-end system that boosts its efficiency at the speed and scale that suits the company. It enhances the businesses by offering all the necessary capabilities, including rich analytics and embedded intelligence. With Microsoft Dynamics 365, manufacturers can optimize across all processes while connecting advanced technology in the future.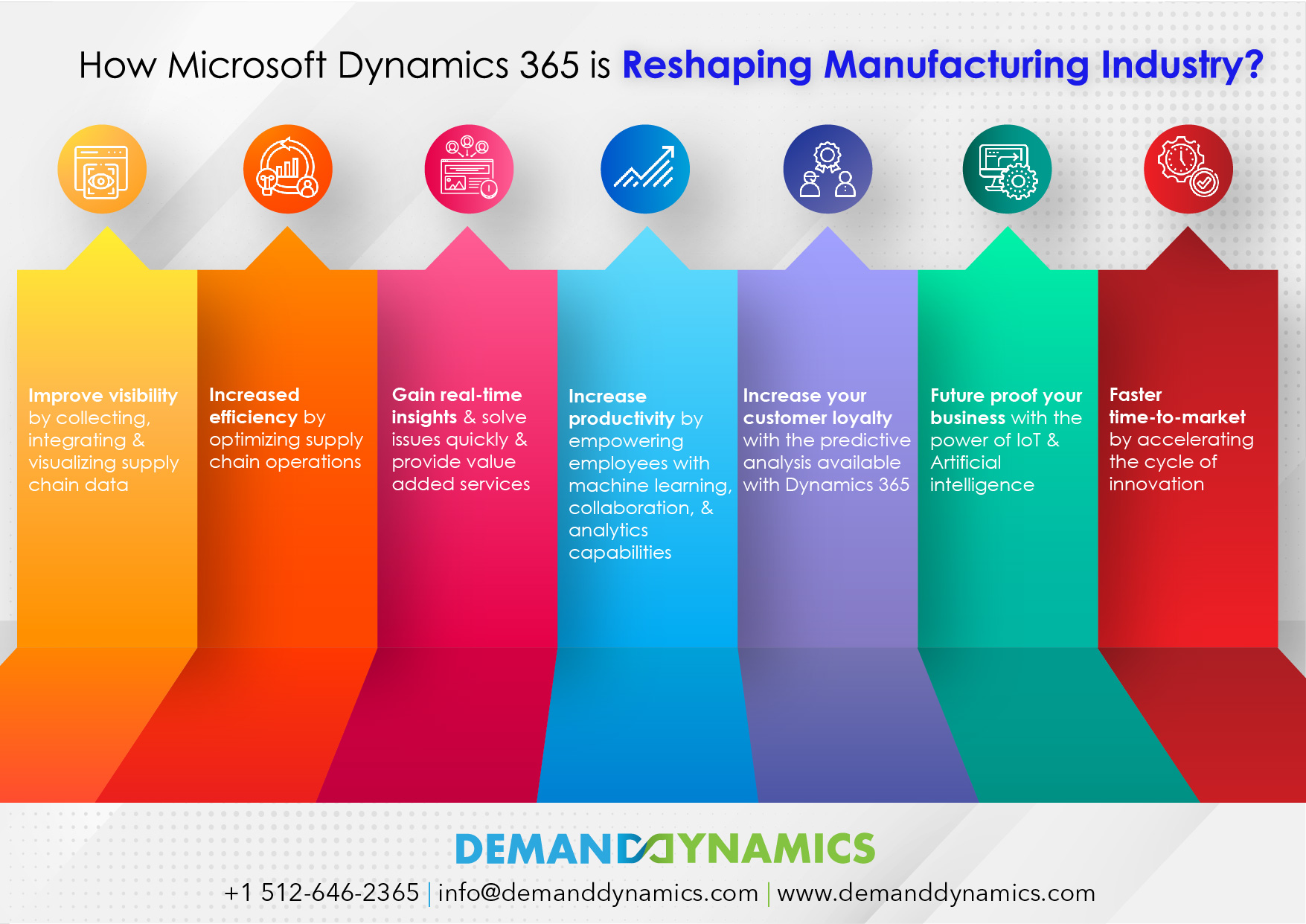 Benefits Microsoft Dynamics 365 brings to Manufacturing.
With Dynamics 365, a manufacturing company can improve visibility by collecting, integrating, and visualizing supply chain data. Microsoft Dynamics 365 solution can integrate your sales and purchasing processes with logistics, production, and warehouse management to provide a simplified supply chain management and also helps drive streamlined vendor collaboration.
Dynamics 365, through its latest collaboration, productivity, and intelligence features, allow the manufacturing industry to streamline all operations while simultaneously improving employee productivity, to enhance efficiency and customer satisfaction.
Get advanced real-time insights for manufacturing, sales, service, and marketing teams using the Dynamics 365 in-app experience with the latest Power Platform update. Dynamics 365 offers real-time insights through built-in analytics capabilities on any device, solves issues quickly, and provides value-added services. With the insights and consolidated view, you can regulate efficiency gains and use connected devices to monitor and resolve issues remotely.
Collect data and analyze connected products and equipment to provide your employees with everything they require to complete their tasks efficiently and more quickly. With Dynamics 365, you can automate processes across the manufacturing lifecycle, accelerate production, improve the cycle of innovation, and deliver personalized service.
Increase customer loyalty
Through predictive analytics, you can deliver value-added services, quickly provide timely responses to your customers and build trust among them. With the help of a connected platform, you can solve potential problems remotely before your customers feel the impact, proving your value and building loyalty. The predictive analytics capability can also allow you to personalize service based on each customer's usage and purchasing history.
Future-proof your business
With Artificial Intelligence (AI), blockchain, IoT, and several other technologies, manufacturing is disrupting the industry's landscape. However, the AI and IoT capabilities in Dynamics 365 help you become future-proof while non-dynamics users may experience an end point for not capitalizing on the technology.
By using a data-driven approach, you can accelerate the cycle of innovation and decrease time to production. It becomes easy to keep pace with today's growing market trends, with a system that can connect devices, internal departments, suppliers, partners, and customers in a single database.
Are you ready to reshape your Manufacturing Business?
Microsoft Dynamics 365 has been helping manufacturers streamline and optimize their processes for over two decades. With digital transformation taking place at a massive scale across the industry, Dynamics 365 has upgraded its suite of solutions with new tools that can keep up the pace with the growing technologies. Dynamics 365 solutions, each alone or together, can do absolute wonders to your business.
Fun Facts about Manufacturing Industry:
Did you know?
80% of manufacturers expect that improved factory connectivity will help them to increase output levels.
83% of manufacturers said that selling services as products would increase profits.
If you are a manufacturer looking out for more information about Dynamics 365 solutions, features, capabilities, and how it can transform your business, Talk to our experts now!