Microsoft Ignite, the digital experience of the ever-evolving global community happened from November 2 – 4 this year.
Tech geniuses and professionals from all over the world gathered here to learn where business applications technology is heading along with insight on the tools and resources available today to help resolve even the toughest of challenges that arise in business scenarios.
This three-day event had Microsoft experts dissecting technical and hands-on content across Microsoft Dynamics 365 and the Microsoft power platform. The live streaming happened as per plan and below is a small recap in case you missed out on the sessions or are looking for some verbal content.
The event started off with Satya Nadella, Microsoft's Chief, making exciting announcements and innovations that span across AI, security, enterprise collaboration, metaverse and so much more.
"We are moving from a mobile and cloud era to an era of ubiquitous computing and ambient intelligence – an era which will experience more digitization over the next ten years than the last 40," said Nadella. He also stated that digital transformation has never been more urgent and that digital technology is a powerful deflationary force in an inflationary economy.
Ignite 2021 was all about the new announcements and upgrades. Microsoft introduced more than 90 new services and upgrades in Microsoft teams, Microsoft 365, building end-to-end solutions in security and other applications. They also launched a new Microsoft customer experience platform which helps organizations have 100% control over their customer data. "This will be so key that every business will need to have autonomy over their data state and how it is being used to enhance their customer relations," added Nadella.
Azure Arc's new capabilities are indeed stellar and you need to know why. The new update for Azure Arc includes:
Deeper support for VMware vSphere
New integrations with Azure Stack HCI
Arc-enabled data services enhancements
Artificial Intelligence and Azure OpenAI Service made it to the list of notable upgrades too. 5 years ago, Microsoft had introduced the world's first supercomputer, today they are home to the most powerful AI supercomputer in the world. They are taking the AI breakthroughs and translating them into platforms for customers to build upon. Recently, Microsoft had a partnership with NVIDIA where they launched Megatron-Turing Natural Language Generation (MT-NLG) model with 530 billion parameters. Talking about this development, Nadella said that it offers unmatched accuracy across a very broad set of natural language tasks.
When it comes to Azure OpenAI, they released GPT-3, a breakthrough in natural language understanding and generation model. "In the last 6 months, we have taken the power of these models and made them available across its products," Nadella added, stating that domain experts access GPT-3 through Power Platform and assist pro developers with coding through GitHub Co-Pilot powered by OpenAI's Codex.
Microsoft announced three new Dynamics 365 features, in varying degrees of availability, to improve businesses' interactions with their customers, employees and suppliers. Dynamics 365 Supply Chain Insights, Dynamics 365 Customer Service Voice Channel and Dynamics 365 connected spaces are new features they introduced during the first day of Ignite 2021.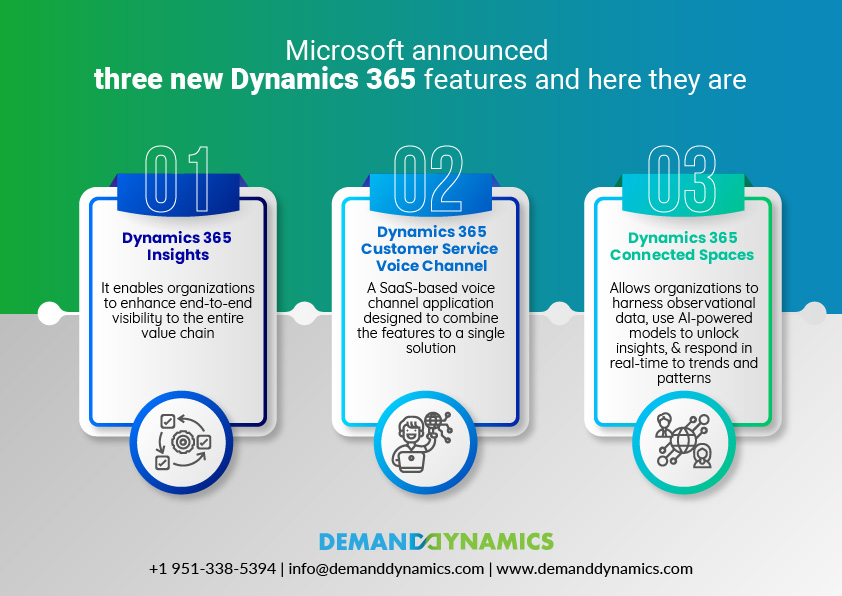 Dynamics 365 Supply chain Insights:
The global supply chain crisis has been a weight on every industry's' shoulders, with Microsoft's announcement of the all new Dynamics 365 Supply Chain Insights, the solution is apropos. This solution is now in preview and it enables organizations to enhance end-to-end visibility to the entire value chain. This feature helps businesses in averting potential supply disruptions by giving them near real-time data. The product runs predictive AI models against a digital twin of the supply chain.
Dynamics 365 Customer Service Voice Channel:
A SaaS-based voice channel which is a customer service application was also released. Microsoft opened up about how it is designed to combine the features of traditional CCaaS, UCaaS and CEC to a single solution. This was built on the Microsoft Teams technology. The voice channel feature is capable of real-time transcription and translation, real-time analysis of customer sentiment over the course of a call, and an AI that refers agents to relevant previous cases.
Dynamics 365 Connected Spaces:
This feature is being launched with the hopes of giving more insight into how employees and customers engage with physical retail stores and factories. This product is set to be launched as a preview in early December. This feature allows organizations to harness observational data with ease, use AI-powered models to unlock insights about your environment, and respond in real-time to trends and patterns, as said by Vishal Sood, general manager of Connected Spaces at Microsoft. A user's existing camera is the gateway for this feature. The computer vision technology identifies customer behavior like waiting time, cash register, entry, exit and so much more.
At the end of the day, the annual event was a predicted success. People who took part in it had so much of knowledge to take back. If you're a tech geek and weren't able to take part this year, worry not! There is an entire recap online and a whole new season coming your way next year. DemandDynamics encourages you to be a part of this tech driven community.
For more information or to schedule a consultation, click right here.