Choosing the right solution that perfectly fits your business needs is essential to ensure success.
Building an In-house Team vs. Finding a Technology Partner for your Dynamics 365 needs
Having an effective CRM/ ERP system brings your business processes together to improve collaboration, help you make data-driven decisions, and advance your business productivity. But, the challenge isn't over after evaluating, analyzing, and selecting the right solution. After choosing the right solution that perfectly fits your business needs and your current budget, it is essential to assign the implementation project to the right skill to ensure success. One of the biggest debates about handling implementation is either building an in-house team or finding the right technology partner. This post will let us gain insights into the pros and cons of both the options and understand why we need to find a technology partner over building your in-house team for our implementation needs.
Why Would You Need A Technology Partner?
Most companies prefer a technology partner to simplify and quickly deploy the software they need and free themselves from the struggle of recruiting, training, and managing the project's workflow. If you decide to find a technology partner, you need not spend more time and effort in building, onboarding, and maintaining a new team.
Some of the other reasons to choose a technology partner are reducing the huge upfront infrastructure investment and development costs, speed up the implementation and time-to-market at a reasonable price while simultaneously helping your internal resources focus on mission-strategic tasks.
When speaking about Dynamics 365 implementation needs, even if you already have an internal development team, you might still need specific skills or expertise to make your Dynamics 365 implementation successful. However, in this case, hiring individual experts full-time is challenging and expensive. That is why finding the right technology partner makes more sense in Dynamics 365 implementation.
To give you a heads up on why businesses choose Microsoft Dynamics 365 over the other solutions –
Dynamics 365 ranks among the highest in user adoption.
The user interface is very familiar and intuitive.
The easy integrations with other Microsoft products offer a huge advantage.
Dynamics 365 comes with powerful built-in tools to improve productivity and efficiency.
It has a flexible architecture and deployment options.
Dynamics 365 can be easily customized to meet unique needs.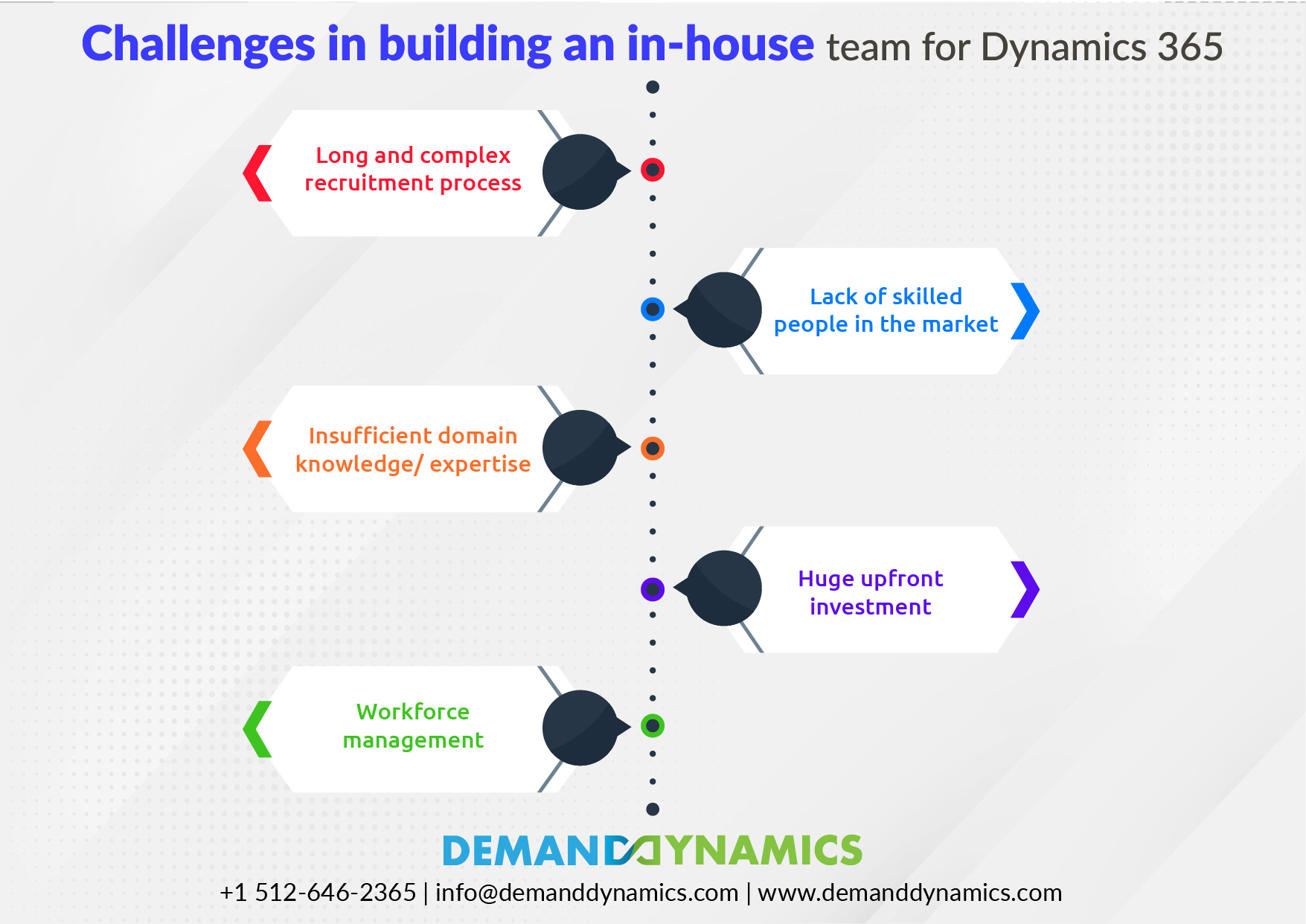 The downside of building an in-house team for your Dynamics 365 implementation
Talking about whether to build your in-house team or find a technology partner is debatable. While hiring a dedicated team or an employee who knows the details of your IT infrastructure has a few advantages, such as being a reliable source, cultural fit, and effective communication, there are many downsides in building an in-house team.
At first, you need to hire the right skills as full-time employees, which does not only involves lot of effort and time but also very expensive. Even if you are convinced with the right hire's expense, another pitfall of building an in-house team is there aren't enough individual Dynamics 365 experts out in the market. Their tech stack, domain knowledge, availability, and skills of the expert should match your Dynamics 365 needs and budget for you to start the recruitment process.
Besides monthly payments and other expenses such as medical insurance, tax, and social security coverage, buying hardware and software for your in-house team can be another added cost source. You will need to provide all of the equipment and licenses for your in-house team to skill-up and work properly.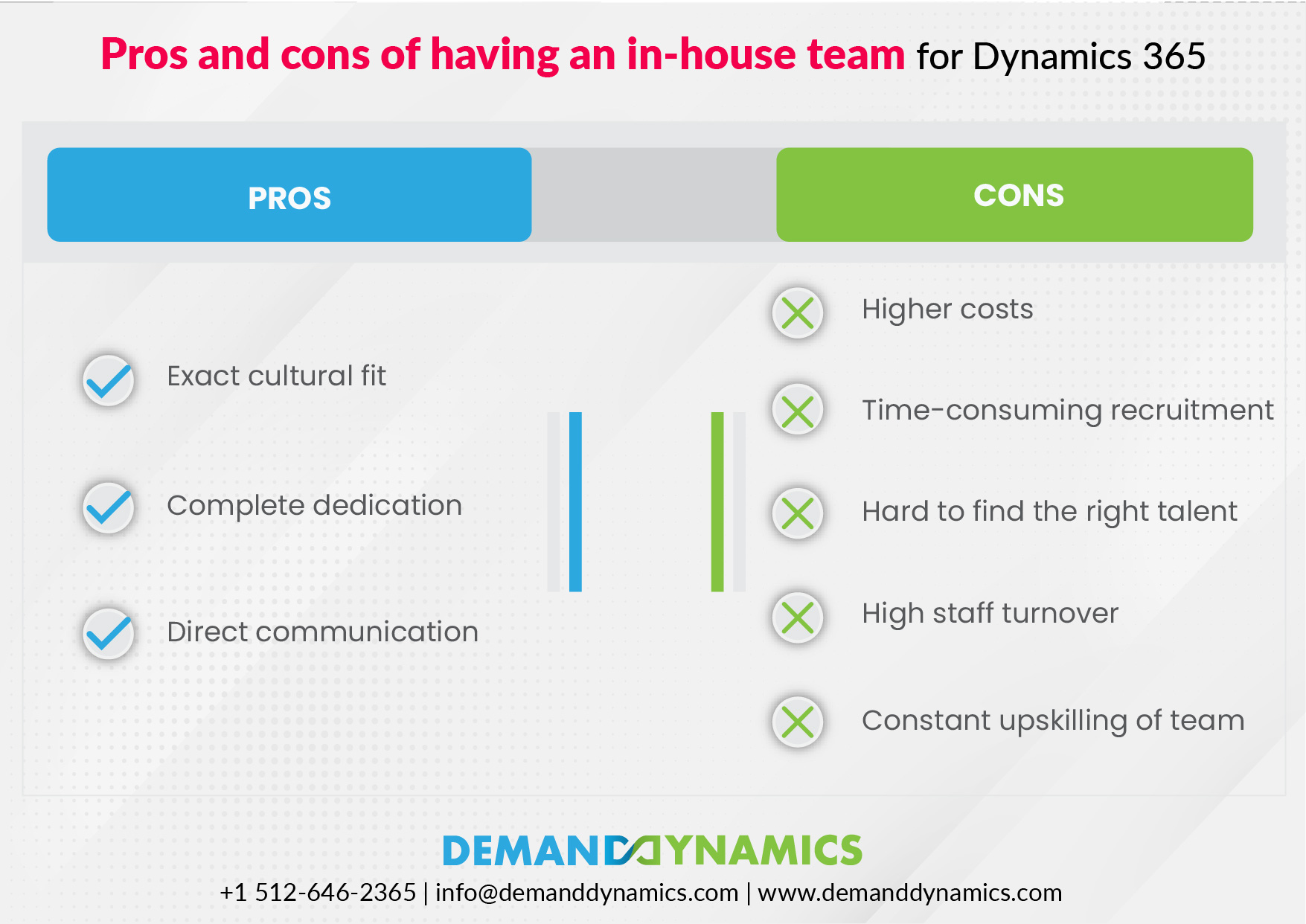 Pros and Cons of the in-house team for your Dynamics 365 implementation needs
Pros of In-house team
Exact cultural fit: With an in-house team, you get the opportunity to pick team members that align with your business culture, and they work directly for you.
Complete dedication: Your in-house team, being a part of your company, would dedicate 100% of their time to your implementation tasks. They are always available within the physical space and are available to take up the tasks you assign to them.
Direct communication: Since an in-house team works within a physical space, it would easy for you to set up meetings and have a face-to-face discussion that can speed up the communication. Also, there is no need for bouncing emails around to get the project information across to the team.
Cons of In-house development
Higher costs: An IT developer's average salary in the US costs $71,508 as per Payscale. It is not just the salary; having an in-house team paves ways to added expense on medical insurance, tax, and social security coverage to your employees. Also, even when the employees are idling between projects, you have to cover their fixed salaries.
Time-consuming recruitment: Once you have finalized on which solution you need to implement, searching for the right skill, sending out numerous job postings, and waiting for the response to recruit the right talent, get them on board, train them sufficiently, and manage an in-house team is very complex, tiring, and time-consuming.
Hard to find the right talent: An expert in the field of Dynamics 365 with the skill and knowledge that matches your organization is not just expensive but hard to find. And, if you decide to create an in-house technical team, you have to spend lots of time and money on finding and hiring the right talent.
High staff turnover: The turnover rate can be high. The need for skilled people in the market is more increased, and hence, you would be having a tough time fending off poaching attempts by competitors and recruiters.
Upskill the team: In the digital era, with the introduction of new technologies, tools, and languages constantly, you need to ensure that your team keeps up with the changes. Hence, having an in-house team requires investment in training and tools as well.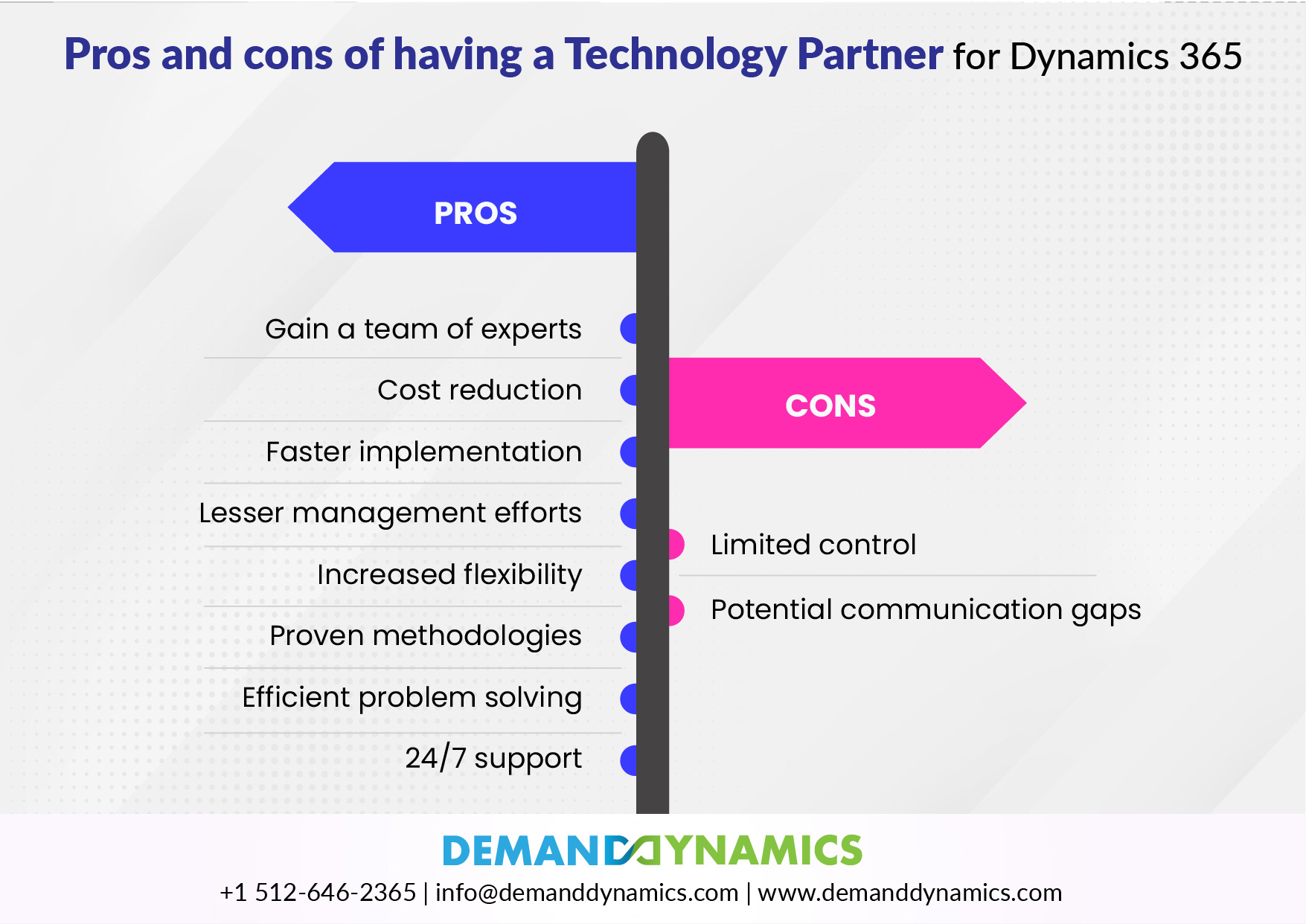 Pros and Cons of Finding a technology partner for your Dynamics 365 implementation needs
Pros of technology partner
Extensive expertise: With a technology partner, you can access a pool of unique talent and expertise. You will be gaining a team of experts who have deeply experienced Dynamics 365 implementations across various industries. They can understand your business requirements and align them with their experience and expertise to provide you top service.
Eliminate/ reduce costs: There would be no expenses such as those inherent to in-house development – recruitment, salaries, retention, and more. Also, there is no requirement for an upfront IT investment. Especially, sourcing and recruiting talented Dynamics 365 experts is difficult, expensive, and time-consuming. But, when you go for a partner for your Dynamics 365 needs, you evade paying all these costs.
Faster implementation: You get an already established team that consists of skilled experts who know how to work together and handle the implementation seamlessly from various projects they have handled earlier. So, you need not worry about internal teamwork issues, and you can complete the implementation quickly and accelerate the time-to-market.
Reduced management efforts: Unlike an in-house team, you get a self-managed team with the technology partner. You don't need to worry about the management efforts taking up too much time as your technology partner will manage their deliverables with you still having control over what is happening. This allows you to free your internal resources and reduces the management efforts required from you.
Increased Flexibility: With a technology partner, it gets remarkably easier to scale up or down depending on your business needs at the moment. A technology partner would offer tremendous support in adding the right experts to the team when the project grows.
Efficient problem solving: A technology partner would have Dynamics experts who have rich experience in implementation and facing challenges due to various projects they got their hands on. They also have a vast accumulated knowledge that is an invaluable support in any problems or non-standard tasks arising for your organization.
Proven workflows/ methodology: The skilled partners would have conducted projects of a similar kind many times. They have a methodology that has been proven to work for your choice of solution. This can give you peace of mind that your complex Dynamics 365 implementation is in good hands and is ensured success.
24/7 support: When having an in-house team, you cannot ensure that your employees work round-the-clock for any Dynamics 365 requirements. But, a technology partner would support your Dynamics 365 needs – implementation and maintenance – 24/7.
Cons of Technology partner
Limited control: When you prefer a partner instead of an in-house team, you won't be able to completely control your IT functions as you could with an in-house team. You will have limited control, but you will be able to monitor what is being done.
Potential Communication Gaps:  Since the technology partner is away from your organization, there is a possible chance of a communication gap. Also, it would be harder to arrange face-to-face conversations with your partner frequently.
What do you really need: An In-house Team or a Technology Partner?
Dynamics 365 implementation requires a lot of resources. If your business does have the resources to support such a large project internally or are tired of finding the right hire, you can opt for a technology partner for your Dynamics 365 needs. If you pair the right solution with the right people who can properly implement Dynamics 365 for your business, you have got yourself a winning formula!
Though there are a few cons regarding technology partners for Dynamics 365 implementation, the right partner can always eliminate these challenges. They would take time to understand your business beforehand and work closely with you and your team to have proper Dynamics 365 implementation.
Finding a technology partner for your Dynamics 365 implementation would be a smart move for the business in the long run.
Why DemandDynamics? 
We, DemandDynamics, can help you capture new opportunities, improve overall productivity and reduce costs by leveraging the power of Microsoft Dynamics 365. Our certified experts will perform a thorough assessment of your business needs and suggest what works best for you and enable you to drive maximum ROI.
We have helped many of our clients across industries and around the globe with simplified Development, Integration, Maintenance, and Administration through our ODS model and provide Advisory support to guide them through all phases of their Dynamics roadmap.
With our ODS model, you only pay for what you use. If you would like to know more, reach out to us!