Is upgrading to Business Central from GP right for you? Know Everything about GP to BC migration and find answers to all your questions at Summit NA, 2021.
Should You Stay with Dynamics GP or upgrade to Dynamics 365 BC? — Summit NA helps you choose what's best for you.
If you are an existing Dynamics GP user or a new Dynamics 365 enthusiast, you are most likely aware of the numerous benefits and modern productivity features that BC offers—in addition to eliminating costly software upgrades. Many businesses have taken advantage of this proven alternative—Microsoft's cloud SaaS platform, Dynamics 365 Business Central.
However, before you dive into an upgrade there are several considerations:
Is Dynamics 365 Business Central right for your business?
How would it benefit your users?
Is it worth your time, cost, and effort?
And finally, how does the migration process work?
Why migrate from Dynamics 365 Great Plains (GP) to Dynamics 365 Business Central (BC)?
Microsoft has shifted its focus to strengthening its cloud-first solution: Dynamics 365, which is why many Dynamics GP users have already migrated to Dynamics 365 BC. Among the top reasons are advanced features, a modern user experience with a user-friendly platform, integration, and AI capabilities.
A key, perhaps obvious question is, "when is the best time for migration?" It appears that possibilities for short-term upgrades to Dynamics GP are slim and the extended support for GP 2013, 2015, and 2016 will probably not be a viable long-term option. Realistically the industry trend will be an accelerated conversion to Dynamics 365 BC. So the time is now.
Summit North America (NA)—Learn how to move from GP to Dynamics 365 BC
A great place to get intelligent, unbiased answers to your questions about taking the leap from GP to Dynamics BC is Summit NA—this year in Houston, TX.
Summit NA is "the largest independent gathering of Microsoft Ecosystem" where the Microsoft Dynamics Community of practitioners and experts from Microsoft Dynamics and Power Platform applications—come together from around the globe to share their knowledge and practical insights on how to make the best of BC.
If you are attending Summit NA in person or streaming it live, we encourage you to check out the following session: Should You Do The GP Stay, or The BC Play? What's Involved in Migrating from GP to Business Central. Learn about everything from risks to costs, and take a dive deep into what is required, and what you can expect during a successful migration.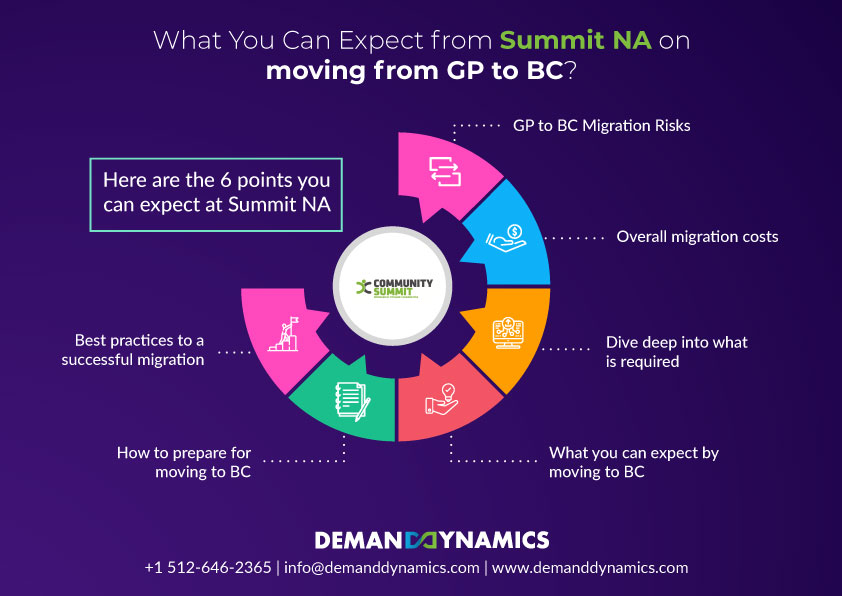 Other useful sessions at Summit NA that center around migrating from 365 Great Plains (GP) to Dynamics 365 Business Central (BC):
Migrating from Dynamics GP to D365 Business Central—A Real-World Customer & Partner Story, by Kristen Hosman and Thomas Hanz.
Everything I learned during my GP to Business Central Migration Project, by Jacqueline Klingman.
These sessions feature customers' playbooks for achieving a successful migration from GP to Business Central and the important lessons learned along the way and we are just a couple of weeks away from Summit North America and our experts at DemandDynamics are going to be there.
Join them for an in-person conversation! Schedule an appointment now with one of our experts to discuss your business needs over a cup of coffee.
If you cannot make it to the event, to guide you through the migration decision process and allow you to consider the options of either staying with GP or upgrading to BC, DemandDynamics has solutions that offer you a clear perspective. You can set up a free virtual assessment with our experts here.