D365 applications are licensed under various models consisting of assigned licenses dedicated to a user or device.
Microsoft Dynamics 365 Business Central Licensing Guide – Here's everything you need to know.
Business Central is Microsoft's ERP business system specially designed for small and medium-sized businesses, which combines a range of functionalities across operations, finance, and sales. It's easy to use intuitive nature helps you connect your business, and make informed decisions with ease. But, the features and functionalities you get out of your Business central investments are defined by the type of license you choose. In this blog, we have put together some of the important licensing information you need to know about Dynamics 365 Business Central Licensing.
Microsoft Dynamics 365 – Licensing Overview
Microsoft Dynamics 365 applications are licensed under various models consisting of assigned licenses dedicated to a named user or device. At the same time, unassigned licenses provide access to a feature or service at the tenant level.
Assigned Licenses
Full user access licenses: These are the users whose work requires the use of the feature-rich business applications functionality. These are enterprise users or principal users (salespeople, customer service representatives, finance employees, controllers, human resources, and supply chain managers) or professional users (sales professional and customer service professional). Their work scenarios are generally less complicated, with streamlined capabilities to provide core support functionality.
Additional User Access Licenses: Additional users represent a large percentage of users in an organization who may consume data or reports to complete light tasks or be heavier users of the system but do not require full user capabilities.
Unassigned Licenses
These licenses provide tenant-level access to applications and resources and are not assigned to specific users or devices.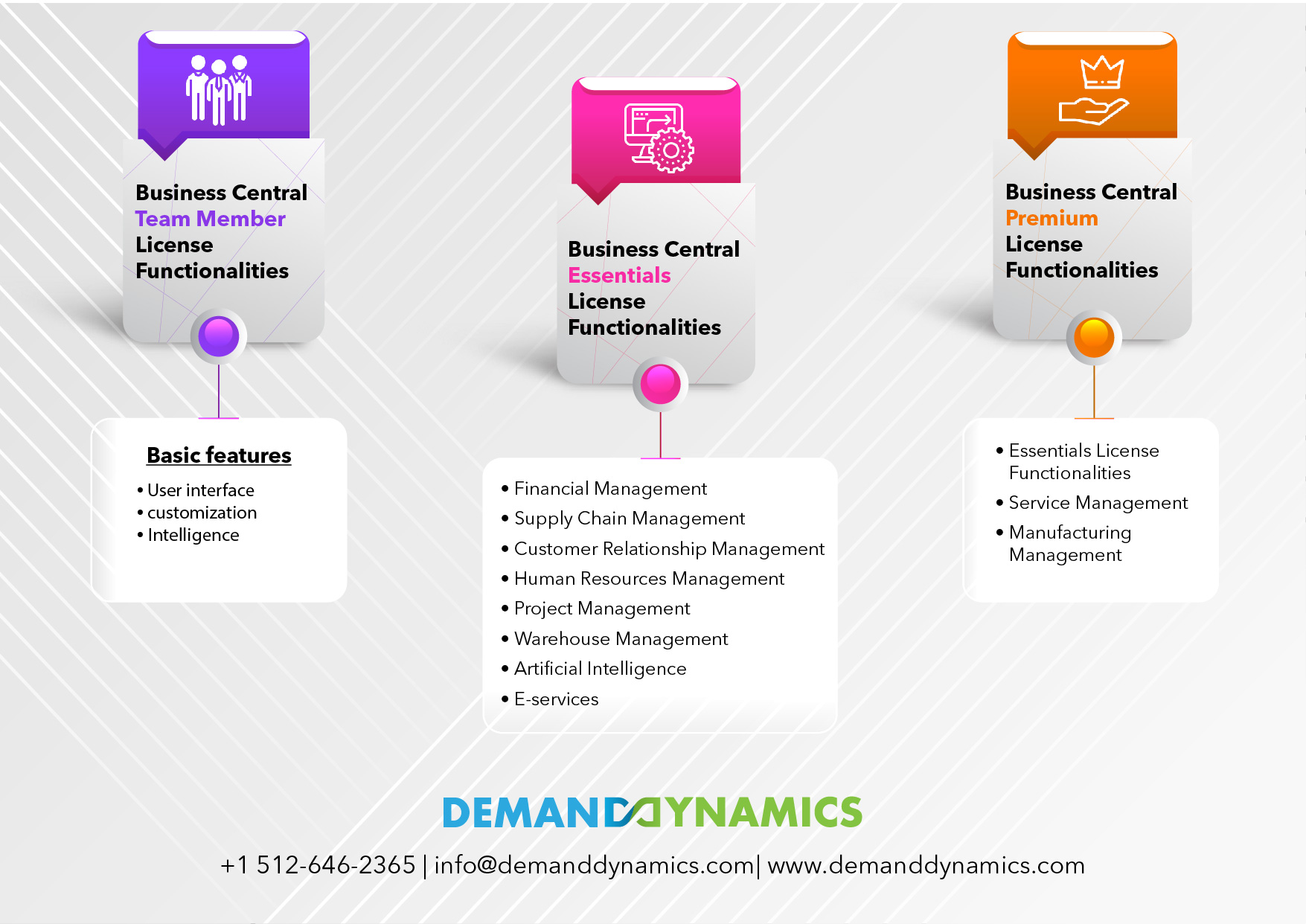 Microsoft Dynamics 365 Business Central Licensing
Team Member License
Dynamics 365 Business Central Team Members License is a user subscription designed for those who are not tied to any particular function but require basic functionality. This can often represent a significant proportion of users who need to consume data or reports from the business system and complete less demanding tasks. The team member license has access to basic features – the user interface, intelligence, and customization. It includes functionalities such as-
Read anything within Dynamics 365 Business Central
Update existing data, which are already created and entries, which are specifically allowed from an accounting perspective in Dynamics 365 Business
Enter timesheet for Jobs
Approve/ reject tasks in all workflows assigned to a user
Create, edit, or delete quote/ personal information
Use PowerApps for Dynamics 365
Business Central Essentials License
With the Essentials license of Business Central, you can get stable business functionality across finance, supply chain management, CRM, HR, and many more. The Business Central Essentials License comes with the functionalities such as –
Financial Management
Account receivables and payables
Bank account management and Bank reconciliation
Fixed asset management
Cost accounting
Inter-company postings
Supply Chain Management
Inventory control
Shipment and distribution
Procurement and vendor management
Returns and cancellations
Purchase and Sales invoicing
Customer Relationship Management
Business Inbox for Outlook
Campaign Management
Contact Classification and management
Email logging
Interaction/ Opportunity/ relationship/ task management
Human Resources Management
All the basic human resource management
Project Management
Capacity planning
Estimates and Budgets
Job and process costing
Multiple cost and Timesheet
Warehouse Management
Automated Data Capture
Internal Picks and Putaway
Warehouse Shipment
Warehouse Management Systems
Artificial Intelligence
Cash Flow Forecast
Inventory Forecast
Sales Forecast
Image Recognition
Late Payment Prediction
E-services
Bank Feeds (US, CA)
Document Exchange Service
Document Management
Document Capture
Business Central Premium License
The premium license of Business Central consists of all the functionalities that are available of the Essentials licenses plus a couple more efficient components that enhance the ERP application. The Business central premium license includes –
All the Essentials License Functionalities
Service Management
Service Order Management
Service Item Management
Planning and Dispatching
Service Price Management
Service Contract Management
Manufacturing
Production Orders
Machine Centers
Finite Loading
Production Bill of Materials
Basic Supply Planning
Sales and Inventory Forecasting
Version Management
Basic Capacity Planning
Agile Manufacturing
Both the Essentials and Premium licenses include –
3 external accountant licenses for customers who have external accountants with the same access as the Business Central Essentials license except for the access to the user set up or admin tasks and any other Business Central application. Unlimited companies
1800 seconds/tenant of Cortana Intelligence
Configuration components, which are available for purchase for both Essentials and Premium users.
Are you leveraging the most of your Dynamics 365 Business Central Licenses?
In addition to the benefits, features, and functionalities, Dynamics 365 offers various applications that extend the functionality to Business Central. If you are looking out for more information about Business Central, check out our 'Ultimate Guide to Dynamics 365 Business Central – Features, Benefits & Licensing Types'.
Microsoft recently has simplified their Business Central licensing plans. The pricing plan for Dynamics 365 Business Central is modified in such a way that it suits small and medium-sized businesses in need of an ERP application to meet their core business requirements.
If you are unsure whether your current vendor is not helping you leverage the complete benefits of your D365 licenses, here's an opportunity for you to quickly review your licensing plans for a detailed analysis with our experts.