Microsoft Dynamics 365 – CRM system helps Sales team to manage data and supports with actionable insights.
In the present day scenario, it has become vital for sales professionals to build an amicable and lasting relationship with their customers to keep them in business. Being in a Sales profession has its own challenges; a sales professional has to manually input the data and also continuously switch between different systems. The scattered data in different systems makes it highly difficult for the Sales professional to get a clear view of the customer and lets them work blindly. Microsoft Dynamics 365 – Customer Relationship Management (CRM) system helps Sales team to manage their customer data, supports management, to deliver actionable insights.
How sales teams can benefit from having a Dynamics CRM?
More than 67% of sales managers and professionals have seen many benefits by opting for Customer Relationship Management (CRM). A study claimed that 65% of sales reps who have used Mobile CRM achieved their sales targets, while 75% of those who thought otherwise found it difficult to achieve their desired targets. The benefits that CRM has already given many Sales professionals include, 
Central data storage
Presentation of data in an easy to understand format
Monitoring the entire sales processes
Track sales staff performance
Boost your sales team performance
Simplify the follow up on leads
Prioritize sales activities to optimize selling
Integrates with social media to facilitate communication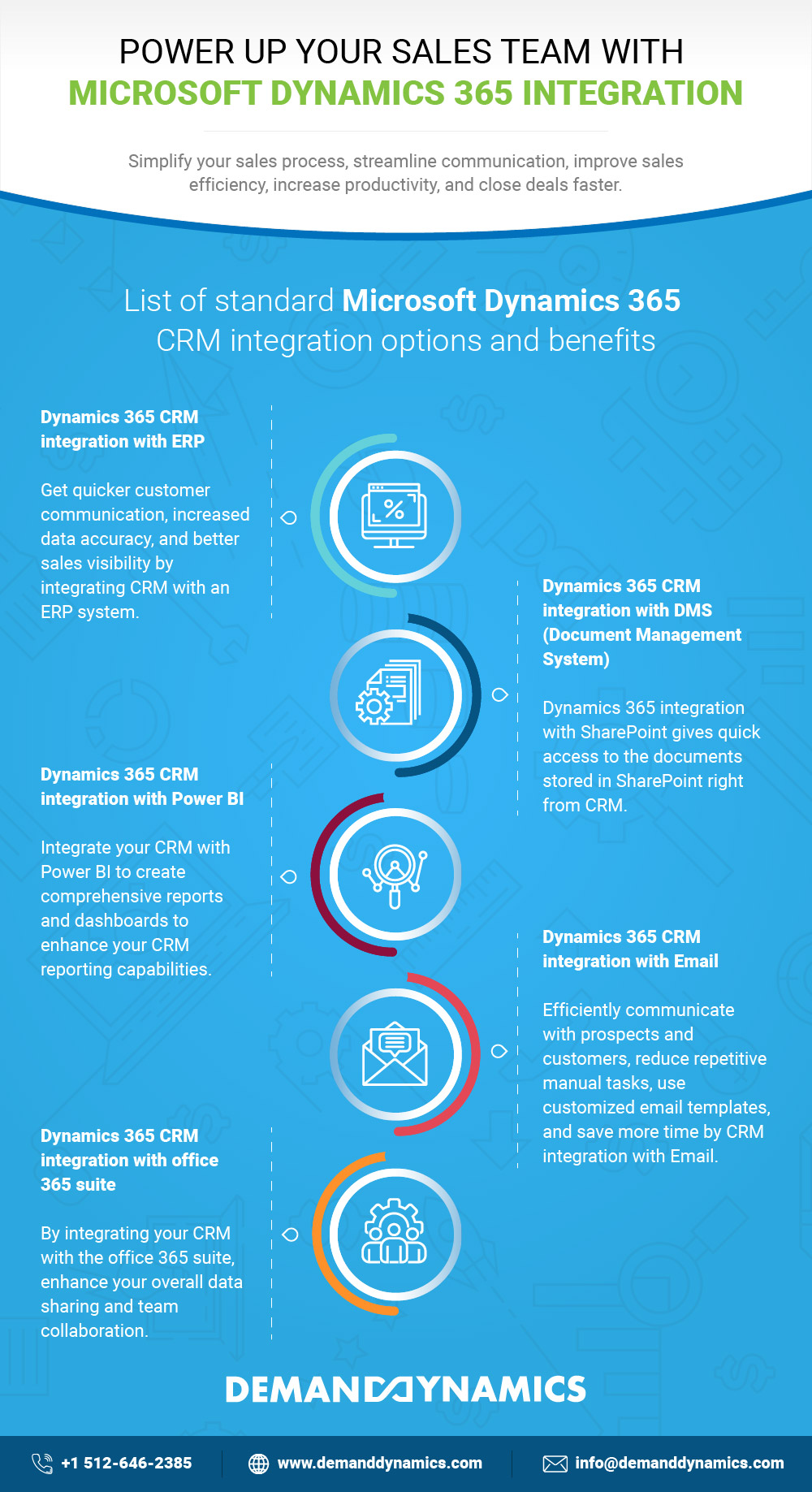 Dynamics CRM Integration – what is it, and why do we need it for Sales?
In simple words, CRM integration is connecting your CRM and third-party tools to function seamlessly together. It lets you bring valuable customer information directly into your CRM instead of keeping your CRM system to retain customer information based on manual entries. From the umpteen benefits that CRM integration can bring to your sales team, here are the key benefits that CRM integration can offer your Sales team instantly.
Eliminate the need for switching between different systems/ tools
Communicate with the prospects efficiently
Get a clear all-round customer view
Streamline internal collaboration
Align processes between departments
Targeted proposals and better closure
Opportunity wins rate increase
Microsoft Dynamics 365 CRM Integration Options
Dynamics 365 CRM integration means, connecting your Dynamics CRM to third-party/internal applications for a seamless workflow experience for improved productivity and quick sale conversions. By integrating various applications to your CRM, your sales team will have a better view of customer data.
Some of the standard Dynamics 365 CRM integration options to power up your sales team are –
Dynamics CRM integration with ERP
Integrating your Dynamics 365 CRM with an ERP system like Dynamics 365 for finance and operations provides instant access to the data stored in ERP for your sales team. It leads to quicker customer communication, increased data accuracy, and better visibility for the sales.
Dynamics CRM integration with DMS
Integrating a Document Management System such as SharePoint with CRM can be highly beneficial for the team working on different documents. Dynamics 365 integration with SharePoint gives quick access to the documents stored in SharePoint right from CRM.
Dynamics CRM integration with Power BI
Power BI reports can aggregate the info from Microsoft Dynamics 365 along with the data from other systems and uses this data to create comprehensive reports and dashboards. Integrating Dynamics 365 with Microsoft Power BI can enhance your CRM reporting capabilities.
Dynamics CRM integration with email
The sales team needs to communicate with prospects and customers, track sales-related email correspondence in CRM. CRM integration with email helps the sales team in reducing repetitive manual tasks, use customized email templates, improves productivity, and save more time for selling
Dynamics CRM integration with office 365 suite
Integrating your CRM with the office 365 suite can enhance your overall data sharing and team collaboration. You can easily import data from Excel into Dynamics CRM and export from Dynamics to Excel for further analytics. Microsoft teams and Skype can help you streamline your internal and external communications, and Microsoft Exchange can let you manage your meetings.
Power Up Your Sales Team with Microsoft Dynamics 365 CRM integration
Besides strengthening your sales team with Dynamics 365 integration, your business might as well experience the below benefits.
Increase in transparency
Seamless workflows
Improved productivity
Single view of account progress
As we have seen above, Microsoft Dynamics 365 CRM Integration can bring several benefits to the business. It can simplify the sales process, streamline communication, improve efficiency, and help your sales team close more deals faster at lesser time. If you need any further information about Microsoft Dynamics 365 solution, talk to our certified Microsoft Dynamics expert team!