Implementing a CRM system is a huge transition for any business since, it has the potential to transform the way your business work.
Microsoft Dynamics 365 Vs Salesforce – The Ultimate CRM battle
Rivalries are an encouraging trend in the Tech landscape. Over the last few decades, we all have experienced some magnificent product launches, upgrades from Microsoft, Apple, and Google. If not for their fierce competition, the innovation would have been stalled.
Likewise, two of the leading tech giant's competing at a global scale in the CRM segment are Microsoft Dynamics 365 and Salesforce.
Before we get into the nitty-gritty details of why your business need a CRM to accelerate the pace at which your business operates, let us look at the ground reality and where the industry is heading towards.
Customer Relationship Management (CRM) is the fastest growing software in the market today, estimated to reach $80 bn. in revenues by 2025. The global CRM market size was valued at $40.2 bn. in 2019 and is growing at a CAGR of 14.2 between 2020-2027. Which is growth at massive scale.
As organizations worldwide continue finding their way back to normalcy in the post pandemic world, it has not only exposed the inefficiencies pertaining to the traditional approach most of the businesses today continue to rely on. But also forced the organizations to embrace the need for having a CRM.
Implementing a CRM system is a huge transition for any business. Because, it has the potential to transform the way your business work. So, the choice has to be made right.
To help you find the right CRM for your company, we've taken an in-depth look at the two CRMs. So that you'll get to choose which one fits you right.
What is Microsoft Dynamics 365?
Microsoft Dynamics 365 is a complete set of intelligent business applications that can help your business grow at your own pace and deliver results through AI-driven insights.
There's no technology company that has a greater footprint and credibility than Microsoft with its ecosystem of Microsoft Dynamics 365 business applications, LinkedIn Sales Navigator, and Microsoft Power Platform, powered by Microsoft Azure.
Dynamics 365 offers a comprehensive solution that runs your entire business including marketing, sales, service, operations all from a single platform.
Microsoft Dynamics 365 CRM Applications
Microsoft Dynamics 365 consists of multiple applications that work together to provide an all-in-one solution.
Some of the key applications of Dynamics 365 that fulfills an organization's CRM needs are listed below.
Dynamics 365 for Sales – Is one of the most critical application that provides a single source of truth for your sales and marketing teams. It gives a 360-degree view of customer interactions and prospect engagements through a single unified dashboard making it easy for your sales representative to forecast your next interactions.
Dynamics 365 for Marketing – Allows your marketing teams to effectively run campaigns, calculate lead scores, and insights powered by prospect intelligence and analytics.
Dynamics 365 for Customer Service – Using this application, you can now provide a seamless customer service by tracking the complaint requests and respond to customer requests at lightning speed.
Dynamics 365 for Project Service Automation – A must have for organizations with project planning, resource scheduling, time and expense management.
Dynamics 365 for Field Service – Helps your offsite field representatives become more responsive and productive wherever they are.
Microsoft Dynamics 365 Advantages:  
Dynamics 365 has a simple interface and is easy to customize, making it a great option for those who want a quick setup.
The seamless integration of Dynamics 365 with other Microsoft business products is undeniably a big advantage.
Dynamics 365 supports on-premise solutions as well as cloud. So, businesses who have systems on-premise and on cloud have the flexibility of operating both systems without having to worry about where they are positioned.
What is Salesforce?
Salesforce CRM is cloud-based customer relationship management (CRM) software having products and services that allow your business to better connect with customers, partners and potential customers. It is touted to be the leading software in the CRM industry and has become the number one for customer success that helps businesses track customer activity.
It has a smart user interface, analytics to give suggestions to the user to make smart decisions and allow users to customize apps using development tools.
Salesforce CRM applications
Using Salesforce, you can access a wide range of products and services in Cloud, Social and Mobile domains.
The three key applications of Salesforce CRM are:
Sales Cloud
Service Cloud
Marketing Cloud
Sales Cloud – It enables you to manage your organization's sales, marketing and customer support activities. Whether your company is into business-to-business (B2B) or business-to-customer (B2C), your sales team need Sales Cloud.
Service Cloud – Service Cloud enables you to increase customer loyalty, satisfaction and service quality thereby helping you drive profits to your business.
Marketing Cloud –  Is one of the most powerful digital marketing platforms. By using Salesforce Marketing Cloud, you can manage personalize customer journeys, and establish a brand presence, all within a single platform.
Salesforce Advantages:
Easy Customization – Salesforce user interface provides a streamlined experience for viewing and managing personal and administrative setup tasks. In addition to the existing applications, Salesforce AppExchange has thousands of free and paid third-party applications that can benefit your business.
Cloud-based solution – Do you know that Salesforce Marketing Cloud runs on Microsoft Azure while most of the other services run on AWS? Nevertheless, it offers a seamless experience across all your devices.
Compatible – Salesforce works well on all devices. Both on Windows and Mac. On the browser side, it runs seamlessly on Safari, Firefox, Internet Explorer. It is Android and iOS compatible and ensure a complete experience.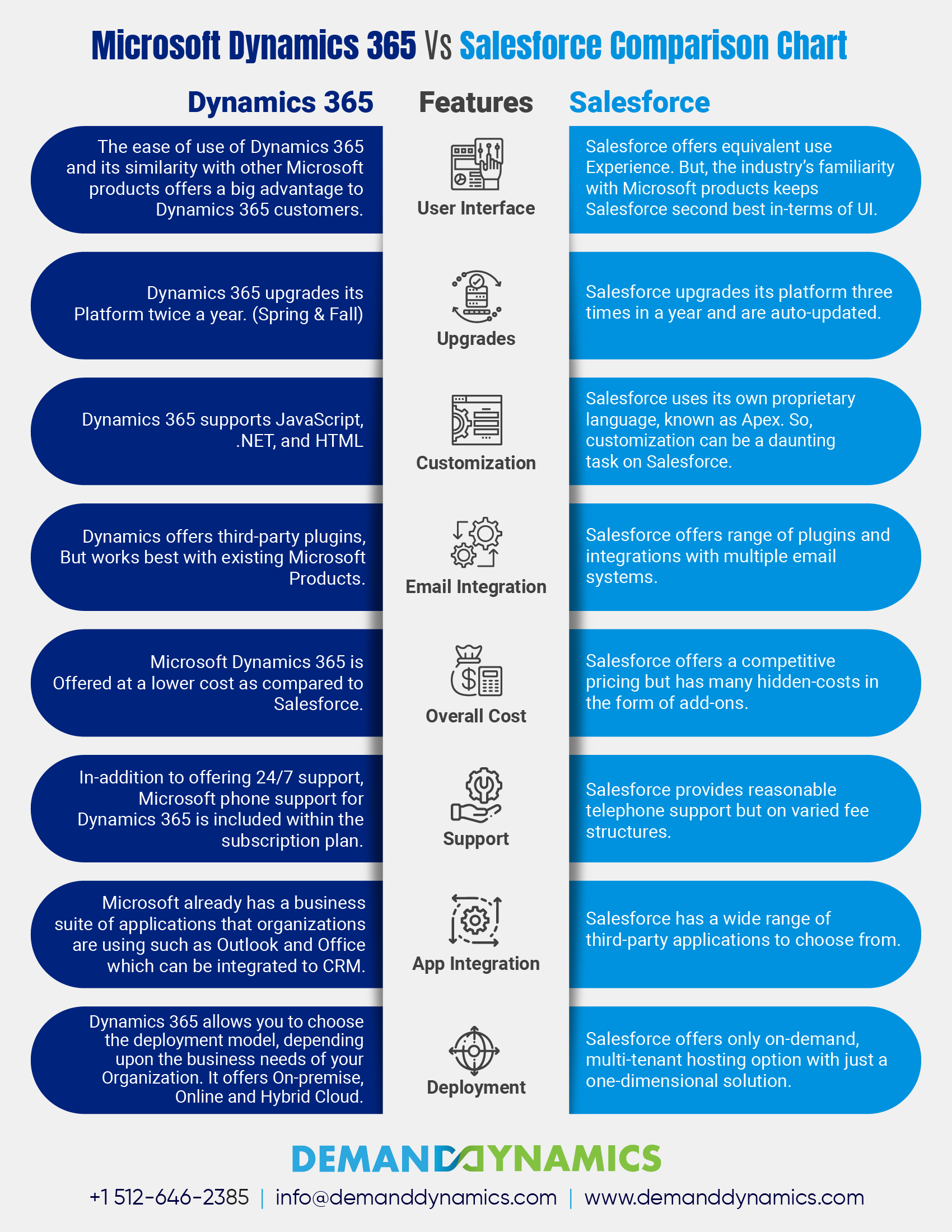 Comparison between Microsoft Dynamics 365 & Salesforce
The Platform:
Unlike Dynamics 365, Salesforce was built for the cloud. For businesses, that are completely on cloud with storing data on a remote server and operating through browser-based or mobile application, Salesforce can be the go-to platform.
But wait. Dynamics 365 offers much more flexibility through cloud and on-premise solutions. Although, Sales and Service are available fully on-cloud, Finance and Operations are available on-premise as well as cloud. So, for businesses that are on the edge of migrating to the cloud but are on-premise, can straight-away go with Dynamics 365.
Advantage: Both Dynamics 365 and Salesforce are exceptional at what they do. But, Dynamics 365 clearly has an edge over Salesforce for its flexibility.    
Integration:
The need for application integration is inevitable. Despite offering 'out-of-the-box' experience, both Microsoft and Salesforce offer add-ons that you might need to keep your system up and running. Even if you are in need of more applications, there are third party applications that you can find on Microsoft's AppSource and Salesforce's AppExchange.
On the integrations front, Salesforce is good when it comes to optimizing the CRM.  Mainly because, it offers 3000+ apps and run its own partner program and connected platforms; making the in-house developers job easy if they want to build any custom solutions on the platform.
But on the Microsoft's end – investments into its app connections is keeping them up with Salesforce. Also, the market leading products such as Microsoft Power BI and Power Apps become native integration to Dynamics 365 as Microsoft own these products unlike Salesforce. So, if your company is already using Microsoft products, Dynamics 365 can be a better option for you to go with. The familiarity with the user interface can be the primary differentiator.
Advantage: Close call. While Microsoft has a strong native integration base, Salesforce offer more number of third-party applications than Microsoft.  
AI Features:
Dynamics 365 and Salesforce's AI features are the ones that sets them apart from the other CRM providers in the market. Both of them offer AI capabilities that are intuitive and also offer additional enterprise resources.
Here are some of the Dynamics 365 AI features:
Tracking the customer needs and market trends
Sales Forecasting
Recommendations based on previous interactions
Guidance at every stage of sales cycle
Salesforce AI features include:
Advanced AI learning algorithms
Recommendations on effective marketing strategies and actions to sales team.
Though the features among the two are similar, Salesforce fares best with its Einstein AI capability. Einstein uses advanced AI algorithm that understands your company's behavior pattern and suggests improvements for better results. But the catch is, Einstein AI comes as an add-on at additional price while the Dynamics 365 AI features are well covered within the package.
Advantage: Salesforce for its Einstein.   
Some of the key features that Dynamics 365 offers over Salesforce:
AI-driven insights (Without having to pay additional price)
Customer Voice feature
Native integration with LinkedIn via LinkedIn Sales Navigator
When it comes to meeting the requirements of Sales and Marketing teams, Dynamics 365 offers a comprehensive package over Salesforce despite being the market leader in the CRM segment.
Dynamics 365 for SMBs and Enterprise companies
Big or small, Microsoft Dynamics 365 offers something for every business. Running a small business doesn't mean that you can't use strong enterprise-level technology platform. Microsoft Dynamics 365 Customer Engagement is little over Salesforce because it has a mature ERP solution for SMB organizations in the name of Microsoft Dynamics Business Central.
Dynamics 365 has a definite advantage over the competition (Salesforce) in terms of understanding SMBs way of reaching out to their target customers. Integration with LinkedIn has offered the benefit of providing SMBs with opportunities to connect with customers.
Some of the Industries that are leveraging Microsoft Dynamics 365 are commercial airlines, telecommunication companies, grocers, restaurateurs, supply chain management professionals, finance, hotels and hospitality organizations and all other companies who deal with the public 24/7 and are reliant on customer engagement to stimulate their sales growth.
Here are some of the reasons why businesses of all kinds should use Dynamics 365
Flexible Licensing
Scalable Architecture
Easier Communication and Integration
Access data from anywhere, anytime.
Conclusion:  
While there are many similarities between Dynamics 365 and Salesforce, it boils down to the specifics of each platform on what it is offering to its customers. Though each of them play to their strengths, Dynamics 365 offers an on-premise and cloud deployment for businesses who still have their traces back on-premise before they could completely migrate to cloud. Whereas, Salesforce is a cloud-based only solution.
By the time you come to terms with which CRM you'd prefer to go with, it is important to understand that purchasing the CRM alone won't help in improving your business. To get your sales, marketing and customer service teams into action, you need to implement the CRM to your business process and it has to be done meticulously by a certified expert.
At DemandDynamics, we have certified experts with a track record of helping businesses achieve excellence with a multi-fold growth post implementation. For more information, Talk to our experts today!