Dynamics 365 Business Central and Dynamics GP are two very similar ERP solutions with overlapping features and functions.

Microsoft Dynamics GP vs. Dynamics 365 Business Central – Key differentiators
To help businesses keep pace with the ever-evolving business landscape, Microsoft has continuously enhanced the features of its solutions. When it comes to business management solutions, majority of the focus is on its' cloud-first business line, Dynamics 365, while continuing support for Dynamics GP. With the varied range of solutions, Microsoft has prioritized its efforts on encouraging customers to migrate to Dynamics 365 Business Central.
Dynamics GP and Business Central – An Introduction
Microsoft Dynamics GP is an ERP program that helps companies manage back-end operations to keep the day-to-day business running. It offers you the flexibility that you need for your business needs. Dynamics 365 Business Central is a cloud-based, single comprehensive solution to manage finance, operations, projects, sales, supply chain, and service. It is designed to integrate customer engagement and business processes to allow quick decision-making in real-time.
Both Dynamics GP and Business Central are built for growing small and medium-sized businesses (SMBs). Though both the solutions share the same code base and offer almost the core set of functionalities, there are significant differences between the two ERP solutions.
What is the difference between the ERP solutions – Dynamics GP and Dynamics 365 Business Central?
Many Dynamics GP customers have already moved for several reasons – hardware and server maintenance or resource requirements of their Dynamics GP system were growing too expensive, or they decided to opt for more modern, productivity-enhancing features, like mobile access and data analysis.
The three major differences between Dynamics GP and Business Central are –
Licensing and Hosting
The Dynamics GP provides a variety of licensing plans, including subscription licensing (pay the full licensing costs up-front), perpetual licensing (flexibility of paying monthly), and cloud hosting (own servers), and hosting on-premise (hosted through Infrastructure as a Service). You can also extend the functionality of Dynamics GP through ISV add-ons.
Dynamics 365 Business Central Business Central is a true cloud ERP solution licensed as SaaS and hosted on Microsoft Azure. It lets you choose whether to license your users with a team member license, essential license, or premium license.
Add-Ons
Dynamics GP includes the core financial and distribution functionality. You need to purchase three additional packages to extend functionality for manufacturing, services, customizations, and advanced payroll/HR through a network of partners and Independent Software Vendors (ISVs). Dynamics GP add-ons require different back-end development and must be managed separately.
For Business Central, Microsoft has made building add-ons with Extensions. These extensions or business apps are available for purchase through Microsoft AppSource. You can install apps for Business Central, Power BI, or separate Azure web apps within a few minutes.
Functionality and Integrations
Dynamics GP comes with functionalities that include core financials, Payroll, eBanking, Fixed Assets, Inventory Tracking, Purchase Orders, Manufacturing, and Services. In GP, financial reporting can be handled through Management Reporter or Jet Reports (ISV add-on). Integrating GP with Power BI or CRM requires specialized resources, customized implementation, and additional costs. However, the Dynamics GP does not include budgeting and warehousing functionalities.
Business Central delivers more flexibility with its core financials than Dynamics GP and Fixed Assets, Inventory Tracking, Multi-Currency, Multiple Entities, Purchase Orders, Warehouse Management. With the Premium licensing, you can also gain functionalities including manufacturing, service, payroll through apps, and built-in budget functionality. Since Business Central is fully hosted on the cloud, there is unparalleled security, performance, and reliability to enhance efficiency and improve your organization's overall productivity.
Quick Comparison between Dynamics GP and Business Central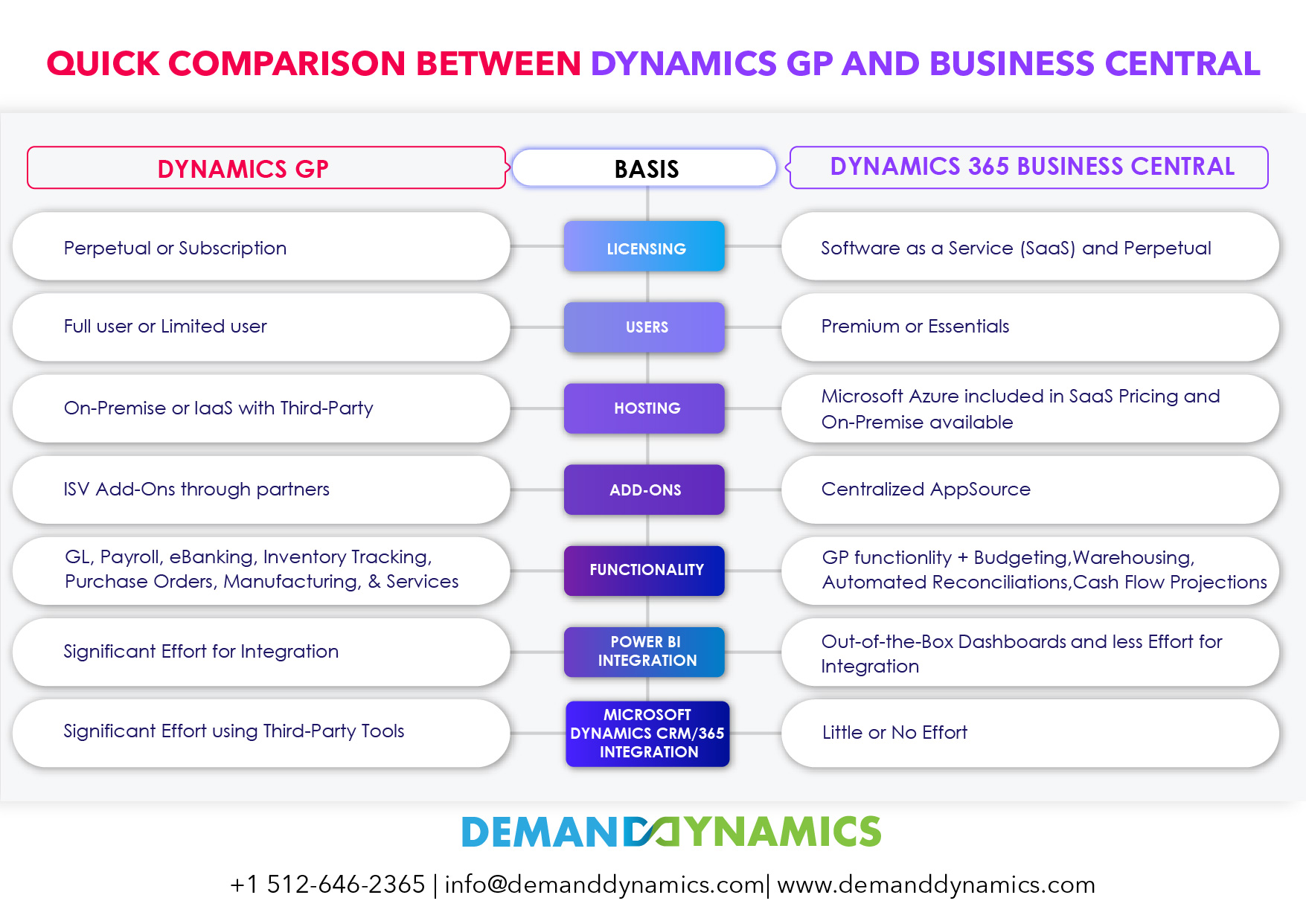 Benefits you get through Microsoft Dynamics 365 Business Central.
New user interface: Unified view for Dynamics 365 products and customized with intelligent notifications, personalized feeds, and role-specific views.
Mobile application: Business Central allows you to access rich functionality across various platforms.
Seamless Integration: It is a system that integrates seamlessly with other Microsoft services.
Native intelligence: Dynamics 365 Business Central helps generates more accurate forecasts and more in-depth and valuable analytical insights.
Simple customization: The extension options allow you to better customize your unique business needs.
Should You Migrate from Dynamics GP to Business Central?
Understanding Business Central and its features, functionalities, and capabilities could be complex. If you are still confused if you should migrate to Business Central, let us help you.
With extensive experience in helping companies prepare themselves for the future, we can help you understand Business Central capabilities and how they can impact your business and find out if you need to Migrate to Business Central.