Microsoft's annual partner conference called Microsoft Inspire concluded on January 23, 2020. DemandDynamics team members attended all the conference's live virtual sessions, which were both engaging and enlightening. The DemandDynamics team very much enjoyed meeting new partners from around the world and learning about Microsoft's newest updates.
Microsoft Inspire 2020 was filled with feature updates and announcements from leaders in the business and technology fields. Microsoft's CEO Satya Nadella made multiple appearances along with Gavriella Schuster, Microsoft's Worldwide Channel Chief, and Judson Althoff, Microsoft's Executive Vice President for Worldwide Commercial Business. The following updates/takeaways were revealed during the Microsoft Inspire 2020 Conference virtual sessions and keynote addresses.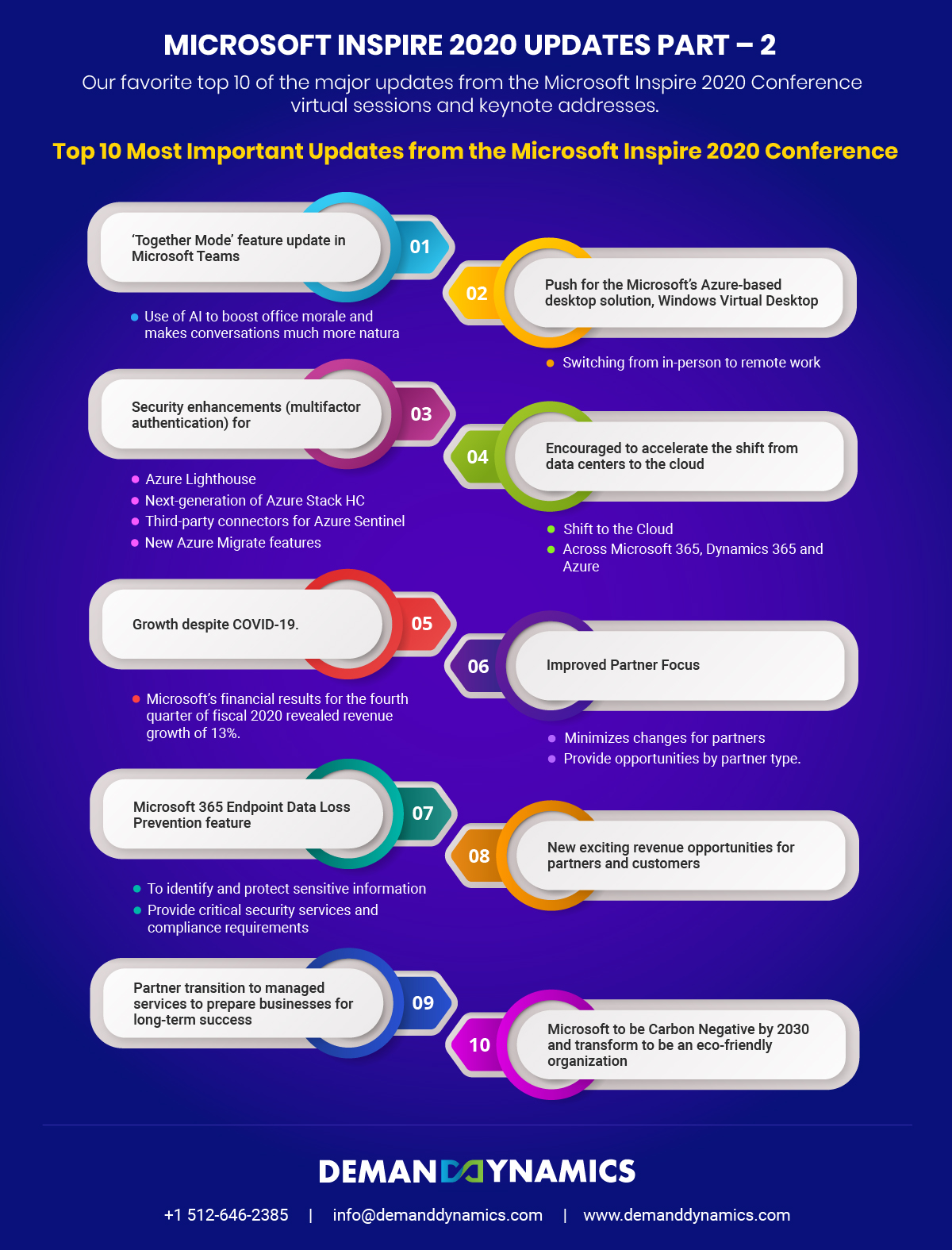 10 Most Important Updates from the Microsoft Inspire 2020 Conference:
Emphasis on Microsoft Teams. We have already mentioned some cool, important updates and feature integrations in our Microsoft Inspire 2020 Conference Updates Part 1 Blog. However, Teams was a significant focus of the conference, and it is an important component of Microsoft 365. Satya Nadella even commented that Microsoft Teams is what enables a customer to experience the full value of Microsoft 365. Another cool new feature of Teams that was announced at Microsoft Inspire 2020 is the 'Together Mode' which uses AI to create a shared background for all conference participants. 'Together Mode' boosts office morale and makes conversations much more natural.
Push for Windows Virtual Desktop. Windows Virtual Desktop is Microsoft's Azure-based desktop solution. Gavriella Schuster encouraged partners throughout the conference to pursue the solution. Windows Virtual Desktop is increasing in popularity as more individuals are switching from in-person to remote work.
Multiple Azure Announcements. During the Inspire conference, multiple updates for the Azure cloud platform were announced. These updates include security enhancements such as multifactor authentication for Azure Lighthouse, the next generation of Azure Stack HCI, third-party connectors for Azure Sentinel, and new Azure Migrate features.
Speeding Up the Shift to the Cloud. Judson Althoff encouraged partners to accelerate the shift from data centers to the cloud. Althoff stated that Microsoft's cloud capabilities across Microsoft 365, Dynamics 365 and Azure "will help customers persevere in these difficult times".
Growth Despite COVID-19. In the midst of Microsoft Inspire 2020, Microsoft released its financial results for the fourth quarter of fiscal 2020. Microsoft's revenue grew 13%, indicating that the company experienced growth despite the global pandemic. These results reveal Microsoft's strength in overcoming unpredictable business challenges and maintaining financial stability.
New and Improved Partner Focus. Satya Nadella's keynote address focused on increasing inclusion efforts and engagement for partners toward the overall vision of Microsoft. In addition, Nadella and Schuster both described Microsoft as a partner-led company, indicating the importance of partners for Microsoft's strategy and success. In the spirit of championing its partners, Microsoft has agreed to minimize changes for partners and provide opportunities by partner type. ­­­­­­
Security and Compliance Measures. During Microsoft Inspire 2020, Satya Nadella announced Microsoft 365 Endpoint Data Loss Prevention. This new feature will help companies identify and protect sensitive information across every stage. Microsoft is dedicated to providing critical security services and compliance requirements for its customers.
Partner Revenue Opportunities. In one of his Inspire speeches, Satya Nadella remarked that the customers are experiencing the full value of the cloud in that they are using it to generate even more revenue, which increases local economic success. Nadella stated that, "for every dollar our cloud generates in revenue in the local region, our local partner ecosystem generates as much as nine additional dollars". Therefore, the cloud is providing new and exciting revenue opportunities for partners and customers.
Partner Transition to Managed Services. Microsoft Executives at the Microsoft Inspire 2020 Conference encouraged partners to transition to managed services with monthly terms. Microsoft's leaders indicated that the transition to managed services is beneficial for your customers and it prepares your business for long-term success.
Carbon Neutral by 2030. At the Microsoft Inspire 2020 Conference, Satya Nadella announced Microsoft's goal to be carbon negative by 2030. Carbon negative means that a company is removing more carbon from the atmosphere as it emits. Nadella also announced that by 2050, Microsoft plans to remove all the carbon the company has emitted since its founding in 1975. These prestigious goals are transforming Microsoft into a sustainable, eco-friendly organization.
To learn more about these updates, visit the Microsoft Inspire website, or visit our DemandDynamics website to schedule a free consultation.