Migrating from AX to Dynamics 365 improved staff efficiency by up to 50% and enhanced operational efficiency.
Upgrading from Dynamics AX to Dynamics 365 – 5 steps to seamlessly upgrade to Dynamics 365
Soon after Microsoft launched Dynamics 365, many existing Dynamics AX users upgraded to the Dynamics 365 cloud-based suite of solutions to get ahead of their competition. Since all of the Microsoft AX versions are set to become obsolete soon, more businesses are taking advantage of Dynamics 365's best-in-class features to improve their financial visibility and profitability.
Though upgrading your Dynamics AX solution to Dynamics 365 is complex, it offers countless benefits including cost savings, modern user infrastructure, customizations with cloud implementation, and many more.
Why should you upgrade to Microsoft Dynamics 365?
Forrester, a leading research and advisory company, encouraged customers migrating from Dynamics AX to Dynamics 365 to read the Total Economic Impact of Migrating to Dynamics 365, and interviewed them to determine business impacts they have experienced throughout the process.
Based on the study, Forrester found a 3.4% reduction in total ownership costs for ERP and for other costs, such as licensing, infrastructure, and IT labor.
Migrating from AX to Dynamics 365 improved staff efficiency by up to 50% and enhanced operational efficiency. The migration also enabled the organizations to become more flexible, making it easier to adapt to the changing environment. Compared to on-premises business solutions like AX, organizations using Dynamics 365 have consistently reported superior financial returns. 
Benefits of upgrading to Dynamics 365:
Reduced cost of system ownership and licensing – When you upgrade to Dynamics 365 online, you save time, money, and resources. As you migrate from a CapEx to an OpEx model, your employees and teams will be connected in real-time to improve productivity. With Dynamics 365, you will never pay more for licenses as you have flexible licensing options at your fingertips.
Automated system updates – Microsoft Dynamics 365 has transitioned to a continuous release cycle in which online customers receive significant updates in two waves each year (April and October). These regular and automated updates ensure that your team is working in the most recent software version and has access to the most cutting-edge tools and features.
Improve security, privacy, and reliability – Your critical business data is stored in Microsoft's highly secure, state-of-the-art data centers. Due to a 99.9% uptime service-level agreement, your data will always be available when you need it (SLA).
Enable scalability and flexibility – Unlike AX, Dynamics 365 supports business expansion without requiring costly IT infrastructure modifications, including the ability to activate and deploy new users swiftly.
Reduction of risks and costs of running a legacy application – Dynamics 365 is fit for purpose in today's fast-paced, information-driven corporate environment. It is wholly maintained by Microsoft and is available through Microsoft's partner ecosystem, making maintenance and support more affordable and convenient.
Easily transition to the cloud – Since Dynamics 365 is a cloud-based solution, users can innovate and automate operations in real-time, enabling your company and employees to be more agile. Dynamics 365 can be integrated with third-party APIs so users receive automatic Microsoft updates and can access their critical business data anywhere, at any time.
Adapt to your business needs – Users can leverage pre-built business applications produced by Microsoft and chosen partners through Microsoft AppSource to enhance their experience. You can also use the Microsoft Power Platform to create apps and configure them to meet your company's specific needs.
Get in-depth analytics powered by AI – The availability of Power BI, Cortana Intelligence Suite, Big Data capabilities, and sophisticated analytics opens a whole new world of possibilities for reviewing business processes and simplifying operational data.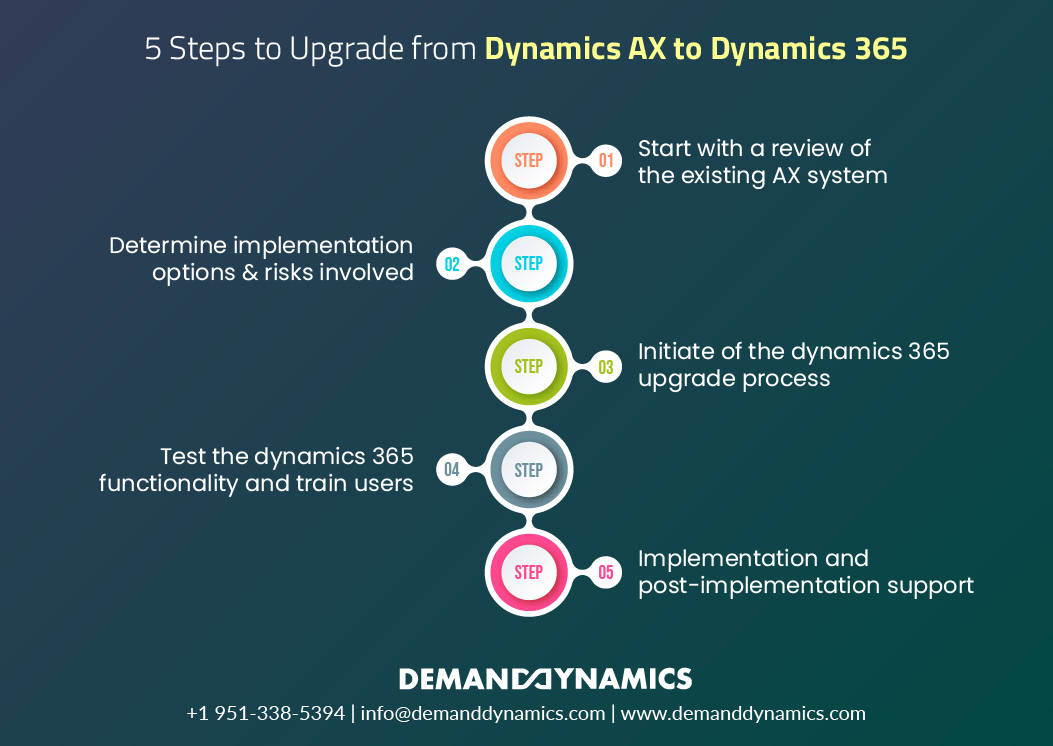 5 Steps to upgrade from Dynamics AX to Dynamics 365:
If you are ready to upgrade or would like to explore next steps, we have curated a 5-step guide below for seamlessly upgrading from Dynamics AX to Dynamics 365.
Step 1: The upgrade process usually starts with a review of the existing AX system. 
An in-depth review of your Dynamics AX solution is necessary because it aids the deployment team in determining the precise update requirements. During this step, your deployment team should review the transition of licenses, budgeting, and functional and technical recommendations.
Step 2: Determine options for implementation and risks involved.
Following the review, the implementation team would propose the next steps for the implementation. After discussing the next steps, it is important to conduct an upgrade review that includes the necessary architecture configuration, customizations, and interfaces to establish a thorough plan and statement of work that will guide the upgrade process.
Step 3: Initiation of the Dynamics 365 upgrade process.
The auto or manual code migration and data migration are accomplished after a thorough investigation and evaluation of the choices. The deployment team also needs to conduct code refactoring and reconfiguration of development and security roles.
Step 4: Testing the Dynamics 365 functionality and training users.
Once you are ready to upgrade the interfaces and BI/Reporting, you should run migration tests to ensure that the interfaces and other components of the solution are working correctly before going live. User acceptability testing should be conducted to assess the system's readiness. At this stage, employees must also be trained on using the system for their specific job duties to improve change management.
Step 5: Implementation of Dynamics 365 and support post-implementation.
Go-live with Microsoft Dynamics 365 once the analysis and testing stages are successfully completed. However, you may require further assistance from service providers after the Dynamics 365 implementation to support your solution, resolve any challenges and ensure successful usage.
Upgrade from Dynamics AX to Dynamics 365 with the right implementation partner!
Although upgrading from AX to Dynamics 365 might seem simple from the above steps, it can be a time-consuming process. Therefore, it is crucial to have the right partner to help you upgrade to Dynamics 365 quickly and seamlessly.
Our consultants at DemandDynamics are experts in upgrading solutions to Dynamics 365. We can help you review your existing AX system, design a plan that suits your business process needs and ensure a successful Dynamics 365 upgrade.
For any assistance on upgrading from Dynamics AX to Dynamics 365, talk to our expert Dynamics 365 team!