Having a robust system that supports your organization's goal is very crucial to succeed in this competitive era.
A complete guide you need to know about Dynamics 365 Business Central
Having a robust system that supports your organization's goal is very crucial to succeed in this competitive era. More than 80% of businesses prefer and are planning on moving to a cloud-based ERP system to improve their business processes since it provides complete visibility into core business processes and optimizes systems through superior resource tracking and reporting, database management, and data sharing. It is not just about profitability but optimizing business processes and enhancing the overall corporate experience that is vital for businesses.
With Dynamics 365 Business Central, you can revolutionize how you do business by taking streamlining data, business process automation, and customer engagement to another level.
What is Dynamics 365 Business Central?
Dynamics 365 Business Central (formerly known as Dynamics NAV) is an ERP solution built for managing all your business processes in one place via its intuitive interface and a strong software engine, Business Central covers all modern business experience pillars.
Business Central is specially designed for small or medium-sized businesses that might have outgrown their entry-level accounting software and looking for a more robust program to manage their back-end business processes. It is a single, end-to-end solution for managing your finances, operations, sales, and customer service. Dynamics 365 Business Central comes with a possibility to easily upgrade from entry-level accounting software/ legacy ERP systems, seamlessly integrate with other Microsoft cloud services, and be customized for specific needs with Power Apps, Power Automate, and Power BI.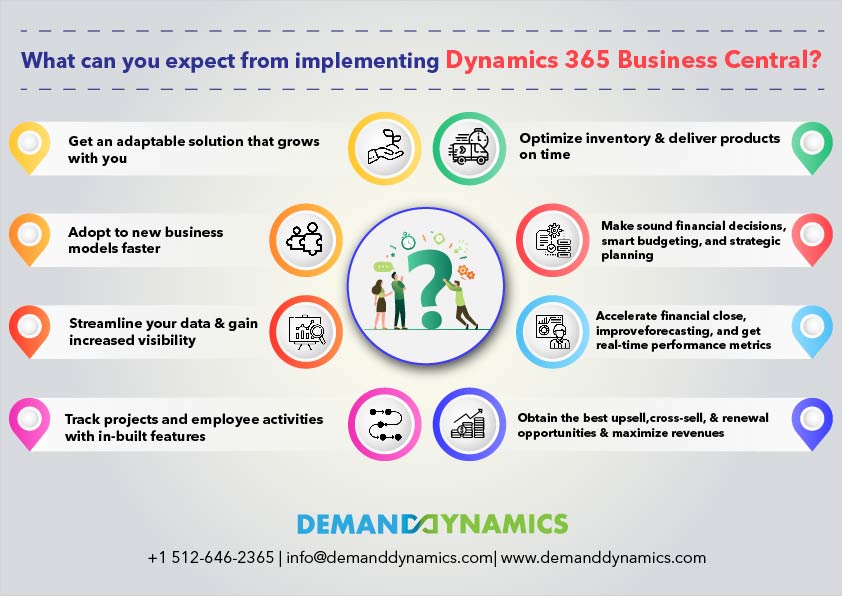 What can you expect from implementing Dynamics 365 Business Central?
Here are some of the significant benefits you can get by implementing Microsoft Dynamics 365 Business Central, which can revolutionize the way you do business.
Benefits of Microsoft Dynamics 365 Business Central
Adopt to new business models faster
Business Central is an adaptable solution that grows with you, ensuring your business continuity with a cloud solution that connects everything from sales, service, finance, and operations teams to help you deliver quick results. With Business Central implementation, you can adopt new business models faster with flexible deployment, reliability, security.
Streamline your data across the organization 
You can streamline your organizational data across accounting, purchasing, sales, inventory, and customer interactions, interconnected to gain increased visibility and avert unnecessary expenditures and fraudulent purchases.
Enhance productivity with business insights
Dynamics 365 Business Central works by connecting people, processes, insights and enables you to make better decisions faster along with embedded guidance, dashboards, and interoperability with Microsoft 365 and Microsoft Teams. Business Central has built-in monitoring features that allow you to track projects and employee activities and provide vital information for your business to support you in making sound financial decisions, smart budgeting, and strategic planning.
Gain financial visibility and real-time performance metrics
Most businesses fail because of poor cash flow management. With Dynamics 365 Business Central, you can accelerate financial close, improve forecasting, and get real-time performance metrics while fostering compliance and security across subsidiaries with Business Central. It will become much easier for your organization to streamline accounts payables and receivables, refine financial forecasts, and accelerate financial reporting processes quickly while maintaining regulatory compliance with connected processes.
Boost sales and improve customer service
Your organization can obtain the best upsell, cross-sell, and renewal opportunities and maximize revenues with the knowledge of all customer interactions. With this, you can prioritize sales leads by revenue potential. You can also take better care of customers by managing the entire sales process from within Microsoft Outlook and delivering better outcomes with connected service operations. Since you can easily access client data, you will effectively manage customer service operations, anticipate demands, and quickly respond to customer inquiries.
Optimize inventory and supply chain management 
With visibility across purchasing, manufacturing, inventory, and warehouses, you can optimize inventory, deliver products on time, and adapt to changing business models. With a clear view of the inventory, your organization can use sales forecasts and anticipated stock-outs to generate effective production plans and purchase orders. The proper delegation of workload, allocation of machinery, and planning of production processes all translate to efficient order fulfillment.
Features and functionalities of Microsoft Dynamics 365 Business Central
New, Intuitive user interface
Microsoft Dynamics 365 Business Central features a modern, intuitive, and familiar interface. The user interface is customizable, with role-specific views, personalized feeds, and smart notifications to make it much simpler to use the solution. It gives users access to its rich functionality across Windows, iOS, Android desktops, phones, and tablets.
Seamless integration with other Microsoft services
Since Business Central is cloud-based, it works seamlessly with other Dynamics 365 apps and other Microsoft apps such as Office 365, PowerApps, Microsoft Flow, and Power BI. The extended integration with Outlook allows users to utilize the quote-to-cash features from within their inbox and generate quotes based on an email and submit invoices.
Native intelligence and machine learning
Business Central is also powered by Microsoft's enormous investments in AI and machine learning. Business Central comes with AI capabilities that can be applied to provide you accurate forecasts, better next-step recommendations, and valuable analytical insights.
Business Central helps users customize the solution to better meet their unique business needs with its in-client visual designer. Microsoft PowerApps and Microsoft Flow are available to create custom business apps and workflows using the Common Data Service for Apps.
Streamlined financial management
Business Central enables you to streamline your financial management and get real-time visibility into performance. With Business Central, you can easily share information securely and gain control over your cash flow and budget.
You can easily monitor and control your sales order and purchasing order through automated workflows and dynamically updated inventory levels. With this feature, you will also be able to prevent unnecessary purchases.
Microsoft Dynamics 365 Business Central License types
Dynamics 365 Business Central has rich features and functionalities that can transform your business. However, which license you to pick will choose which features you have access to. Every license includes varied capabilities.
Business Central licenses come in three types –
Team Member license: The team member license has access to basic features – the user interface, intelligence, and customization.
Essential license: The essential license allows users access to most of Business Central's features such as financial management, customer relationship management, human resources management, project management, and supply chain management.
Premium license: The premium licenses include everything available for other licenses plus access to service order management and manufacturing features.
Things you need to consider beforehand!
Every new technology looks very attractive and exciting with its features. But, while upgrading to new technology, it is more important to ensure that the technology helps you remain profitable while also preparing for future growth.
Business Central is a feature-rich ERP solution with extensive functionalities and capabilities; but, choosing the right license to support your business need is essential. If you are interested in implementing Business Central yet skeptical about when, how, and why, we are here to help you.
You can discuss your business process, your industry-specific business goals you're current and future requirements with our team of Microsoft Dynamics Experts.