Dynamics 365 empowers retailers to effectively manage merchandising and operations, create an exceptional customer experience, and drive continuous innovation.
Solving Retail Challenges with Microsoft Dynamics 365 Solutions
Every industry has a unique set of challenges. However, the challenges faced by the retail industry are even harder to overcome as the retail industry is customer-facing. Retailers are experiencing drastic transformations due to the critical challenges of digital disruption, technical breakthroughs, and ever-changing customer expectations. These challenges also make it very difficult for retailers to penetrate deeper into the market and prepare for the future. Microsoft Dynamics 365 is an essential, robust solution for retailers who are experiencing these challenges, adapting to rapid changes, and competing in the market. Dynamics 365 empowers retailers to effectively manage merchandising and operations, create an exceptional customer experience, and drive continuous innovation. Dynamics 365 helps retailers accomplish these feats by unifying retail operations across digital, in-store, and back-office departments to personalize customer engagement and increase employee productivity. With an industry-leading combination of capabilities, architecture, and intelligence, Dynamics 365 will enable you to bring more dimensions to the retail experience.
This article highlights some of the critical retail industry challenges and how you can overcome them with Microsoft Dynamics 365 solutions.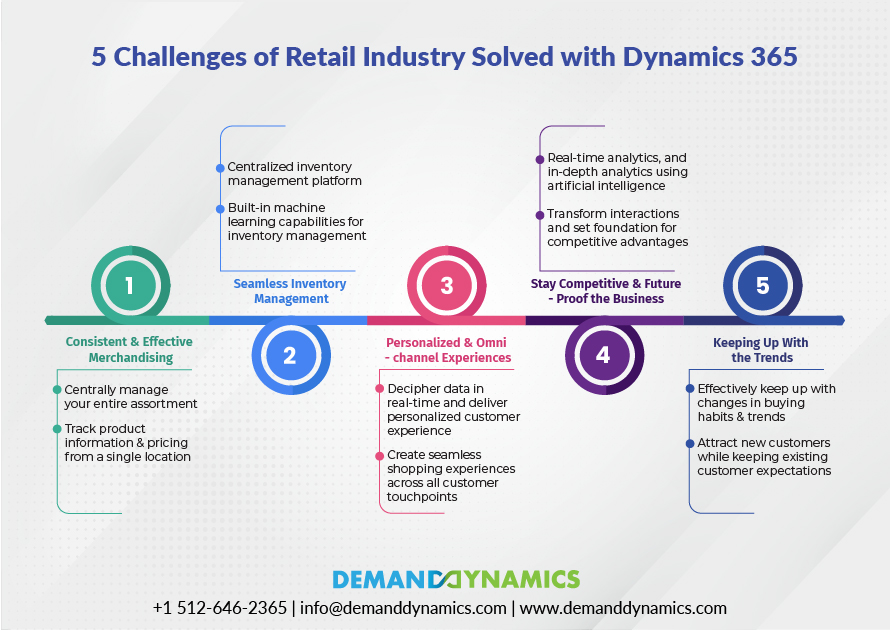 Top 5 Retail Challenges You Can Solve With Microsoft Dynamics 365 Solutions
Consistent and Effective Merchandising
Merchandising is such a vast and critical component in the retail industry. However, one of the biggest retail challenges is the volatility of demand and customer behavior, making it difficult for retailers to maintain the required clarity and consistency for merchandising. Dynamics 365 Commerce (Microsoft's omnichannel eCommerce solution) enables users to effectively manage and streamline the merchandising process as new channels and products emerge. Dynamics 365 also encourages users to acquire inventory and replenish stores at the right time. The solution enriches the merchandising process through rich visualizations, text descriptions, and central management of the entire assortment. Also, Dynamics 365 enables retailers to create, schedule, and track product information, categories, assortment, and pricing, and all from a single location.
Seamless Inventory Management
Effective inventory management is another major challenge for retailers as it requires proper alignment of your logistics and sales. Inventory management is a complex process as it involves multiple dimensions that directly drive accurate product delivery and impact customer satisfaction. Leveraging Microsoft Dynamics 365 solutions, retailers can quickly solve their inventory challenges as they have an end-to-end view of the entire process in one centralized location.
Dynamics 365 helps retailers:
have a complete overview of their entire organization
build better relationships with customers and surpass customer expectations
get a faster return on investment
have a centralized inventory management platform
leverage the built-in machine learning capabilities to automate inventory management and reporting processes
Personalized and Omnichannel Experiences
The expectations of customers around the globe have dramatically changed. Now, customers check the availability of products through their smartphones, check promotions on dynamic in-store signage, and then decide to buy or visit the store in person. More than 80% of customers prefer omnichannel experiences which means it is of utmost importance for retailers to provide the best customer experiences possible to ensure they have a competitive edge in the industry. Dynamics 365 Commerce helps retailers decipher customer and business data in real-time and deliver exceptional and personalized experiences that improve the customer buying journey. Also, Dynamics 365 Commerce allows you to create seamless shopping experiences across physical stores, web, mobile, and call centers. This connected shopping experience has a considerable impact on retailers' revenue growth, customer satisfaction, and brand loyalty across all customer touchpoints.
Stay Competitive and Future-Proof Your Business
Competition in the retail industry is intense. From virtual personal assistants, to chatbots, to IoT devices, the evolution of Artificial Intelligence is deep-rooted. Because of this, retailers need to establish new models to attract customers and improve customer engagement. Dynamics 365 Commerce enables retailers to remain agile and keep up with rapid changes in the market, including the evolving customer demands and technology, to set a foundation for long-term competitive advantages. With Dynamics 365 Commerce, users can increase inventory visibility by automating processes across systems, fuel better engagement, reduce costs, and improve operational efficiency. Through Dynamics 365 Commerce's agile customer experience platforms, real-time analytics, and in-depth insights leveraging AI, you can transform your customer interactions to stay competitive.
Keep Up with Trends to Meet Customer Expectations
Customers' demands are changing daily and becoming increasingly challenging. Retailers need to constantly transform their products, product presentation, sequencing, and pricing to drive conversions and align with the changing customer needs. Dynamics 365 Commerce utilizes advanced analytics backed by machine learning to provide retailers with predictive, optimized, and personalized insights into customer needs. The eCommerce solution enables retailers to target and attract new customers while exceeding current customer expectations. With Dynamics 365, retailers can easily keep up with changes in buying habits and market trends by leveraging tools to access real-time product, customer, inventory, and order visibility. Also, Dynamics 365 enables users to seamlessly configure and manage various loyalty programs to boost customer and brand loyalty.
How Dynamics 365 Solutions Will Help You Overcome Your Retail Challenges
Microsoft Dynamics 365 solutions provide users with countless possibilities and benefits, but the first question that pops into many people's minds is, "how?". To help answer this question and give you an outline of how Dynamics 365 solutions will help you overcome your retail challenges, we provided a list of key capabilities included in Dynamics 365 that are essential for retailers.
Dynamics 365 Key Capabilities for Retailers:
Deliver a seamless, unified shopping experience by connecting digital, in-store, and back-office operations on an omnichannel platform.
Work across channels and organize promotions with accurate, real-time data.
Personalize customer experiences with actionable insights and exceed customer expectations with tailored product selections.
Improve customer engagement by offering access to your entire product catalog in-store or online, regardless of stock levels or location.
Know your customers better with real-time data and recommendations and interact with them at the right time.
Engage customers with purpose across all channels from demand to delivery.
All the Dynamics 365 products are packed with rich and sophisticated features to ensure business success. Leverage the advanced features and capabilities of Dynamics 365 solutions to dominate your competitors and maximize your long-term profitability. If you would like to learn more about how to leverage Dynamics 365 to enhance your retail business, talk to our team of expert consultants!