Choosing the most useful and right platform to integrate which is essential leverage Dynamics 365 capabilities is highly challenging.
Top platforms to integrate with your Dynamics 365 system – Extend the capabilities of Dynamics 365 solution with simple integration options
Microsoft Dynamics 365 Solution is a leading solution in the market as recognized by top industry experts such as Forrester and Gartner with over 500,000+ customers. The solution includes products ranging from sales, marketing, customer management, and finance. One of the key features of Microsoft Dynamics 365 is that it can easily be integrated with Microsoft's other solutions and a myriad of third-party applications without any extensive configuration. Microsoft offers a host of APIs that make these integrations easy and straightforward. However, choosing the most useful and right platform to integrate is highly challenging, which is why it is essential to understand how you can leverage Dynamics 365 capabilities with any tool.
Here is the list of top 10 best platforms to integrate with Dynamics 365. These have proven benefits of lower costs, scalability, and faster implementations while making Dynamics 365 a valuable business tool.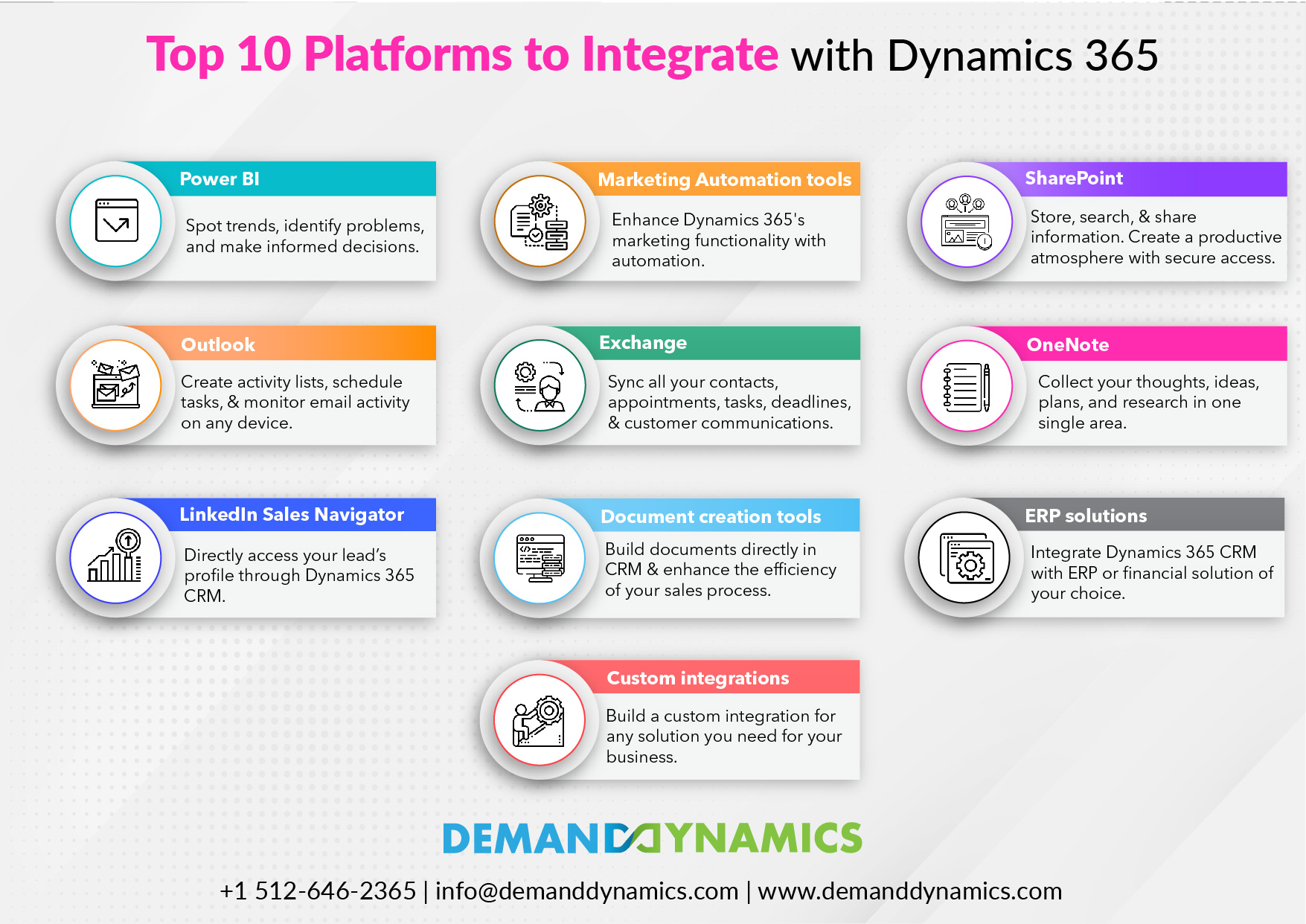 Top Platforms to Integrate With Microsoft Dynamics 365 Systems
Dynamics 365 + Power BI
Power BI is a primary business tool by Microsoft that delivers real-time insights. With Power BI and Dynamics 365 integration, spotting trends, identifying problems, making informed decisions become more convenient and accurate because of data from your CRM, ERP, financial software, and other systems. In the age of data overload, integration with Power BI would allow companies to make the best business decisions. Integrating Power BI with Dynamics 365 will enable you to access dashboards, explore the data, create rich reports and dashboards quickly, and use them interactively on multiple devices.
Dynamics 365 + Marketing Automation
Dynamics 365 not only allows integration with Microsoft products but also with other third-party tools. Marketing is a vital part of any organization. With this integration option, you can enhance Dynamics 365's marketing functionality with an email marketing and marketing automation tool. Without being particular, you can choose any of the best marketing automation tools that fit your needs and your budget for integrating to Dynamics 365.
Dynamics 365 + SharePoint
SharePoint is the ultimate content management collaboration tool. This integration allows users to store, search, share information, and create a productive atmosphere with secure access to documentation and data needed to make business decisions with Dynamics 365. Integrating SharePoint with Dynamics 365 also expands the storage of Dynamics 365. Any company that needs to store many documents related to their sales, procurement, and other business opportunities would benefit greatly from integration with SharePoint.
Dynamics 365 + Office 365/ Outlook
With the Office 365 integration to Dynamics 365, you can improve managing your customer interaction. With this Office 365 integration, users can better ensure their employees' productivity by making their day-to-day tasks more straightforward. You can collaborate more efficiently with your team across multiple devices. The integration of Outlook with Dynamics 365 allows users to connect Outlook emails to contacts and opportunities associated with their Dynamics 365 records, create activity lists for email responses and schedule them as tasks, and monitor email activity on any device.
Dynamics 365 + Exchange
You can sync all your contacts, appointments, tasks, deadlines, and customer communications in one place with Dynamics 365 integration with Exchange. This helps to generate automated emails from within Dynamics 365, drive efficient collaboration, view all emails, add Dynamics 365 contacts directly from an email message, enable Exchange folder tracking by simply dragging an email to an Exchange folder and tracking it automatically in Dynamics 365.
Dynamics 365 + One Note
When working with multiple leads or teams, there is a high need to take notes to work together on opportunities, orders, contracts, or other projects. Integrating One Note into Dynamics 365 allows you to collect your thoughts, ideas, plans, and research in one single area. This can help you to recover previous interactions, opportunity details, quotes, and orders. Also, manage pending leads in an organized manner. This integration allows you to create a OneNote tab for each new record and attach unstructured notes easily.
Dynamics 365 + LinkedIn Sales Navigator
With the purchase of LinkedIn by Microsoft, the LinkedIn Sales Navigator tool is directly accessible within Dynamics 365 CRM. With the Dynamics 365 and LinkedIn Sales Navigator integration, you can search LinkedIn profiles, save leads, set up alerts, get notifications about changes on your lead's profile.
Dynamics 365 + Document Creation Tools
Be it proposals, quotes, other sales documents, or contracts, all these can be built directly in Dynamics 365 CRM. Integrating a document creation tool can significantly enhance the efficiency of your sales process. By using this data in CRM to pre-populate fields in your documents, you can send those documents directly from CRM, create documents automatically logged to a CRM opportunity, and track current status at any time.
Dynamics 365 + Finance and Operations
Integrating CRM with your ERP solution is crucial for keeping your entire organization on the same page. Dynamics 365 CRM already connects to Microsoft's existing ERP solutions—Dynamics 365 Business Central for small and mid-market businesses and Dynamics 365 F&O for enterprise businesses. But, you can also integrate it into the existing ERP or financial solution of your choice. This eliminates the need for manual data entry, ensures accuracy when sharing information across systems, and enables an effective supply chain and inventory management.
Dynamics 365 + Custom Integrations
Dynamics 365 solutions offer a lot of flexibility and have web APIs that make integration to other solutions very easy. In case of no pre-built integration that suits you is available through Microsoft's AppSource, a Dynamics 365 partner can help you build a custom integration for any solution you need for your business.
How to integrate the right solution with Dynamics 365?
There are umpteen integration options and ways to leverage the capabilities of the Dynamics 365 solution. But, if you need to take maximum advantage of your Dynamics 365 system with integration, there is something you need to know. Dynamics 365 integration is simple. There are no large-scale configurations required. But, if you want to make your integration work the way you expected, you need a strategy. It would be best if you analyzed how it will influence your current and future business needs and find the right approach to gain your Dynamics 365 integrations' best possible outcome.
With our expertise as Dynamics 365 partners, we can help you find the right integration option that can fit your business need now and in the future. Talk to our expert team!