Microsoft has recently announced many upgrades for its cloud apps suite as part of the 2021 Release Wave 1.
What's new in Microsoft Dynamics 365 Sales in 2021? – New and planned Dynamics 365 Sales Features
Microsoft has recently announced many upgrades for its cloud apps suite as part of the 2021 Release Wave 1. For Dynamics 365 Sales, Microsoft is focusing on adding productivity enhancements for sellers, access to data-driven insights to help with decision making, and updates to the mobile app, enhancing the mobile experience for sellers on the go.
Being an undisputed leader in the Gartner Magic Quadrant, Dynamics 365 Sales continues to be the leading sales tool that empowers every organization with data and intelligence by consistently helping organizations understand customer needs, drive more relevant engagements, and make sales more efficient.
In today's blog, let's look at some of the most exciting upgrades planned for Dynamics 365 Sales features 2021 Release Wave 1.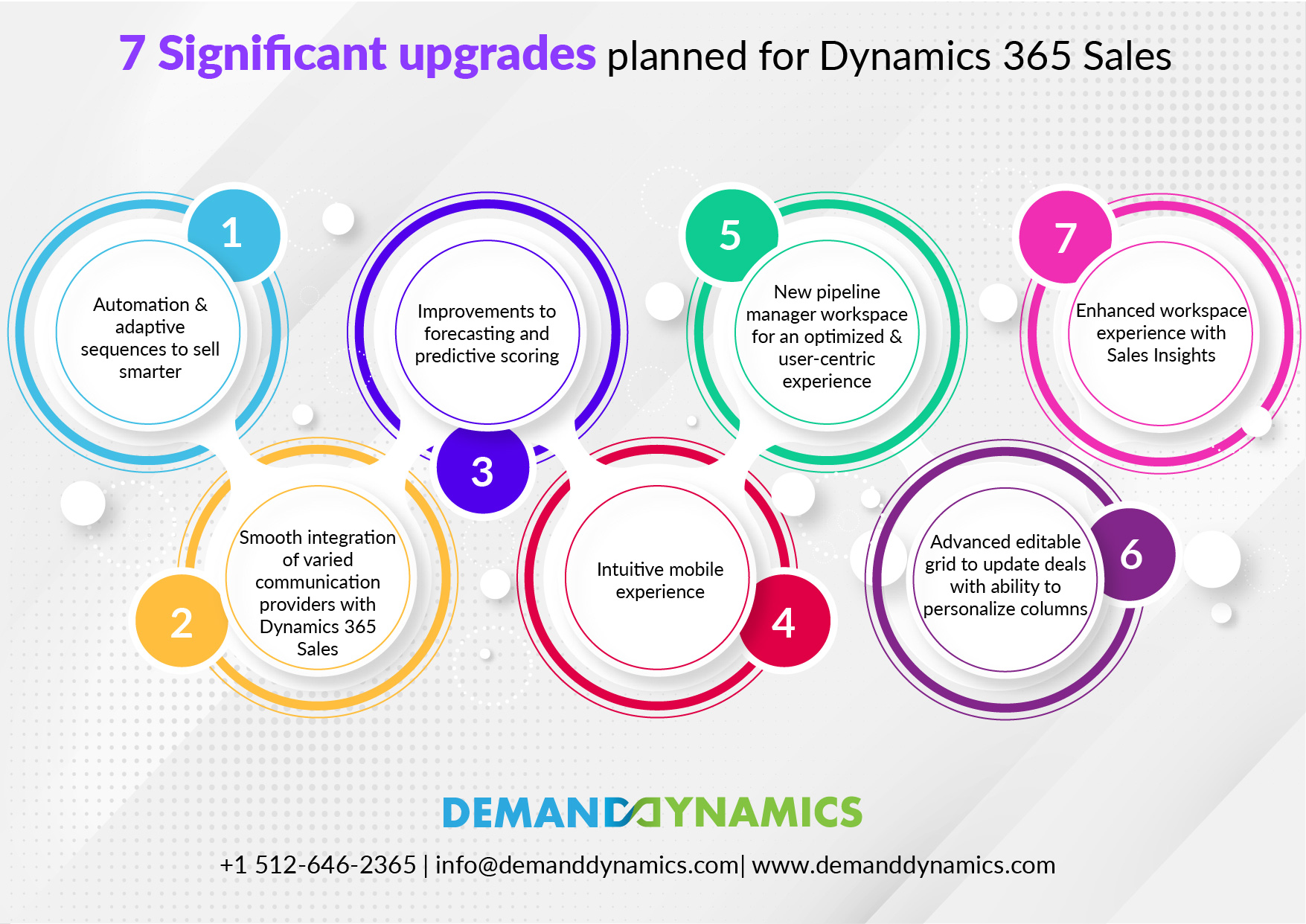 Feature enhancements planned for Microsoft Dynamics 365 Sales in 2021
Automation and adaptive sequences to sell smarter
This upgrade includes automation such as sequence automation, sequence forks, and sequence listener that can enable you to execute activities automatically without requiring any intervention, smartly pick the next step based on external or internal triggers, and adding a listener for email engagement/ phone or meeting conversation.
Smooth integration of varied communication providers
Now, easily integrate your telephony provider with out-of-the-box functionalities. Organizations interact with their customers in various ways and to maintain them, organizations tend to have an on-premises telephony system where sales teams (digital agents and managers) conduct an audio conversation. With this feature update, these conversations are captured in various formats and quality, aligning with cultural or regulatory reasons. It can provide insights on top of video calls, analyze and extract business insights for multiple-participant calls, support online meetings, and support answering calls within Dynamics 365.
Improvements to forecasting and predictive scoring
Organizations run their business operations in adherence to specific calendar periods to optimize their success in the market. With the custom fiscal calendar support feature, forecast managers now have an extended capability to select a custom fiscal period to match their business. They can add an extra week at the end of any period to account for leap years.
Intuitive mobile experience
Mobile has become an essential part of providing salespeople access to information they need at any time. Microsoft has introduced an intuitive mobile experience through which sellers can get up-to-date information, insights about a deal, account, and contacts integrated with AI, and easy access to files, notes, emails, and more. The new mobile experience features the following functions:
The new mobile experience makes it easy for salespeople to log in and share information in real-time.
Microsoft Teams customer calls or online meetings can be transcribed and assigned to a Dynamics 365 record.
Easily manage activities and take follow-up actions promptly.
Get up-to-date LinkedIn information on meeting participants, insights about a deal, account, and contacts integrated with AI.
New pipeline manager workspace
The new pipeline manager workspace provides an optimized and user-centric experience to empower sellers to keep their pipeline healthy effectively. The pipeline manager workspace includes feature enhancements such as,
Ability to customize and configure the record side panel form: A record side panel is a streamlined representation of a form delivered through a side panel as part of the pipeline management workspace. Organizations will be able to customize the record side panel form to fit their unique business requirements.
Advanced editable grid to update deals with the ability to personalize columns: This feature offers the ability to edit fields inline, filter, sort, search, and reorder data in the grid, show or hide columns in the grid or add columns in the grid, see aggregations for numeric columns, and run business logic on-grid actions.
Enhanced productivity with new record side panel form: The record side panel form provides quick and easy access to the opportunity record that can be updated without navigating away or losing context.
Enhanced workspace experience with Sales Insights:  This feature provides enhanced experience and insights with relationship score, predictive opportunity score, and other insights for quick actions. It includes sales insights score, relationship score opportunity score, and predictive opportunity score
Interactive visual charts that sellers can personalize: This gives you the ability to view opportunities in a visual representation quickly is one of the top requests by sellers. It allows sellers to get the insights they need to identify the deals they need to work on next with the out-of-the-box charts that provide sellers a visualization of their opportunities and filter through these opportunities.
Increase your Sales with the improved Dynamics 365 for Sales
Dynamics 365 Sales has been consistent in enabling many organizations to simplify their existing sales efforts and improve their productivity. With the new Dynamics 365 Sales Feature upgrades, empowering your sales team to achieve better results is going to be a common phenomenon. If you would like to learn more about the latest Dynamics 365 Sales Features Wave 1 Updates planned for April 2021, stay tuned to this space for Microsoft Ignite 2021 updates.