Manufacturers are gaining power from all the software solutions and digital services that facilitate them to perform their best and exhibit more variety.
Machine Learning and AI have brought industries to a whole new level of smartness with concerns to analytics.
Microsoft's Cloud for Manufacturing is one of Microsoft's industry-specific cloud-based offerings. It is arguably a great tool that helps manufacturers get the upper hand with features of Azure, Microsoft 365, Dynamics 365, Microsoft Teams, and Power Platform, among other products and services, which are particularly notable.
What's really in Microsoft Cloud for Manufacturing?
It brings together the best benefits from a variety of products and services from Microsoft and its partners. It creates a vertical-focused solution for the needs of manufacturers (like yourself)!
To begin with, there are some components in this cloud offering that are quite notable. It wouldn't be fair to not share them with you.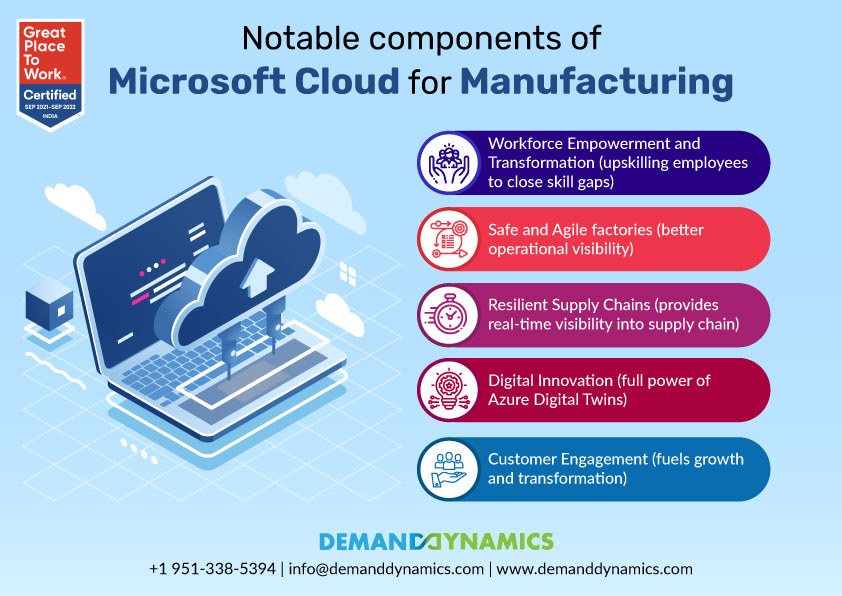 Top 5 components of Microsoft Cloud for Manufacturing:
Workforce Empowerment and Transformation
What matters the most in today's business world is keeping up with trends, being smart, and empowering employees. Helping employees in upskilling themselves helps in closing the skill gap and keeping up with the never-ending metamorphosis in the industry.
Safe and Agile factories
Industry 4.0 facilitates better operational visibility which provides the ability for continuous monitoring and analysis for detecting and solving problems through predictive maintenance.
But what good does it do?
Increase in safety, better asset performance, and reduced operational costs. Data collected from connected devices make it possible to improve processes and products.
With everything said, security is most definitely a top concern with digital transformation. Microsoft Defender for IoT offers comprehensive security with unified threat protection for IoT and Operational Technology devices.
Azure IoT Hub improves asset productivity and OEE by providing secure, cloud-based two-way communication among billions of IoT devices.
Having autonomous systems is a great plus for Industry 4.0 technology. with the power of AI, ML, and autonomous systems it gains the ability to sense and adapt to small changes in manufacturing environments and processes while also improving quality and driving innovation.
Resilient Supply Chains
Supply chain disruptions and the spike in consumer demand have always been manufacturers' greatest fear (especially through the pandemic phase). Microsoft Dynamics 365 Supply Chain Management helps you greatly in making a huge pass on those challenges with real-time visibility to your supply chain.
Microsoft Dynamics 365 Supply Chain Management is a warehouse of tools for planning and optimization that helps you in predicting disruptions and taking steps and addressing the issue sooner than later. It brings about an environment where you can respond to resolve issues that deal with the quality, uptime, and lifecycle of your equipment through predictive maintenance. You can also create a digital twin of your supply chain to perform what-if simulations, allowing you to visualize contingency plans for a wide range of scenarios.
Digital Innovation
Getting into digital twins, apart from creating a virtually pleasing representation of your supply chain, Cloud for Manufacturing gives you complete access to Azure Digital Twins.
Here you have the creative freedom to build digital representations of anything you wish. Comprehensive models can be set up with an endless range of physical environments.
When the digital twin is created, Azure allows you to connect input from IoT devices and assets to provide you with actionable insights from the whole environment.
Customer Engagement
What feeds growth and transformation in any business? The answer is simple.
A better outcome for the customers or in other words customer engagement
Cloud for Manufacturing makes customer satisfaction and engagement a vital part of its offerings.
Dynamics 365 Field Service combines data insights with connected experiences and helps you in taking that big leap from reactive to predictive service. You can optimize your service operations through AI-enabled scheduling recommendations that help you make sure that the right technician is dispatched at the right time.
Advantages of Microsoft Cloud for Manufacturing:
Connects end-to-end products and service lifestyle experiences. (Asset Productivity, Learning and Knowledge Management, Always-on-Service, and Supply Chain Visibility)
It connects market demand, shop floor production, and real-time supply. This helps manufacturers stay alert even in times of demand spikes. (In short, it avoids any roadblocks)
It focuses on outcome-driven solutions with a 360-degree view of complex processes. (Increases business and productivity)
Improves operational efficiency in a matter of weeks!
Where Cloud for Manufacturing helps:
These are areas where Microsoft can help connect experiences across your operations, workforce, design and engineering processes, customer engagements, and the end-to-end value chain with Microsoft Cloud for Manufacturing.
Building more agile factories
Transforming your workforce
Engaging customers in new ways
Creating more resilient supply chains
Unlocking innovation and delivering new services
Wrapping up
Accelerating innovation is made possible by empowering manufacturers with an environment to design, simulate and validate sustainable products and processes using digital twins and the cloud.
Every business is on a digital journey in finding its strength and creating dramatic gains in terms of productivity, agility, sustainability, speed to market, and many more. With Microsoft Cloud for Manufacturing, you can provide the right kind of support for your business no matter where you are in your digital transformation trip.