Microsoft has launched Dynamics 365 – a single platform fostering business productivity across industry verticals.
Dynamics 365 implementation – Overview
Do you know business or sales reps often find themselves spending whole lot of time in finding the information just when they are about to meet a client or a prospect?
Well, it's not because there's a lack of tool to streamline the process. Its because many businesses today have no visibility into their operational data. To help business achieve that Microsoft has launched Dynamics 365 – a single platform fostering business productivity at every stage to its customers across industry verticals. Ever since the launch, Microsoft Dynamics 365 has shown a consistent growth in the market and has become the most preferred solution by many organizations irrespective of their size and industry.
In this blog, let us look at why your business needs to implement Dynamics 365.
Importance of having a CRM system for your Business
CRM solution increases your profitability by streamlining administrative processes in your sales and marketing divisions while allowing you to focus on what is important.
With the support of an integrated CRM solution, you will never miss growth opportunities and lose revenue.
Optimizing operating processes or making the most of your customer relationships or sales leads becomes easier.
You can effortlessly gain a competitive edge in your marketplace with a CRM solution.
By automating your business processes, CRM can take the burden of IT management off your employees.
Simplify the most complex customer engagements with various CRM tools that readily scale to fit your needs.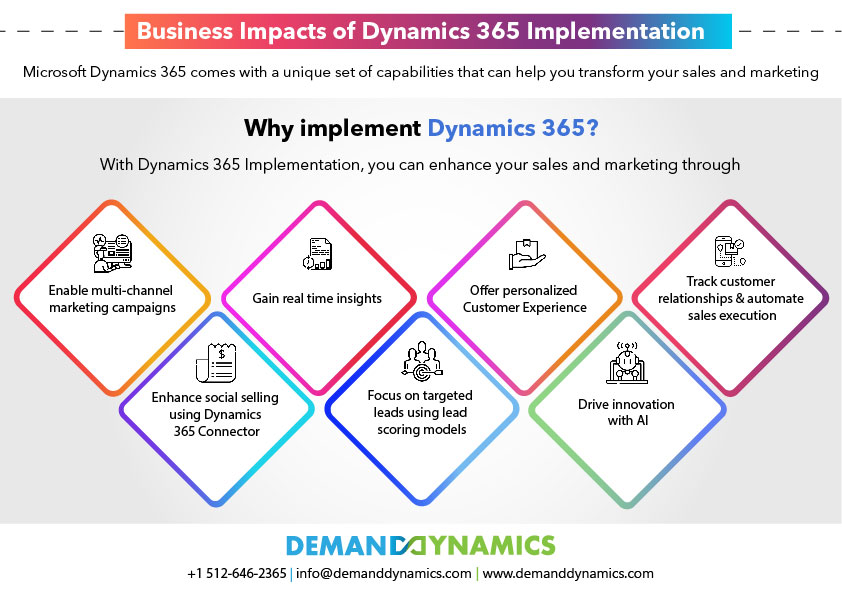 Why Dynamics 365 Implementation?
With Microsoft Dynamics 365, Microsoft offers one complete platform fostering productivity, intelligence, and security, which are the three fundamental elements of their Digital Transformation strategy. Dynamics 365 integrates with Microsoft products such as Office 365, Microsoft Azure, Microsoft Intelligence, and other third-party applications. Dynamics 365 brings together a unique set of business capabilities with a mix of Customer Relationship Management (CRM) and Enterprise Resource Planning (ERP).
Enable Multi-channel marketing: Generate multi-channel marketing campaigns, nurture sales-ready leads, and run multi-channel campaigns featuring email marketing, web content, and events. Align your teams with planning and tracking tools that integrate with your existing apps and services.
Target Matched Audiences: Based on LinkedIn interactions using Dynamics 365 Connector for LinkedIn Lead Gen Forms, you will be able to target matched audience for your marketing campaign. Also, build trust and enhance your social selling capabilities with LinkedIn Sales Navigator built into D365 Sales.
Offer a Personalized Customer Experience: With Dynamics 365 Implementation, you can enhance the buyer experience by customizing customer journeys based on user engagement and provide an exceptional personalized customer experience. The Dynamics 365 for Marketing app allows you to create personalized emails rich in context and drive conversion rates.
Lead Scoring and Custom Dashboards: Identify the prospects ready to pass on to the sales team by utilizing lead scoring models. You can prioritize leads using multiple lead scoring models available through Dynamics 365 Implementation and close more deals faster and effectively. Dynamics 365 can allow you to build custom dashboards to analyze your business's most important/ relevant data.
Real-Time Insights and Innovation: Real-time insights, artificial intelligence (AI), and machine learning (ML) capabilities that track trends guide sellers and empower sales managers with performance insights. It helps you see your brand reputation and market through real-time data analysis to make rapid business decisions. You can get intelligent, detailed, and useful insights about your sales teams' performance to make data-backed decisions and help your teams work smarter.
All the Dynamics 365 comes backed up with the power of artificial intelligence (AI). Using AI, you can guide to make informed business decisions and drive innovation.
Empower Sales Teams: With Dynamics 365 implementation, you can empower your sales team to drive personal engagement with customers to better understand customer needs, engage effectively, and close more deals. With Dynamics 365, you can use its AI capabilities to track customer relationships and automate sales execution with contextual prompts that drive sales strategy.
Integration capabilities: Sales and marketing teams with integrated CRM tools can adjust customer outreach strategies in real-time based on accurate data. Microsoft Dynamics 365 is easy to integrate with the line of Dynamics/ Azure products without any need for development expertise or language. You can easily integrate systems and software with Dynamics 365 Implementation to derive your investment's fullest benefits.
Why choose DemandDynamics?
Whether you intend to integrate new apps with Microsoft Dynamics 365 or an existing stack, DemandDynamics is here to help. To begin with, our team of experts evaluate your current and future needs to strategically align the Dynamics 365 implementation with your specific business goals and objectives to make sure we leave no coin unturned.
As a Microsoft Gold Partner, we provide the best Microsoft Dynamics 365 Consulting and Implementation services in the industry to meet your business needs with insights and expertise that increase productivity and drive digital transformation.
Our clients love our unique and scalable Pay-As-You-Use model that offers exclusive benefits when compared to traditional Microsoft engagement models. So, why wait? Schedule an appointment with our expert today.