Upgrading AX to Dynamics 365 can enable you reduce cost, customization with cloud implementation, and many more.
Are you an existing Microsoft Dynamics AX user? If so, you will likely find this information useful, especially if you are wondering how to scale-up or modernize your ERP solution. I am sure you are aware of all the hype surrounding Microsoft Dynamics 365 for the last few years. We are here to inform you that the hype is well-deserved. So, if you are still using the older versions of Microsoft Dynamics AX, now is the right time for you to upgrade. Microsoft Dynamics 365 has many new and superior features compared to Dynamics AX. In the long-run, this upgrade is sure to benefit your business in many significant ways.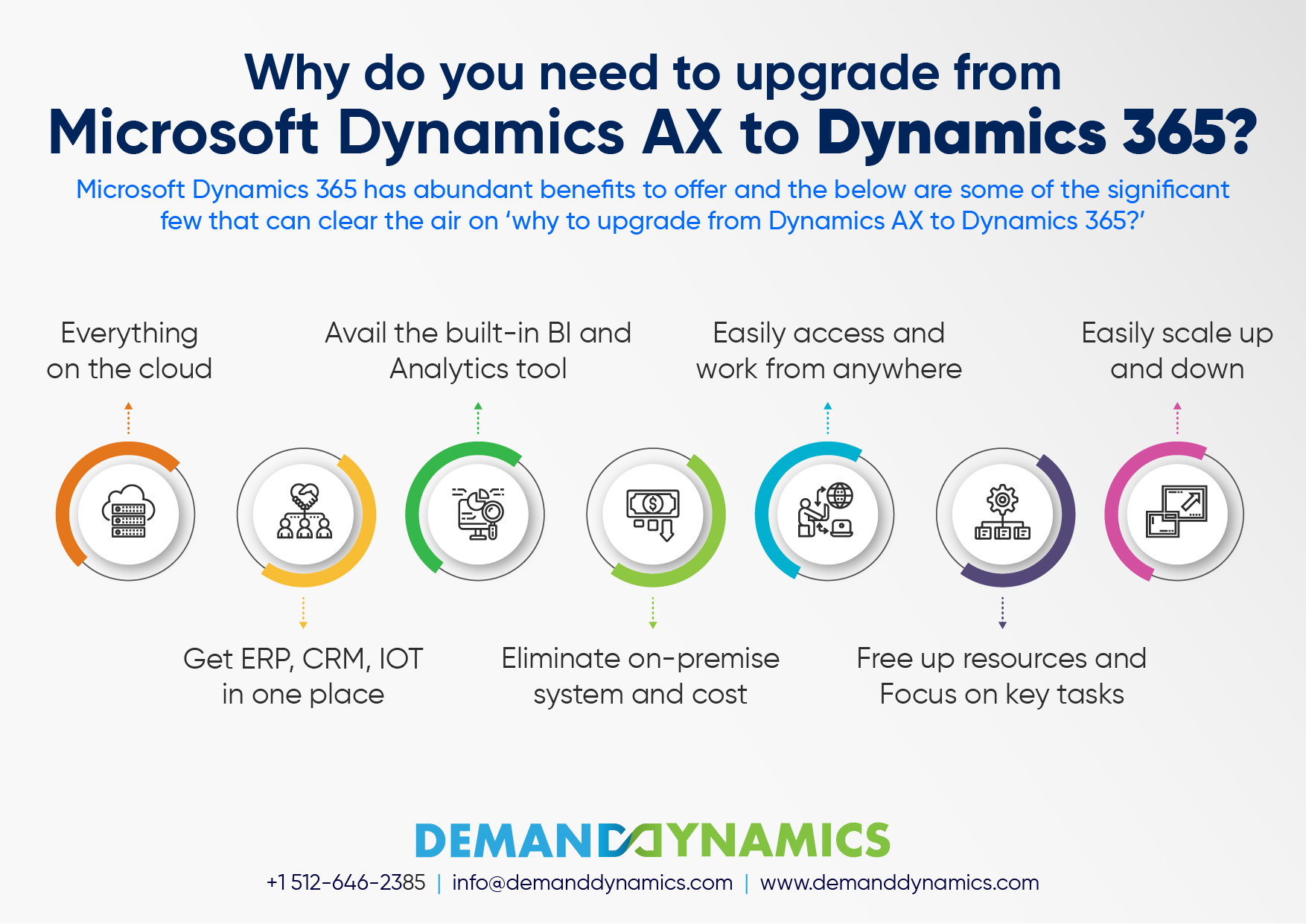 Why do you need to upgrade from Microsoft Dynamics AX to Dynamics 365?
There can be no better answer to this question than knowing the immense benefits of Dynamics 365. The benefits of migrating to Dynamics 365 are dramatic and plentiful. To keep it simple and easy, we have curated a list of some of the top benefits of Dynamics 365:
Everything Is Under One Roof
Guarantees you the benefit of having ERP, CRM, Business Intelligence (BI), IoT, and everything else in one place – on the cloud. Dynamics 365 will compile all your business systems and enable easy access so you can work together from anywhere.
Lower Your IT Maintenance
Since Microsoft takes responsibility for monitoring and updating the platform and the application, you will eliminate the hefty costs of on-premises servers and systems.
High Scalability
Dynamics 365 does not require you to plan for specific server space. You can easily scale-up or scale-down as your requirements change. When you migrate to Dynamics 365, you have the option to choose from on-premise, on-cloud, or hybrid platform.
Power of Built-In BI
Microsoft Dynamics 365 comes with a built-in BI and analytics tool called Power BI. Power BI will create dashboards and reports to provide in-depth real-time insights into your business performance.
Cut Costs and Free Up Resources
With Dynamics 365, you do not need on-premise servers and systems. This will help you cut costs that are required in taking care of your ERP system. Additionally, Dynamics 365 does not require many employees to take care of your ERP system which helps to free up resources and divert efforts to key asks.
How to upgrade from Microsoft Dynamics AX to Microsoft Dynamics 365?
Many organizations using Microsoft Dynamics AX have already upgraded to Microsoft Dynamics 365, and many others are quickly considering upgrading after learning of the immense benefits of Dynamics 365. If you are considering this upgrade or interested in learning more about Dynamics 365, visit our website or reach out and talk to us!